Despite another finish outside of the playoff picture, the Detroit Red Wings saw many improvements in just as many different areas.
The Red Wings defended better as a team, both of their special teams experienced a higher rate of success, and they hung around the playoff conversation into March. With continued improvement, it's not hard to be optimistic about what the five-year outlook of this team looks like.
Related: How Much Did the Red Wings Actually Improve in 2022-23?
But perhaps the most important area of improvement – and the key to that five-year outlook – is in player development. The Red Wings have a deep prospect pool filled with players developing in various leagues at various levels throughout the world. The odds will tell you that most of these prospects will stumble or even stagnate at times – it's why rebuilds often take a good deal of time, and why so many hockey voices out there repeat the same cliché: development isn't linear.
---
---
That's why it is especially important to recognize when a prospect is moving their game in the right direction and inspiring hope for their NHL future. The Red Wings certainly had some prospects fall short of expectations this season, but they also had some important prospects have equally important seasons. The discussion of which Red Wings prospects developed the most this season has to begin with one of their most important prospects: their goalie of the future.
(G) Sebastian Cossa
Sebastian Cossa arrived to training camp with one goal: play at the highest level he can. Through the first two weeks of the season, he travelled back and forth between the Grand Rapids Griffins of the American Hockey League (AHL) and the Toledo Walleye of the ECHL. After two games with the Griffins in late October, his time with the Walleye was made permanent (with the exception of a 20 minute appearance in Grand Rapids in December.)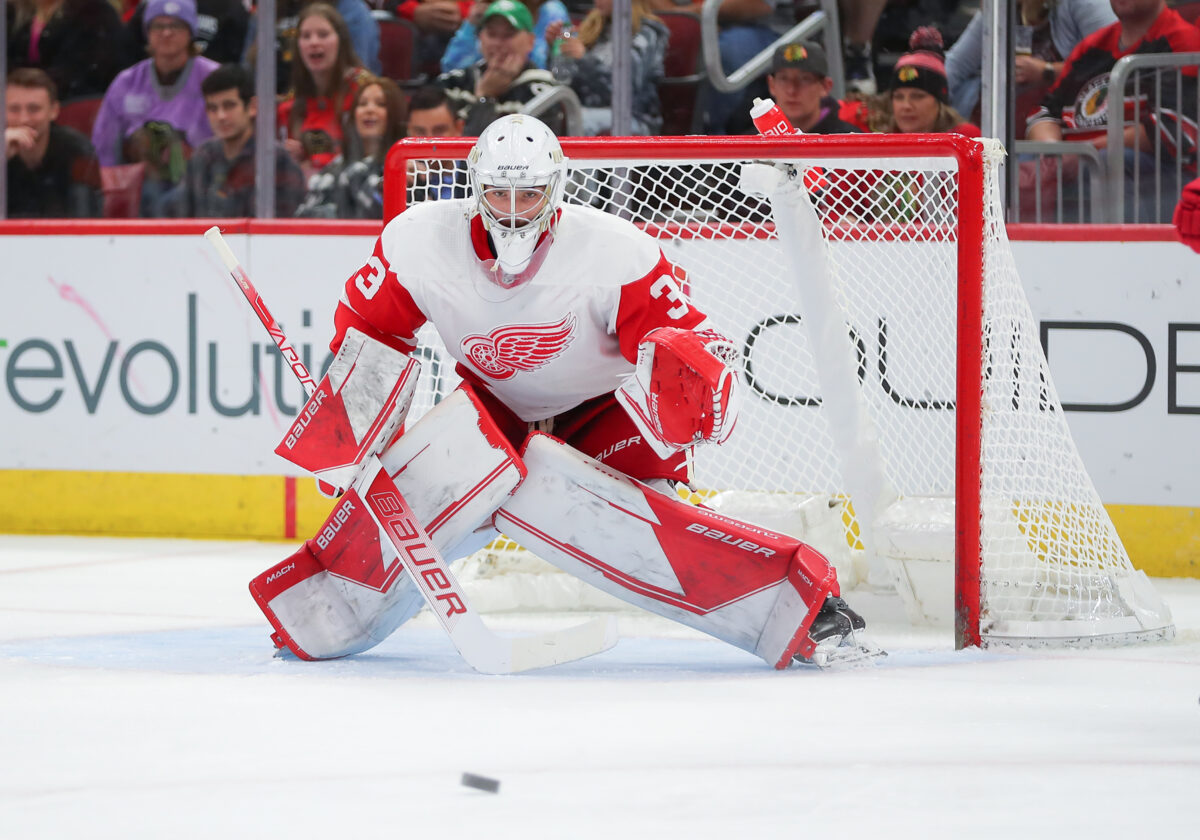 By the time the calendar flipped to 2023, optimism around Cossa and his future was starting to shake. His inconsistency in the ECHL through the first half of the season did not match the headcanon of what a goalie picked 15th overall should look like.
But the thing about goaltenders is that sometimes all it takes is a couple of quality starts and wins to really get the ball rolling. That can be especially true of goalies that are just 20 years old.
---
Latest News & Highlights
---
During a streak of absolute dominance, Cossa had a 6-1-1 record, a 1.73 goals-against average (GAA), a .944 save-percentage (SV%) and one shutout en route to being named the ECHL's top goaltender for the month of March. He also recorded 10 straight wins, a streak which ended on March 24. Overall, he finished the season with a record of 26-16-1, four shutouts (tied for second most in the ECHL), a 2.56 GAA and a .913 SV%.
With a run in the Kelly Cup Playoffs ahead of him, Cossa now stands as a point of strength for a Walleye team with championship aspirations. He's tracking the puck better, and he's figuring out how to harness his size and athleticism while staying within his technique. The pace of the professional game no longer seems too fast for him, and it's not hard to envision him taking the next step next season and joining the Griffins on a full time basis – a far cry from where we were in mid December. That's a testament to him and his work ethic – a factor that caught Red Wings general manager Steve Yzerman's eye:
There was certainly some turbulence along the way, but Cossa is back on track. That's a huge positive for the Red Wings and their succession plan behind Ville Husso.
(C) Amadeus Lombardi
This season, Red Wings fans had a lot more to appreciate about Amadeus Lombardi than just his name.
The speedy centerman had a fantastic season with the Flint Firebirds of the Ontario Hockey League (OHL). Lombardi finished the season with 45 goals and 102 points, placing him sixth and third, respectively, in those categories. The 2022 fourth round pick saw an improvement of 27 goals and 43 points over his draft season. His play was so impressive that the Red Wings had to take action, signing the 19-year-old to an entry-level contract in December.
In seven playoff games, Lombardi recorded five goals and seven points. He established himself as a player that can push the pace offensively and can create scoring chances from all over the ice. He then made his pro debut with the Griffins late in their season, recording his first point on a Taro Hirose goal:
In our January Red Wings prospect rankings, Lombardi was one of the biggest climbers from the previous ranking. When our next ranking comes out, he may very well climb up the rankings again. He will need to prove that his scoring touch will transfer to the pro level next season, but if he does, he could become something that the Red Wings currently lack: a prospect drafted in the later rounds that outperforms their draft position.
(LW) Dmitri Buchelnikov
Lombardi is joined on this list by another player from Detroit's 2022 draft class.
When the Red Wings selected Dmitri Buchelnikov at 52nd overall, it spawned a wide array of opinions ranging from the pick being a huge reach in the second round, and the pick being Yzerman's next great Russian winger to come out of the second round. The small winger clearly had skill and serious offensive IQ, but would he be able to do enough this season to justify the pick?
Buchelnikov spent 35 games in the VHL this season – Russia's equivalent of the AHL. He scored 15 times and had 28 points while playing for one of the more mediocre teams in that league. Despite the lack of talent around him, he was able to assert himself as a scorer and a skill player at that level. Though he is still committed to playing Russia for the next two seasons, it is still enticing to see a young winger in the system that looks like a pure offensive player.
Buchelnikov should be ready to push for a permanent spot in Russia's top league – the Kontinental Hockey League – next season. From there, the goal for him will be to find ways to be effective in one of the toughest leagues in the world. He made it clear this season that he has the goods and his potential is high, and that's good enough to land him on this list.
Honorable Mentions
An article about the Red Wings' most improved prospects also must include the Johanssons, Albert and Anton (not related). Albert finished his first season in North America and seemed to get better and better as he spent more and more time with the Griffins. If not for a late-season injury, he may have even seen some time in Detroit before the end of the season.
Anton Johansson was the Red Wings' other fourth round pick in the 2022 draft, and he put his name on the map this season by playing a steady, consistent role with Leksands IF of the Swedish Hockey League (SHL). It is tough for 18-year-olds to earn enough trust to play a consistent role in the SHL, and this Johansson's game proved to be too mature to keep in the lower levels of Swedish hockey.
Finally, goaltender Carter Gylander. The former seventh round pick was lights out for Colgate University this season, receiving recognition from the Eastern College Athletic Conference:
But the point of all this remains that the Red Wings have plenty of individuals that moved forward in their development this season. That's a sign of a healthy prospect pool, and a healthy prospect pool means the outlook of this franchise continues to point in the right direction. Ask anyone across Hockeytown and they will tell you the same thing:
The future cannot arrive soon enough.
---