Now that the new Las Vegas franchise has announced they'll be known as the Golden Knights, the NHL is another step closer to this summer's expansion draft — an event that could have major implications for the Detroit Red Wings.
Ken Holland and Detroit's management team will need to answer several questions when deciding which players to protect: Do the Red Wings choose youth or experience? Does the organization stay the course or pivot in a new direction? Which players would draw the most interest if left unprotected? The least?
Though the Red Wings will only lose one player — provided no deals are made between Detroit and Las Vegas — the NHL's expansion rules will force the Red Wings to give up a solid player to the Golden Knights. But which Hockeytown hero will that be?
Let's take a look at the exempt players, the 11 Detroit will protect at this point in the season, and which Red Wing the Golden Knights will likely take in the expansion draft.
Exempt Red Wings
Per NHL rules, players with less than two full years of professional experience at the time of the expansion draft will be exempt from selection and, thus, will not require protection. For the Red Wings, this rule saves the team from protecting a few quality prospects, per Cap Friendly's NHL Expansion Draft Tool:
| | | | | |
| --- | --- | --- | --- | --- |
| Joe Hicketts | Jake Paterson | Dylan Larkin | Evgeny Svechnikov | Dylan Sadowy |
| Givani Smith | Axel Holmstrom | Dominic Turgeon | Tyler Bertuzzi | Zach Nastasiuk |
| Matt Lorito | Dan Renouf | Filip Hronek | Vili Saarijarvi | Robbie Russo |
Players on long-term injured reserve will also be exempt from the expansion draft process, meaning injured Red Wings Johan Franzen and Joe Vitale will not be available to the Golden Knights.
Which Red Wings to Protect?
When Holland submits his list of protected players, he'll likely keep seven forwards, three defensemen, and one goaltender. Below are the 11 players the Red Wings will keep at this point in the season:
C – Henrik Zetterberg
C – Frans Nielsen
LW – Gustav Nyquist
LW – Tomas Tatar
RW – Justin Abdelkader
RW – Anthony Mantha
C – Andreas Athanasiou
D – Mike Green
D – Ryan Sproul
D – Danny DeKeyser
G – Petr Mrazek
Up front, Holland would likely keep Abdelkader over Helm because of the commitment he's already made to Abdelkader and Helm's questionable durability. Other than Detroit's newest alternate captain, there really isn't another forward on the protected list who Holland may make available.
Thanks to his impressive rookie season, Ryan Sproul earned the final spot on the Red Wings' list of protected defensemen. His combination of offensive ability and youth make Sproul a valuable member of Detroit's blueline corps.
Though Mike Green has one more year remaining on his contract after this season, the defenseman has been Detroit's best player throughout the young 2016-17 season and could be signed to a reasonable — and rational — contract after his current one expires.
Available Red Wings
If the Red Wings protect the players above, Las Vegas will have the opportunity to select one of a many quality players Detroit would leave unprotected. These available players include veterans Niklas Kronwall, Darren Helm, Luke Glendening, Thomas Vanek, Brendan Smith, Jonathan Ericsson, and Jimmy Howard.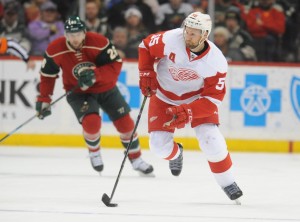 Kronwall may be a surprise on the unprotected list, but it's unlikely Las Vegas will select an aging blueliner with chronic knee issues, despite what he could contribute in the locker room. Detroit would be wise to dangle him at the expansion draft knowing the Golden Knights would likely pass.
If Las Vegas wants to go a younger route, current NHLers Tomas Jurco, Riley Sheahan, Alexey Marchenko, and Xavier Ouellet would be left unprotected, as would prospects Martin Frk, Tomas Nosek, Nick Jensen, and Jared Coreau.
These players would likely garner the most interest from Las Vegas' management team. They are young, have potential to develop further, and are signed to team-friendly contracts.
Finally, Drew Miller, Steve Ott, Eric Tangradi, Mitch Callahan, Ben Street, Brian Lashoff, and Edward Pasquale won't attract too much interest from George McPhee's Golden Knights, despite being available.
Las Vegas Selects…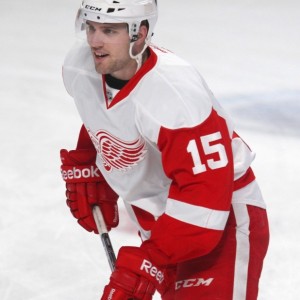 When the Golden Knights announce their selections on June 21, Las Vegas will choose Riley Sheahan from the Red Wings. Detroit's former 2010 first round pick will only be 25 at the time of the expansion draft and still has the potential to become a middle-six power forward.
Detroit has not utilized Sheahan well this season, but that does not take away from the raw skills he possesses. Sheahan has a great shot to go with his above-average vision. He's also 6'3″ and can muck it up in the corners or around the net. Sheahan's knocks are that he can go through painful slumps and isn't strong in the faceoff circles.
Depending on who the Golden Knights choose from the other 29 existing franchises, Darren Helm, Brendan Smith, Alexey Marchenko, or Jimmy Howard would also represent solid selections for the new franchise.