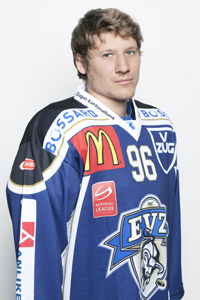 Other than the manner of "teasing" that occurs at gentlemen's clubs, there is no such thing as pleasant teasing.  At least, that's what many Detroit fans thought until recently, when news of an apparent dynamite chemistry between Henrik Zetterberg and Damien Brunner emerged.  Pavel Datsyuk thought he would add to this form of indirect taunting of Wings fans with this goal:
"Datsyukian" magic of this sort is the kind of old news that never gets old.  But, the prospect of "Z" having a new winger helping him regain his fine scoring touch after a subpar 2011-2012 season should excite Wings fans craving some good news.  Zetterberg has scored a staggering FIVE goals in his first two outings with EV Zug of the Swiss League.  To sweeten the deal, the mysterious Damien Brunner, who Detroit signed as a free agent during the summer, has been in on four of the Zetterberg tallies.
Now, extracting accuracies from German speaking Swiss League websites is slightly more challenging than what most of us are used to, so if I have overlooked something, feel free to rub my nose in it.  But, the crux of the situation is that Zetterberg and Brunner are planting the seeds of a fruitful tandem that may translate well into English, when and if the 2012-2013 NHL season begins.
While many were surprised that Zetterberg opted to play at all this season, especially after he indicated that his plans were to stay in Detroit and fight as a union representative, it was even more surprising that he chose the obscure Swiss League as his temporary employer.  But, all questions of obscurantism aside, Zetterberg's journey into the land of fine watches and even finer skiing should pay off big time when our captain-to-be puts on the winged sweater with Brunner at his side.
A reading between the lines of recent developments regarding the NHL's labor dispute has given many hope that not only is a deal possible, but likely.  If this proves to be the case, Detroit's offense may have another look to it.  A look that makes our presumptive captain's first year wearing the "C" a smashing success.
And that goal by Datsyuk sure is a beauty…so tease away Red Wings.  We're ready for you to make good on this promise at the Joe.
UPDATE: Video of Zetterberg's three goal performance below.