There are currently 122 retired numbers across the NHL. However, the San Jose Sharks have yet to raise a banner with a number to their own rafters. It may take a while, but retired Sharks numbers are on the way. The question is, who will take the honor of going first?
Possible Retired Sharks Already in Retirement
There are a few players that have donned the teal sweaters that can justify a banner at SAP Center.  However, only two are really worthy of the banner in the sky.
Owen Nolan
The first real franchise player that the Sharks could boast was Owen Nolan. When he was acquired in 1995, the Sharks were still a listless and young franchise. Despite, two playoff series wins in their first four years as a club, the Sharks were still relatively unknown to the hockey world.
Enter number 11.
The first retired Sharks jersey would be Nolan if the Sharks brass wants to value leadership that brought Team Teal to prominence. Owen Nolan not only became a strong voice on the ice, but he was a proponent for hockey in the Bay Area. In May, he was already honored to join the Bay Area Sports Hall of Fame, it would make plenty of sense to have the Irish-born Nolan grace the rafters at SAP Center.
Doug Wilson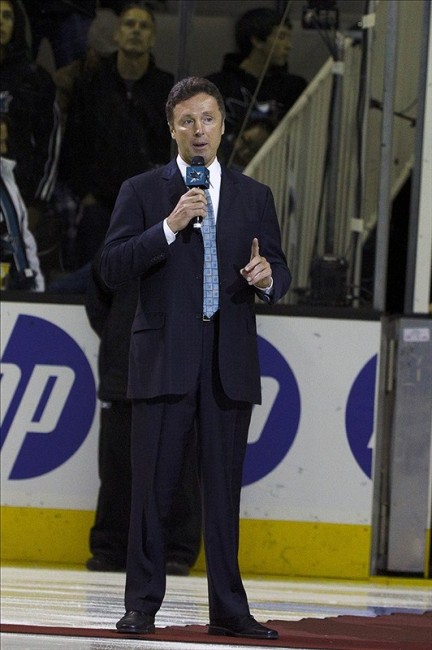 The very first captain in San Jose Sharks history is actually the most successful GM in its history as well. While Wilson has seen a rough go of things in recent months, Doug Wilson has overseen one of the longest-running playoff streaks in the NHL. His Sharks team is consistently competitive and always relevant in today's league: an impressive feat in the parity of the NHL (a league where competition is unmatched by other sports).
Wilson's playing career was nothing to sneeze at either. His final two seasons were spent in San Jose as the Sharks' inaugural captain. The defender earned an all-star spot with San Jose and brought respect and a level of celebrity to a brand new franchise.
However, the biggest argument for Doug Wilson can also be an argument against him. Can a General Manager earn a retired number for a team he hardly played for? It would be a precedent-setting move by San Jose, a team that is not afraid of making new moves (see: Stripping Captaincies of Current Players). Doug Wilson, if he ever does get a Stanley Cup to the Bay Area, would be a prime candidate for a retired Sharks banner in the rafters.
Current Sharks in the Running
There are two guys who are undoubtedly favorites to be the first retired Sharks jerseys. Despite being under fire this offseason, these two Sharks are fan favorites and will be for generations.
Joe Thornton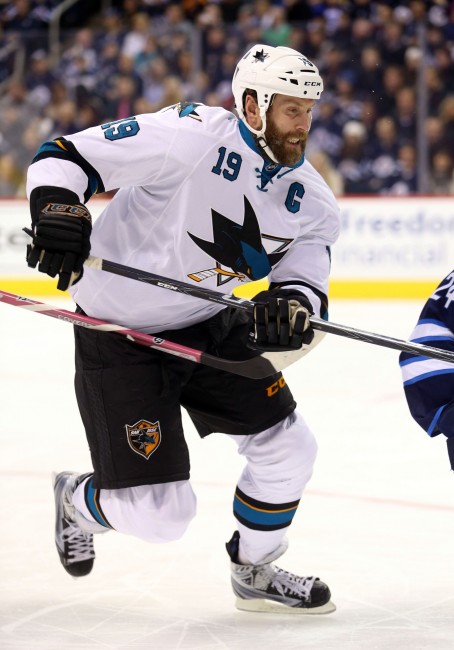 You don't need me to tell you how valuable Jumbo has been to this club. But I will anyways. The most recent captain of the perennial contenders, Thornton has been the voice and skill at center many other teams would kill for.
Tomas Hertl owes much of his success to the leadership and playmaking ability of the aging center. THW's Andrew Bensch recently argued how undervalued Jumbo is (check that out here). While his goal scoring numbers have plummeted, he still produces points and wins faceoffs like nobody's business.
Joe Thornton has been a veteran captain that is respected throughout the league. However, his career has been split between the Boston Bruins and the Sharks. While his impact is more heavily felt in California, retired jerseys tend to come from guys who spend their whole careers on one franchise. Does his body of work with Team Teal warrant the honor of first retired Sharks number?
Patrick Marleau
Drafted right behind teammate Joe Thornton in the 1997 draft, Patrick Marleau has spent his entire career in San Jose. He earned the captaincy during the 2003-04 season and held it until 2009 when Rob Blake took it. Jumbo Joe would then assume the "C" with Marleau taking an assistant captain role.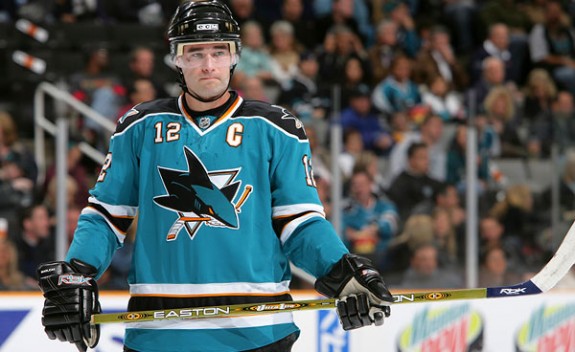 After a few years of struggling, Marleau traded his initial #14 in 2001. He became a leader on the team and consistently played at least 70 games, never missing too much time to injury. His durability and sharpshooting skill made him a constant threat to opposing defenses. He holds numerous team records and still produces big numbers to this day. His role on the line with Logan Couture creates one of the most dominating lines in the game. They face the toughest competition yet still score and own possession.
What truly makes Marleau the best candidate for a retired Sharks number is how embodies the spirit of his team. A nomination for the Lady Byng Trophy honors him as one of the most gentlemanly players in the league, a trait all teams should strive for, mirrors the clean play the Sharks have become known for.
On the opposite end of the spectrum, Patrick Marleau has seen a lot of criticism come his way. Much of it comes after disappointment in the playoffs, however. Yet, with all the criticism he gets, like the Sharks, Marleau has been a stalwart at SAP Center. The Sharks are constantly criticized and labeled chokers, yet they haven't dropped off. Each season after they lose "too early" they return the next season as major contenders.
Marleau has, and always will be, a Shark. His jersey (number 12, not that 14 we don't talk about) will be the first jersey raised to the rafters. Hopefully, that won't be for a few more years and a Stanley Cup, though.