There have been a couple of days between the draft and now, some thinking time to identify trends, losers, winners, surprises and more. Let's have a look at the biggest stand outs from the 2016 NHL Entry Draft.
The Obvious
There was a big fuss on a potential first overall selection of Patrik Laine prior to the draft. However, every scout being long enough in the business knew that this wouldn't happen. There was little doubt among experts that Auston Matthews from the ZSC Lions would go first overall. The Leafs' Director of Player Personnel, Mark Hunter, finally ended the speculation by announcing Matthews as their first overall pick on Friday evening.
A win-win situation for the Maple Leafs and Winnipeg Jets, who not-surprisingly selected Laine with their first pick. The Leafs finally got their much-needed number one center and the Jets, who already have a deep prospect pool, added a scoring machine in Laine.
The Big Surprise
There were some minor surprises in this draft, with some guys we all had ranked differently than the actual selection. The biggest surprise, however, was the selection of the Columbus Blue Jackets at third overall.
The top three were supposed to be a lock — Matthews, Laine and Jesse Puljujarvi have been untouchable in any pre-draft rankings I have seen…until the Blue Jackets were on the clock Friday evening.
General manager Jarmo Kekalainen sent his Finnish Head of Scout, Ville Siren, to the podium for a perfect pronunciation of Puljujarvi's name. At least that was what I thought. Instead of Puljujarvi, the Blue Jackets went with big forward Pierre-Luc Dubois from Cape Breton at third overall and surprised everyone.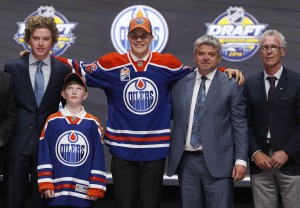 After the draft, Kekalainen announced that they had an eye on Dubois since the beginning of the season and that he was their favourite guy to select. While this is a risky pick and Puljujarvi seemed to be the better prospect than Dubois to many experts, it does not necessarily mean it has been a mistake drafting Dubois over the Finn.
Personally, I haven't been the biggest fan of Puljujarvi but thought he was the best player available when Columbus was on the clock. Still, the Blue Jackets needed a center after trading Ryan Johansen to Nashville and they think that Dubois excels best at center.
There is nothing wrong in drafting the guy you are high on and it needed a lot of courage from Kekalainen to make this move. But here is the thing with drafting for need – one move during the offseason or during the 2016-17 season like a trade or injury changes what your team needs. The market and the game change fast these days, and what if in a month the situation changes again because of a trade? You might have skipped the best player available because of a need that has been overturned by another need meanwhile. If it works out for the Blue Jackets, fine, but if not then that selection is going to bite them back big time.
The Fall
Each draft sees players fall in the rankings. Here are some from this year:
Jakob Chychrun (16thoverall)
It was not a big surprise Jakob Chychrun dropped to the mid-first round. He was once considered a top three prospect but has seen his stock dropping since a while. Still, I think that the Arizona Coyotes made a great pick selecting him that late. He seems like a safe prospect to me, maybe not as much upside as Mikhail Sergachev and Olli Juolevi, but his shot is great and he does have leadership skills. The Coyotes prospect pool got even more impressive over the weekend.
Vitali Abramov (65thoverall)
Undersized Vitali Abramov has been projected as a late first rounder or early second rounder. The Blue Jackets were pretty happy to get him that late in the draft. Kekalainen said later that they had Abramov at number 29 on their draft board.
How on earth did Vitali Abramov fall to the third round?

— Daniel Friedman (@DanJFriedman) June 26, 2016
Alexander DeBrincat (39thoverall)
Another projected first rounder who dropped into the mid-second round. DeBrincat had another outstanding season with the Lake Erie Otters but due to several reasons, he never really made it past the boom-or-bust label so far. The Hawks might got a great steal in him and because they had three second round picks, they took the risk of drafting De Brincat.
Carl Grundstrom (57thoverall)
Nice pickup for the Leafs here. Grundstrom is a gritty forward who drives the net with determination. He won't score the pretty goals but he definitely comes to work in every shift. He shouldn't have dropped past the mid-second round.
William Bitten (70thoverall)
I thought his strong outing at the U18 World Championship would have strengthened his late first round label, but him slipping into the third round is a bit of a surprise to me. The Habs have made a great pickup with him that late. I had him as a potential first rounder or early second rounder in my notes.
Victor Mete (100thoverall)
Another great pickup by the Montreal Canadiens in the mid-rounds. Puckmoving defender Victor Mete from the London Knights shouldn't have dropped into the fourth round and like Bitten, he could turn out to be a great selection by the Habs.
Jacob Moverare (112thoverall)
Could turn out to be one of the steals in this year's draft. Moverare is a big and mobile defenceman who displays decent puck skills. He is also one of the youngest prospects in this draft. He will develop next season in the highest Swedish league and if he can transfer his game successfully to the next level, the Kings have made a great selection with their fourth round pick.
6th-7th rounders
The last two rounds contain some interesting players, and some names which probably should have been selected earlier. There is a high chance that one of those guys will be called a steal in some years. To give you some examples, the following prospects are great additions in the sixth or seventh round:
Aapeli Rasanen (EDM, sixth round)
Markus Nurmi (OTT, sixth round)
Oskar Steen (BOS, sixth round)
Dmitri Sokolov (MIN, seventh round)
David Quenneville (NYI, seventh round)
Ty Ronning (NYR, seventh round)
Otto Somppi (TBL, seventh round)
The Rise
Trent Frederic (29thoverall)
Not many had guessed that NTDP's Trent Frederic would end up in the first round. He did deliver the U18 with secondary scoring and played in the shadow of the program's top line featuring Kieffer Bellows and Clayton Keller. Frederic is a powerful two-way center who shows good work ethic and keeps the game simple in both zones. He enjoys the physical side of the game and is a perfect fit for the second or third line at NHL-level. Not a big surprise the Bruins picked him up, but indeed a surprise he slipped into the first round as it remains uncertain if he can be more than bottom-six guy.
Trent Frederic says biggest area he needs to improve is offense. Considers himself a two-way physical forward. #Bruins

— DJ Bean (@DJ_Bean) June 25, 2016
Henrik Borgstrom (23rdoverall)
A big overager who a lot of rankings had lower in the draft. The Finnish center, who has committed to the University of Denver next season, is a strong playmaker who can dish out the puck exceptionally good. He has put up impressive numbers in the Finnish junior league and was considered one of the more underrated prospects in this draft class prior to the draft. He needs to use his big frame more effective and could improve his two-way game, but he has a lot of attributes which could make him worth the first rounder reputation.
Egor Korshkov (31stoverall)
The Toronto Maple Leafs rolled the dice a bit kicking off the second round with the selection of the Russian power forward Egor Korshkov. The big and strong winger has spent the majority of the season in the KHL where he put up solid 12 points with Yaroslavl. He wasn't a guy that was mentioned too often before the season but his outstanding U20 WJC performance made him one of the top European-based prospects. He impressed with his powerful puck protection and was effective around the net. I was slightly surprised to see him going that early as he is a double-overager and I have doubts how fast he could come overseas to join the Leafs organization. However, he definitely showed that he knows how to impress using all of his skills.
The Undrafted
Each draft has them, the kids that have to leave the arena without getting drafted. This year's draft edition does too, some of them are more understandable, some less. Some names I really thought they should have been drafted can be found below. Don't be surprised to see their names popping up in the course of the next couple of seasons, they all have the potential to become NHLers at some point and should really not be forgotten.
Tim Wahlgren (C, Modo Hockey)
Maxime Fortier (RW, Halifax)
Sebastian Aho (D, Skelleftea)
William Knierim (RW, Dubuque)
Otto Makinen (C, Tappara U20)
Vladislav Sukhachev (G, Russia U18)
Vladimir Kuznetsov (LW, Acadie-Bathurst)
Zach Sawchenko (G, Moose Jaw)
The Winners and Losers
Potential draft winners and losers are always tricky to announce so shortly after the actual draft. Only time will tell, but I liked what the following teams drafted: Arizona Coyotes, Edmonton Oilers, Calgary Flames and the Philadelphia Flyers. In addition, I also liked the picks of the Toronto Maple Leafs, Nashville Predators, New Jersey Devils and Tampa Bay Lightning.
Leafs draft 4 Americans, 3 Russians, 3 Canadians and a Swede. Leafs also picked 4 overagers amongst that group. #TMLtalk

— Paul Hendrick (@HennyTweets) June 25, 2016
If I had to name potential draft losers, I would probably put the San Jose Sharks and the Washington Capitals on that list. None of their picks did really impress me.
Sneak Peek
Potential top 10 outlook for the 2017 NHL Draft:
Nolan Patrick (C, Brandon)
Timothy Liljegren (D, Rogle U20)
Maxime Comtois (RW, Victoriaville)
Kristian Vesalainen (LW, Frolunda)
Owen Tippet (RW, Mississauga)
Kailer Yamamoto (C, Spokane)
Casey Mittelstadt (C, Eden Prairie)
Juuso Valimaki (D, Tri City)
Lias Andersson (C, HV 71)
Urho Vaakanainen (D, Espoo)