With the recent restructuring of the front-office staff and the apparent shift to an analytics-heavy scouting philosophy, conventional logic seemed to be out the window when it came to figuring out who the Florida Panthers would select in the 2016 NHL entry draft.
Many analysts figured that the club, and new GM Tom Rowe, would be looking for a top-line defenseman — Erik Gudbrandson was traded to Vancouver in May, Willie Mitchell will most likely be retiring this summer, and the team decided not to offer Brian Campbell a contract.
The recent acquisition of Keith Yandle may have made defense a lower priority coming into the draft, but you can't pair Yandle with a guy like Mark Psysk and expect high-end production. (And that's if Psysk even makes the roster, given how much time he has spent in the AHL over the past four seasons.)
The Panthers also need some extra contributions from their winger positions, so it would not have been surprising to see the organization make a move to try and select one of the draft's big power forwards, like Val d'or's Julien Gauthier or the London Knights' Max Jones.
So what did the Cats decide to do?
Surprise, Surprise: Henrik Borgström
At number 23, the Panthers surprised us all by using their first-round pick to select Henrik Borgström, an 18-year-old center who spent last season in Finland's HIFK-20 league. Over the past two years, the 6'3", 176-lb. Borgström posted 41 goals and 51 assists while displaying a knack for making highlight-worthy plays from all areas of the ice. He has excellent stick-handling skills and a quick release. In these ways, Borgström resembles Aleksander Barkov to a certain extent. And Panthers fans would be ecstatic if they could get another Barkov on the roster.
But there are some knocks on Borgström. His strong offensive production over the last two seasons came against less-talented competition in the Finnish junior leagues (though this allowed him to retain his NCAA eligibility), and he has no international tournament experience. Many scouts think that Borgström still needs to work on his skating ability and positional play in the defensive zone. Borgström also needs to gain strength in order to help him win one-on-one battles more consistently.
Still, these are limitations that can be addressed through physical maturation and experience playing against a higher level of competition. Both of these things should happen when Borgström begins playing at the University of Denver under head coach Jim Montgomery in the fall.
The pick itself is receiving mixed reviews. Some analysts think that Borgström was taken entirely too early. Bob McKenzie of TSN had him ranked as the 35th-best player in the draft, and Elite Prospects was even less impressed, ranking the Finn as the 79th-best player available. With that said, other pundits such as Craig Button think that Borgström might be one of the "steals" of the first round.
Either way, it's going to be a while until we find out who is right. Borgström looks like a long-term investment, but one that might pay off big-time if he can address the deficiencies in his game mentioned above.
All the Best of All the Rest
The Panthers came into the draft with five picks overall, but two were in the first 38 selections and the team was able to add 2 other picks via trades with Vancouver and Boston. After Borgström, Florida's selections were as follows:
Round 2, #38: Adam Mascherin, LW, Kitchener Rangers (OHL); 5'10", 205.
Round 3, #89: Linus Nässén, D, Lulea HF (SHL); 6'0", 167.
Round 4, #94: Jonathan Ang, Peterborough Petes (OHL); 5'11", 163.
Round 4, #114: Riley Stillman, D, Oshawa Generals (OHL); 6'1", 180.
Round 6, #175: Maxim Mamin, C/RW, CSKA Moscow (KHL); 6'2", 198.
Round 7, #195: Benjamin Finkelstein, D, Kimball Union Academy; 5'9″, 185.
Forwards
Mascherin put up some very strong numbers (35 G, 46A) with Kitchener this season. Still, he's only listed as 5'10"—and even that might be generous—so it's unlikely that he'll one day be filling the power-forward position that Jaromir Jagr currently occupies. (This task is more likely to fall on Lawson Crouse, who should be up with the Panthers this year.) Although scouts love his tenacity in the offensive zone, there are also questions about his dedication to the backcheck and the defensive side of the game.
Ang put up 49 points for the Petes and performed well at the NHL Combine, and was widely considered one of the OHL's best skaters. He's is currently is listed at 163 lbs.—nearly 40 lbs. less than Mascherin—though at 18 he has some time to put on the muscle he'll need in order to survive the rigors of an 82-game season.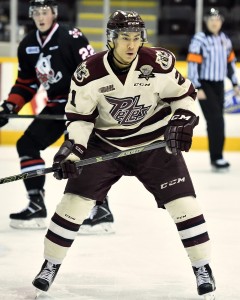 Mamin may be the Panthers' most-intriguing forward selection in this year's draft. He played in 61 games with CSKA Moscow over the past two seasons, where he posted 14 goals and 15 assists. He's strong on the puck and can play both behind and in front of the net, and is willing to mix it up with opponents. He has also represented Russia at the U-17 level, playing in the junior World Hockey Cup last year. He could end up being a real contributor to the Panthers once he makes the jump to the NHL.
Defensemen
Some experts question whether Nässén was the best pick available at 89, but sometimes you pick to fill needs and the Panthers could certainly use mobile defensemen. The main problem here is that Nässén's size can work against him in his own zone when he's trying to cover the Anze Kopitars and Andrew Ladds of the world. He currently seems to be more of a Shayne Gosthisbehere type, using his quickness and smarts to control play in the defensive zone while helping to generate offense via his speed and slick passes; he'll likely need to be paired with someone like Aaron Ekblad, a defender who can hang back when necessary and cover any counter rushes that may occur if Nässén is too deep in the offensive zone.
Despite the fact that he was taken later than Nässén, it's possible that Stillman will develop into the much more effective player. The son of former Panther Cory Stillman, the younger Stillman showed continued progression as the Generals' season went along. Like Nässén, he has some nice speed and could develop into a prototypical puck-moving defenseman. Unlike Nässén, however, Stillman can use his size to disrupt opponents' play in his zone, and he does not shy away from playing a physical game along the boards and in one-on-one battles.
Finkelstein is a smaller blueliner who just completed his final year of high school at Kimball Union Academy. Finkelstein was an offensive dynamo at Kimball, posting 24 goals and 46 assists in 35 games. He'll be playing with St. Lawrence University starting in the fall.
We can note here that some fans were surprised that no goaltender was taken, given that Roberto Luongo is 37 years old and his projected backup, Reto Berra, is by no means a long-term solution. The Panthers are known to be pretty high on Samuel Montembeault, so fans should expect to see him up with the big club once Berra's contract expires in at the end of the 2016-17 season.
A Draft for the Future
Overall, Rowe and his team seem to have addressed organizational needs for the future, as none of these picks look like they will be contributing for another two or three years. The Panthers have had one of the busiest off-seasons (and definitely the strangest) in the league thus far, so they may be looking to address their more immediate needs via free agency. If nothing else, the club looks like it will be a source of interesting moves throughout the summer.
Marc has been writing in various professional capacities for more than a decade. He has written on a number of topics including local/state news, government and the media. He remains one of Toms River, NJ's all-time greatest street-hockey goalies.
Feel free to follow Marc on Twitter: @Marc_Cavella