Calle Jarnkrok signed a six-year, $12 million contract extension with the Nashville Predators this summer, locking him up until the 2021-22 season.
The signing was a rare one in today's NHL. You don't see many teams locking up young talent for such long-term at that low of a price, especially for a player coming off the best season of his career while possessing great potential at just 24 years old (he'll be 25 come September 25th). At just $2 million per season, the signing is almost unprecedented.
Jarnkrok recorded 16 goals and 30 points in 81 games for the Predators last season, scoring nine more goals and tallying 12 more points than he recorded during the 2014-15 season in 74 games. The Predators saw great improvements in Jarnkrok's game both offensively and defensively, which earned him on average 16:08 minutes of ice time each night.
Many think that Jarnkrok low-balled himself in the signing, jumping for the first bag of money the Preds offered him in order to secure himself financially in the long run. You often see young players looking for a nice raise on their salaries when signing new contract extensions, especially ones that are for a longer term, but Jarnkrok raised his salary just $1.1 million with the new deal. We know one thing for sure; the Preds' front office wasn't going to question his decision to sign.
Road to Nashville
Originally drafted in the second round, 51st overall in 2010 NHL Entry Draft by the Detroit Red Wings, Jarnkrok was traded to Nashville in March of 2014 along with Patrick Eaves and a third-round pick for former long-time Predator, David Legwand.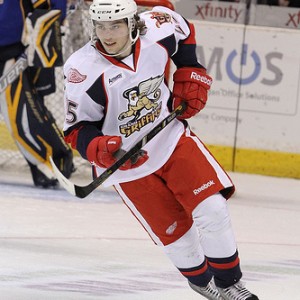 Just by looking at the path Legwand has travelled since the trade (going from the Red Wings to the Ottawa Senators, and now the Buffalo Sabres), it's easy to see that Nashville clearly won the trade, obtaining a skilled young prospect in Jarnkrok along with additional assets. The Preds knew the Red Wings were desperate for depth at forward going into the playoffs, and knew they could get a top prospect in return for Legwand's services. Now they have that talented prospect locked up for six years.
The signing is definitely a win for the Predators, especially if Jarnkrok continues to increase his production and pans out to be the reliable top-nine forward many see him becoming. He's been used in more offensive situations for the Preds since arriving in Nashville, receiving 52.5% of his starts in the offensive zone last season. If this trend continues, Jarnkrok could be given the opportunity to reach the 20-goal plateau this year and a shot at cracking 40-points for the first time in his career.
David Poile Strikes Again
This isn't the first bargain contract GM David Poile has formalized in Nashville. In fact, there are a number of great players locked up to discounted contracts in Smashville that a number of other GMs in the League are undoubtedly jealous of. A sense of envy can be felt towards Poile for his ability in identifying stellar young talent and locking those players up for the term and price he's been able to settle on in the past.
In the last three years alone, names like Roman Josi, Mattias Ekholm, and Ryan Ellis have been signed to contracts of at least five-years in length, and Josi leads that group of players with a cap hit of just $4 million. These three defensemen make up three of Nashville's top four blueliners, with Josi and Ekholm leading that group at just 26 years old. If those contracts were to be terminated today and those players were looking for new deals, each could be making upwards of $5 million plus per season, for starters. Poile worked his magic to ensure that wasn't going to be the case and put pen to paper early, hoping he strikes gold again here with Jarnkrok staying onboard.
The Preds are hoping their new bargain player can make good on his promise to improve his game and increase his overall production, not only because they need more scoring from their forwards, but also to add to Poile's genius signing history. Jarnkrok clearly doesn't find money to be the sole motivation, so we should expect a breakout season from the Swedish winger now that the bank is taken care of.