In early July the Philadelphia Flyers invited their prospects to Voorhees to train, do drills, and show what they are capable of in development camp. Fast forward two months, and the same prospects, coupled with a few camp invitees, have made their way back to fight for a spot on an NHL roster.
Rookie camp began on Saturday and wrapped up Tuesday when the Flyers' prospects did battle against the Washington Capitals' prospects. The game saw the Flyers come away with a 3-0 victory backstopped by Anthony Stolarz and Martin Ouellette. It is an annual tradition between the two franchises that has seen the Flyers win more often than not.
There is a slew of information that can be gleaned from rookie camp by watching these bright-eyed, bushy-tailed youngsters practice, and even more can be taken away when you watch them play in game-like situations. Here are some of my observations over the last four days of Rookie Camp before the Flyers begin their official training camp on Saturday.
I'll begin with Nick Cousins. During development camp, he didn't impress me at all. I saw a player who was trying to do too much and was getting aggravated when things wouldn't go his way. I've come to realize that's his nature and for whatever reason he did very well in rookie camp. Cousins has quick acceleration and breakaway speed with nifty skills in traffic. After Laughton, he's probably the next player the Flyers will call up if they're in need of a forward.
Another player I ragged on during development camp was Brandon Alderson. He was another player who impressed me. I didn't think he skated very well in development camp because he was falling down quite a bit, but for such a big guy, he has wheels. In drills he was protecting the puck well and using his strength to win board battles. Another viable call up in case of injury.
In my heart of hearts, Robert Hagg is the most ready NHL prospect defenseman the Flyers have. He's so calm and simplistic in his game. He carries himself with confidence and knows what plays to make and at what times to make them. Hagg has the advantage of having played in the Elite League in Sweden where he gained necessary traits to transition his game to North America. He's not very big, but you rarely see him get outmuscled. A fluid skater, Hagg has both offensive and defensive awareness in all areas of the rink. He gets the job done in his own end and on the scoresheet.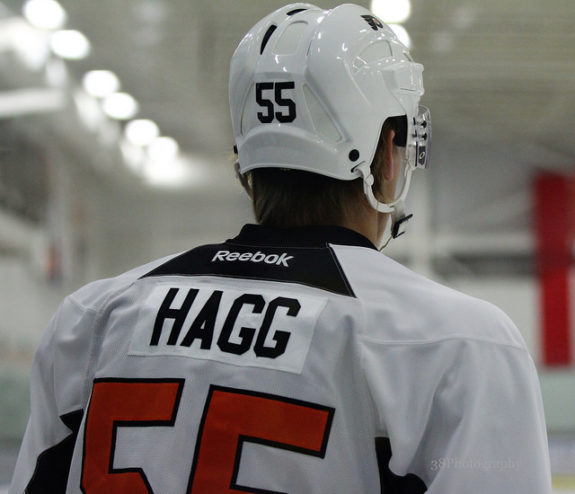 I still believe Taylor Leier is the most underrated prospect in the Flyers pipeline. He has great vision around the ice and silky smooth hands that could get out of a phone booth. His passing is on point, too. Specifically in the rookie game, there were a few instances where Leier found his linemates with drop passes or backhand passes in which he wasn't even looking. Just has a sense for where his teammates (and more importantly the play) is going to be. Leier is capable of playing on the defensive side of the puck. He had this to say about his two-way game: "Mike [Johnston] did a really good job of teaching me to play a two-way game. I think it's one of the assets I do have is to play at both ends of the ice. Whatever I can do to help and where [Terry Murray] is going to put me I'm fine with anything. I just want a shot and hopefully I can prove myself."
The hype that's surround Shayne Gostisbehere is warranted. The kid mesmerized his peers and opponents with his eagerness to carry the puck and gain the offensive zone. It's what made him so successful in helping Union College win the National Championship here. His outlet passes are crisp with pinpoint accuracy, he skates like the wind, and shows composure with the puck. Too many fans want him to make the jump into the NHL, but as was shown in the rookie game, even with his skills, he makes simple mistakes by trying to be too fancy (something that will get fixed playing with better players in the AHL). Even more so is his stature. He's still undersized and easily gets knocked off the puck in the corners. He thrives in the open ice, however he needs to focus on building muscle. But you can't deny his skill level and offensive potential. Terry Murray spoke about him after the game saying: "He's an exciting guy, isn't he? When he gets the puck on his stick he wants to do something with it. He wants to have the puck on his stick. He wants to attack. And that's an attitude that is very difficult to teach. It's an instinctive part of the game for him and I want to encourage it. I want him to play on the edge. I like the upside in what I think I see in his game. So when you get a foundation in place on the other part of the game, he's going to be a pretty exciting player."
No one got a chance to see Anthony Stolarz in the development camp because he was out with an injury. Coming into rookie camp, you would think he was in tip-top form – and he was. Stolarz takes up a lot of net with his size, but that's a given. What I saw from him this week is how he can read developing plays and anticipate when the shot is coming long before a player winds up. He had excellent lateral movement, which is something you don't see from large goalies. Stolarz wasn't tested much during the rookie game, but he did make the big saves when he needed to. Goalies are not only the most difficult to project, it's also the most difficult position to play. He's shown quite the improvement from his college days. Going to the London Knights has done him good.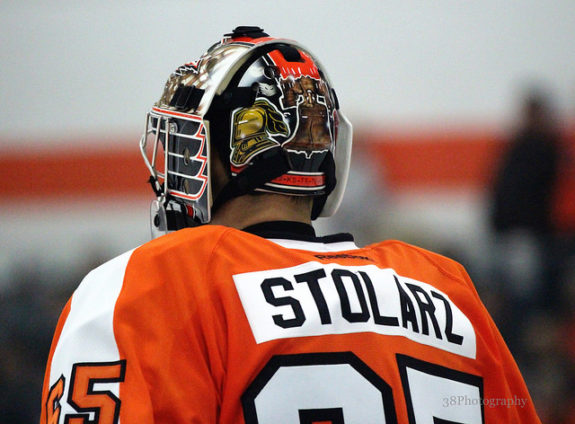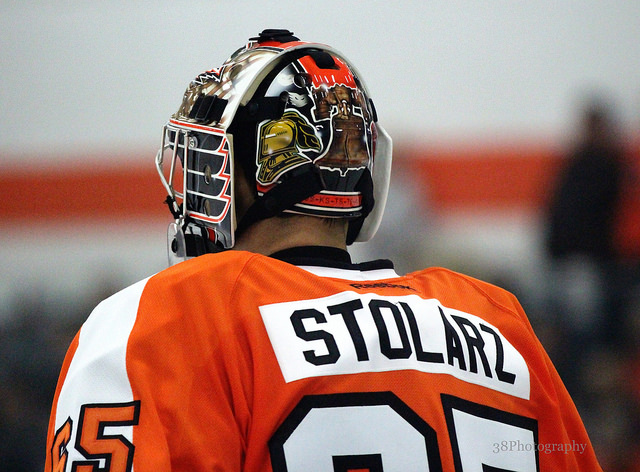 The Flyers took a gamble with their 1st round pick in the 2014 draft by taking Travis Sanheim. I'll begin by saying he is very raw in a prospect sense. He is going to need at least 3 years of WHL and AHL hockey combined before he will be getting some NHL time. Sanheim is built like a toothpick. Not much meat on his bones, so that will be a focal point for him over the next couple seasons. But on a more positive note, I saw the glimpses of potential with the Calgary Hitmen defenseman over the past few days. An excellent mobile defenseman, he always seemed to be able to get back into the play and break it up. In two instances (one during drills and one during the game), Sanheim coughed up the puck and the player was breaking in on the goalie. In a few quick strides he was able to get a stick on the puck forcing the shot wide. During the game against the Capitals he led an end-t0-end rush where he dipsy-dooed around three defenders with grace. Just by watching his style of play you can see that this gamble might just be a very wise pick.
Nicolas Aube-Kubel had a few QMJHL preseason games (scored four goals) and one regular season game for the Val d'Or Foreurs (scored twice) under his belt before coming to rookie camp. I knocked him a bit on his defensive play early in camp, but he really showed up on both sides of the puck. Aube-Kubel is a creative, yet tough, forward with blazing speed and a powerful wrist shot. He's fancy in the offensive zone, but hustles to get back to play defensively. He played second fiddle to Anthony Mantha last season in the Q, but with Mantha possibly suiting up for the Detroit Red Wings, Aube-Kubel will be getting top line minutes and will invariably be scoring at a much greater pace than last season.
Louick Marcotte was a teammate of Aube-Kubel's last season and was invited by the Flyers to rookie camp and training camp. I didn't see much of anything from Marcott, good or bad. There wasn't anything that stood out and he didn't turns heads, especially after having a 100-point season in the QMJHL. I think it had more to do with him being placed on Anthony Mantha's line than anything else.
I can't say it enough – Scott Laughton is ready for the NHL. Whether or not the Flyers will start him on the 4th line in Philadelphia or 1st line in Lehigh Valley is to be determined, but he has the size and skill to play in the pros. The best prospect on the ice during both developmental camp and rookie camp, Laughton has a will to be the best when he plays. You can see it in his eyes that he will do what it takes to help his team win. His hockey IQ is some of the best I've seen and Laughton can stop on a dime with his agility and turning. He creates opportunities for himself and his teammates every shift and battles hard in every area. Whatever the Flyers decide to do with him, it won't hurt his game or his developmental path, but he'll be ready when he gets called upon.
Tyrell Goulbourne did not participate in rookie camp this week. He sustained a concussion during preseason with the Kelowna Rockets, but I believe he's cleared to play in training camp in a few days. He still hasn't accepted the AHL-only deal Hextall offered him in the offseason – an offer I'm sure he's probably still ticked off about. But playing in training camp will be nice proving ground for him to possibly earn that entry-level contract he hopes to get.
If you look at Sam Morin's QMJHL stats, you'll notice he had 31 points last year for Rimouski. I've read some fans who expect him to put up those kind of numbers when he graduates to the NHL. I'm here to tell you he likely won't reach 20 points on a consistent basis. It's just not his game. Morin is a mammoth blueliner that physically punishes his opponents. His offensive game is very basic and still needs tweaking, but other than his booming slapshot, he isn't very offensive. A shutdown defenseman in every sense of the word, Morin is elegant in his skating and only takes two or three strides to get back into a play. In the game against Washington he took an exception to a nasty check on one of his teammates and immediately started getting into it with the Capitals player. Terry Murray said this after the game: "That play where our player got hit from behind in front of our bench…for [Morin] to jump in like that, I like that. That's the team stuff that you build on. That's an 'I'm there for my teammates and I'm always going to have your back' kind of attitude and that's important. It's always been a Flyers staple and a Phantoms staple and we never want to lose that. On his play – I thought he did the little things well here today. That's the kind of game we need to see…Just fundamentally solid throughout 60 minutes."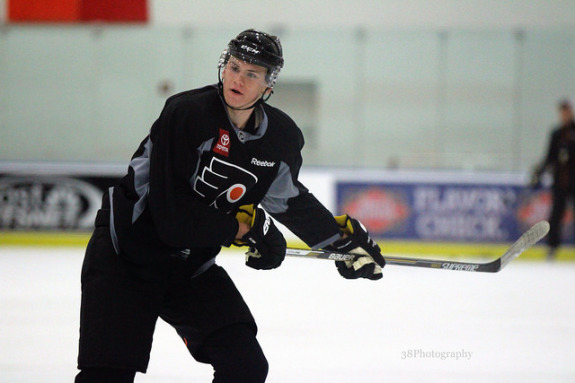 You can chalk up Petr Straka in the Cousins and Alderson camp. He had a poor developmental camp, but came out strong in day one of rookie camp all the way up to the end of the rookie game where he finished with a goal and an assist. Straka showed the knack for goal scoring at this camp with shifty moves and great balance, even against bigger players. He was a fun player to watch as he improved leaps and bounds from two months ago. He's in his 2nd year of a 3-year deal, so this season with the Phantoms will be a great proving ground for him.
The one player outside the 'Big Four' (Morin, Hagg, Gostisbehere, Sanheim) that needs to be looked at more is Jesper Pettersson. I know this may sound crazy, but I think he – like Hagg – is ready for the NHL despite his diminutive size. Small defenders haven't gotten a good crack at making an NHL roster, but Pettersson has the tools to do so. He's a fearless competitor that throws his short, bulky body around and doesn't give up on the play. That's probably why he got the nickname "Pitbull" in his time in Sweden. With choppy, explosive bursts, Pettersson's acceleration stands out and his 'heads up' style is really what took me by surprise. I praised him during development camp and I seemed to be the only one. During rookie camp there were many instances where he seemed like he was trapped in a corner in his own zone, but with his smarts, was able to find a way out and push the pace into the attacking zone. Terry Murray spoke of Pettersson's game: "He's a very competitive guy. He has tremendous gaps on the checking part of the game back through the middle of the ice. He's aggressive at our own blueline. And that's a nice instinctive part of the game that he brings. It looks like with the puck he's got some composure. So it will only get better from here."
If you haven't read my interview with Radel Fazleev, we talked at length for the better part of 15 minutes on Monday (article here). Coming from Russia to North America isn't easy, but Fazleev has grown accustomed to the North American style of hockey and plays a straightforward game. He's eager to learn everyday and soaks up information from his coaches like a sponge. Fazleev is only 6'0″ and not very big, but watching his game, you noticed right away he won't back down from any player. What he lacks in speed, he makes up for it by the way he thinks the game. A cerebral forward, Fazleev is a versatile forward that can play center or wing. He also plays equally well in every zone and situation (even strength, powerplay, penalty kill). With the puck on his stick he slows the pace of the game down to a level that is comfortable for him and feathers passes to his teammates with ease. He's primarily a playmaker, but told me in the interview that he's been working on his shot this offseason. He admits his biggest weakness is his strength and that he needs to gain muscle. But you can see he has a fire within him to get better. Fazleev will probably finish out all four seasons with Calgary before making the jump to the AHL, but there is a lot of promise with him – especially given that he was a 6th round pick.