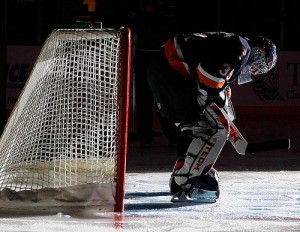 Rick DiPietro began his comeback from injury in the middle of last season but was then shut down as the year started to conclude in order to prevent any further harm to the fragile goaltender. He had only appeared in thirteen games over two seasons and is currently in the early stages of a fifteen-year contract. Being that he is the team's franchise net-minder for many years to come, whether anyone likes it or not, Rick's health has become a top priority and concern for the team.
DP started the season without an estimate of starts or any numbered expectations; the only goal was for DP to start and finish the season healthy. So far he is on pace to do that (knock on wood), although his recovery has been slow and steady.
DiPietro has appeared in 21 games this season with a 7-10-4 record while also posting one shutout. His GAA is 3.36 along with a .890 save percentage. There is no hiding that the Islanders are a bottom seeded team that has struggled to win hockey games this year, and DP's numbers are indicative of that fact. However, some nights Rick has stood on his head and stolen a few hockey games. Others, such as the 3-0 loss to the Penguins last night, were not his best.
In last night's loss to the Penguins, DiPietro was seen flopping through his crease early on in the first period. He also let up a terrible goal to Chris Kunitz, a backhand shot that bounced off his shoulder as he cut across his crease in anticipation of a pass for the Penguins 2-0n-1 rush. He admitted after the game that he was "cheating" to one side and should have been ready. The fact that he was involved in a one-punch knockout with Penguins goaltender, Brent Jonhson, didn't help either. But you got to give kudos to #39 for willing to drop the mits (although he had it coming after dropping Matt Cooke) as well as to Johnson, who was seen giving DiPietro a pat on his crest after the fight for good sportsmanship.
http://www.youtube.com/watch?v=yjdlEO0G154&feature=related (YouTube video courtesy of nhlboy88)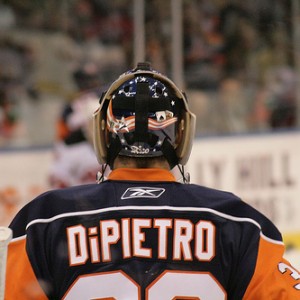 But the season isn't over, and DiPietro is likely to have a few bad goals continue to get passed him. 21 games out of 51 is not a lot, but it's probably a number that many are pleased with after his previous two seasons. It's also important to keep in mind that Ricky has a fragile, young defense in front of him. Travis Hamonic is in his first season out of Junior, having started the year with the Sound Tigers in the AHL. Dylan Reese has been a consistent AHL call-up; Jack Hillen lacks the size to be constantly effective in front of the net; veterans Mike Mottau and Mark Eaton are done for the season and Mark Streit hasn't played a game all year. That leaves Radek Martinek, Bruno Gervais and Andrew MacDonald to handle a lot of minutes. Although the relatively inexperienced defense has proven strong in some areas, DiPietro surely could use a little more assistance when trying to shave off the rust.
DiPietro's season is a success if he can get in around another 15 starts before the end of the year and win the majority. Islanders management has already kept DP out of the line-up for maintenance and precautionary reasons – as they should. He also has battled the flu this year as well as a mild groin strain. Other than the typical injuries every player faces, the twenty-nine year old goalie appears to be alright and should be able to accomplish that task.
Nathan Lawson should also be returning soon as the Islanders number-two goalie on the bench which should allow rookie Kevin Poulin to be returned to Bridgeport for further proper development. For one thing,  DiPietro's absences on the ice have allowed the organization to display their depth between the pipes.
But so far DiPietro has taken some major steps in the right direction.
**Friday 5:41 PM Update**
It would be fitting that the New York Islanders announce that Rick DiPietro will be out 4-6 weeks with a facial fracture and knee swelling less than 24 hours after I wrote this article. But never the less, these are the breaks. It will be much harder for DP to reach my predicted expectations and adds several more question marks heading into the future.
A number that a lot of bloggers and fans placed on DiPietro's starts for this season, in order for him to start a comeback that signified he had enough gas left in the tank to make it over the next decade, was a minimum of 20. He's only at 21. Settling for close to the minimum is never a comforting feeling.
More to come…
-Rob McGowan
Follow me on Twitter!
http://twitter.com/IslesRM