Christopher Ralph is THW's prospect and draft analyst
Please "Click Here" for "Notes Up Front" and the "Legend" for various topics covered below in my "Live Updated" NHL 2010 Draft Preview article. (2011 specific "home page" article will be released as draft draws near.)
Adam Larsson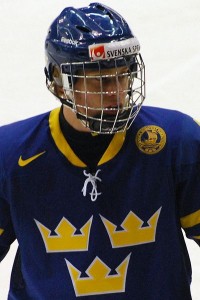 Born:  Skellefteå, SWE
DOB:  November 12, 1992
NHL Draft Eligibility: 2011
Height: 6.3
Weight: 220
Position: Defense
Shoots: Right
One-Timer:
The burgeoning blue chip blueliner out of Sweden understandably draws comparisons to the incomparable Niklas Lidstrom. To compare Larsson at this stage to Lidstrom, however, is unjust. Lidstrom is undeniably one of the great blueliners of all time. But Larsson does indeed have the potential to be an excellent blueliner in his own right.
Yahoo Sports explored the topic if Larsson could be better than Lidstrom. While he may be ahead of the curve at this point in the game, it should be kept in mind the obvious developmental stages defensemen often follow, and the subsequent time it takes for them to reach their full potential. A third round selection, Lidstrom was evidently a legendary late bloomer.
"He's much better now than Lidstrom was at the same age," Tommy Boustedt, the Swedish hockey federation's national director of development, said in a phone interview from Sweden. "If he hadn't played for our under-18 team in April he would have played on our men's national team in May, he's that good.

"I think he will be, in the end, one of the best defenders our country has ever produced."
What makes Larsson such a hot commodity? Great size. Superior hockey sense. Strong skater. Accurate point shot. Recoverability. Outstanding outlet passer. All around defenseman.
While his acceleration could be improved upon, Larsson is a smooth skater and has that uncanny ability to recover puck control in his own zone and read plays effectively to impede the opposition's offensive tactics. He's a calm and assertive defender with a high defensive acumen. He rounds out his game nicely with very good puck-handling ability and deft positioning.
Darren Dreger recently reported: "Highly touted Swedish d-man, Adam Larsson hasn't played since WJC because of a groin injury. He's getting better, but still weeks away."
He might actually return this coming weekend.
In my holiday edition mock draft, "Grand Larsonn-y", I had Larsson going first overall. Adam has some stiff competition for the coveted first overall position in Ryan Nugent-Hopkins (RNH), Sean Couturier and Gabriel Landeskog, but the dynamic defenseman will be tough to pass up. A potential franchise defenseman in the making is a great building block to facilitate the revamping of a rebuilding team.
He rated #2 in my Early Look at the NHL 2011 Draft Rankings in September (Top 60). If I were a GM with the first overall pick today, I would take a long hard look at RNH and Couturier, but in the end would go with Larsson.
Scout's Honor:
"Great tournament," one scout said of Larsson's WJC, which was all the more impressive because he was battling through a groin injury. "He stepped up and made himself a factor. He was moving his feet more, just a lot more involved than we had seen him. From the blueline in, he's a lot more dangerous offensively than (Victor) Hedman at the same age." (TSN)
***
One European NHL scout from a Western Conference team told NHL.com that Larsson might be ahead of where Victor Hedman was at the midway point of his draft year two years ago. Hedman was chosen by the Tampa Bay Lightning with the No. 2 pick in 2009.

"Hedman was allowed to do more with his home team in Sweden, so they let him be more active with the puck and try different things," the scout said. "I think Adam Larsson plays a safer game. I certainly think he has the same potential as Hedman. He's every bit as good with the puck and he might be a touch tougher. Hedman is a little bigger, but they're both unbelievably good skaters. I think I would take Larsson over Hedman if I could, based on what I've seen the last three years." (NHL.com)
Current Season:
2010-11:
International Tournaments:
Larsson suited up for Sweden at the 2010 World Junior Championships U20s held in Saskatchewan, Canada.
At the 2010 World U18 Championships he was selected top defenceman for the tournament.
When Larsson played at the 2011 World Junior Championships he matched his scoring of one goal and three assists from the 2010 tourney. He was Sweden's highest scoring defenseman at the 2011 WJC's.
ETA = 1–2 yrs
Risk-Reward Analysis: Risk = 0.5/5   Reward = 4.5/5
NHL Potential: Top pairing franchise defenseman
Strengths: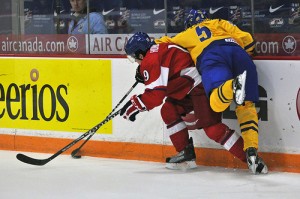 *See "One Timer" section above.
Size – great frame
Superior hockey sense
Smooth skater
Accurate point shot
Defensive acumen
Outstanding outlet passer
Positioning and recoverability
Puck-handling
Flaws/Aspects He Needs To Work On:
Continue to train to increase strength and add mass to already great frame.
Strong skater, but could work on acceleration.
Fantasy Hockey Potential: Offensive = 8.5 /10   Defensive = 9.5/10
NHL Player(s) Comparison: A more offensive Alexander Edler. He's been also compared to the likes of Nik Lidstrom, Victor Hedman and Ray Bourque.
Video(s): Larsson's sniper-like shot against Russia – WJCs 2011 (The Future of Puck)
Off The Iron: (Interesting Notes)
In 1988 his father Robert was drafted in the sixth round, 112th overall, by the Los Angeles Kings, but never played in North America.
Photo credit: Blake Gumprecht/Flickr
*Follow The Hockey Spy on Twitter as I infiltrate, dissect and analyze happenings of hockey prospects and the NHL entry draft.
This document is the intellectual property of Christopher Ralph and cannot be used or duplicated in any way without expressed written consent. Any use of this document without the expressed written consent of Christopher Ralph will result in public exposure and legal prosecution.
Chris is THW's senior draft/prospect analyst and a Managing Editor. Watch for "The Next Ones" Prospect Profile series, exclusive rankings, mock drafts, as well as the annual THW NHL Entry Draft Guide. Follow @ChrisRalphYQ on Twitter as he infiltrates, dissects and analyzes all happenings of hockey prospects and the NHL entry draft. Email: cralph[at]thehockeywriters[dot]com