When making major midseason moves, GMs will often refer as much to the impact that the incoming player has on other parts of their lineup, as the goals, points or other contributions that they make directly. There's no question that the play of David Krejci was at the forefront of Don Sweeney's mind when he pulled the trigger on a deal that brought Rick Nash to Boston, in exchange for Ryan Spooner, a first-round pick, Ryan Lindgren, Matt Beleskey and a seventh-round draft choice.
Matchmaking linemates is a tricky business in the sport of hockey, but a quick glance at Krejci's career makes it easy to see why Sweeney picked out Nash as the key piece to boost the Bruins' offense ahead of what he hopes will be a Stanley Cup winning run.
An Indifferent Season for Krejci
Heading into the 2017-18 season, how well Boston's second line center played was widely regarded as one of critical factors for this team's success. Krejci needed to stay healthy and he needed to anchor an effective unit behind Patrice Bergeron's group.
Unfortunately, the 31-year-old's performance has been characterised by up and down production coupled with a couple of stints out of the lineup. A back injury spoiled a strong start that saw him collect three assists in the opener and score at point per game pace through the first six games. After missing the best part of one month with that ailment, he had eight points in 12 games before being forced to sit out again with an undisclosed injury.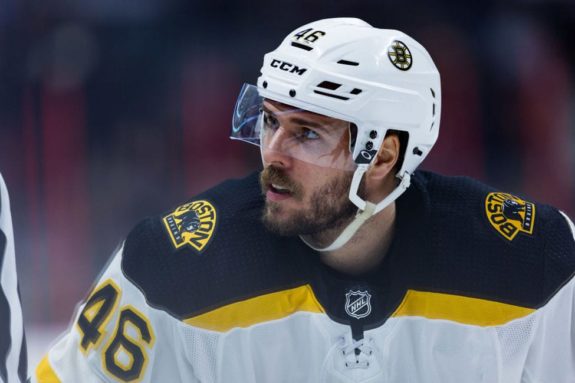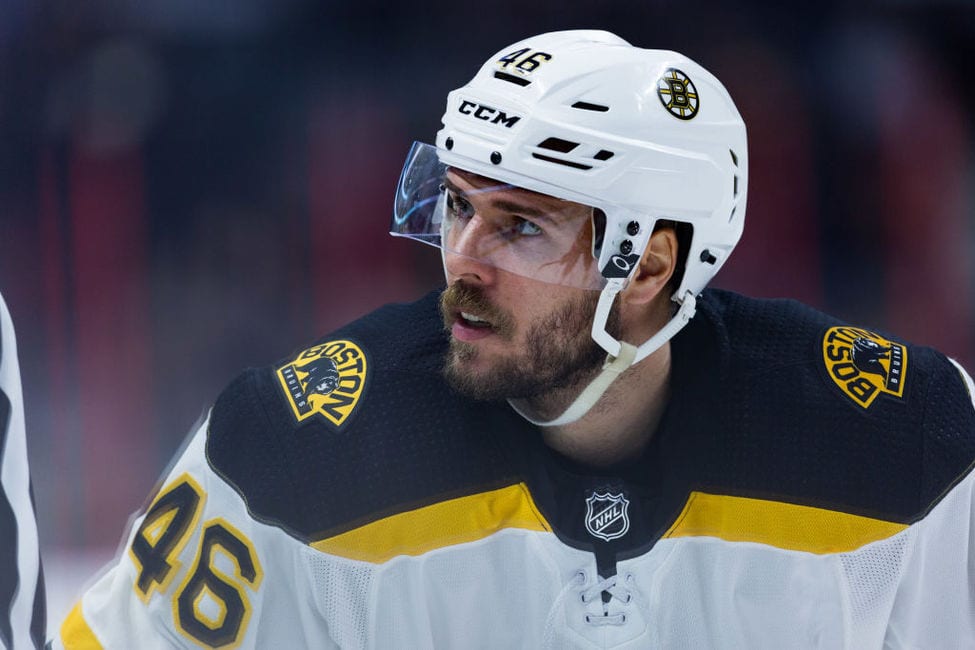 Post-injury, fluctuations in form have persisted. A 13-point performance over a 15-game stretch was followed by a nine game run where he posted just one goal and one assist. Krejci's own peaks and troughs of form have not disrupted the Bruins' upward tend towards the top of the Eastern conference, but securing reliable production from the second line would still have been a top priority for Sweeney.
Missing Milan Lucic?
Milan Lucic has become the poster child for overpaid ineffectual players in today's NHL, but while he now cuts a much maligned figure in Edmonton, the Bruins have struggled to find a replacement for Krejci's wing to even near replicate the production that those two players enjoyed during their time together.
An absolutely necessary trade to get under the salary cap and move the franchise in the right direction, Lucic was rightly jettisoned to the Los Angeles Kings for Colin Miller, Martin Jones and a first round pick, but Boston knew they were breaking up a highly effective partnership.
Krejci and Lucic were first united in 2010-11, and along with Nathan Horton they combined for 37 points together at even strength. Lucic scored a career high 30 goals and Krejci scored 62 points, the Czech Republic man's playmaking ability and tendency to slow the pace of the game down seemed to be a perfect match with the strong and physical combination of Lucic and Horton, both of whom also had good instincts and a nose for the net. Their success was a critical part of the Bruins' Stanley Cup run in the playoffs that year, where Krejci led all skaters with 12 goals and 23 points.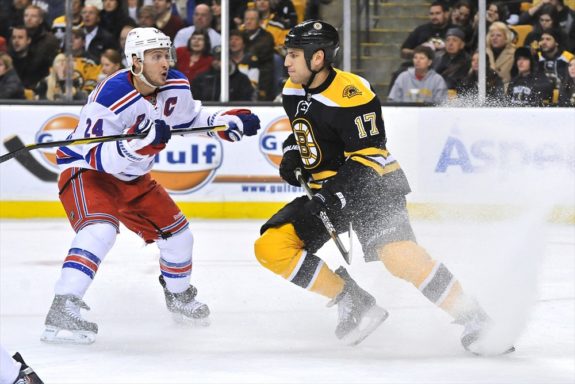 Horton suffered a severe concussion in the 2011 finals, and two of his remaining three seasons of his career were disrupted by injury issues. However, the trio continued to be a highly effective combination, Krejci posted another 62-point campaign in 2011-12 and had most of his success when Lucic and Horton were on the ice, he also tallied 26 points during Boston's 2013 postseason run, where they were eventually beaten by Chicago in the finals.
The Bruins parted ways with Horton after 2013, but they didn't mess with the formula signing a similar player in Jarome Iginla on a favourable contract. Boston would go on to win the Presidents' Trophy and the Krejci-Lucic-Iginla combination would reap immediate rewards contributing 38 points while on the ice together at even strength – the single most successful even strength line in Krejci's career.
A Revolving Door on Krejci's Wings
Injuries limited the alternate captain to just 47 games in 2014-15, while both he and Lucic struggled to build chemistry with a cast of different options, including Seth Griffith, David Pastrnak and Reilly Smith. A mediocre Bruins finished 23rd in scoring and missed the postseason for the first time since 2006-07, Peter Chiarelli was fired and it was the beginning of what would be a revolving door of wingers for Krejci.
Beleskey, who eventually ended up being part of the package for Nash, was first up as the direct (cheaper) replacement for Lucic, a physical winger coming off a 22-goal season playing with Ryan Getzlaf and Corey Perry, it was assumed he would be an at least serviceable replacement. It obviously didn't work out, but 2015-16 wasn't all bad, Loui Eriksson, who had also struggled to find his place in Boston's lineup since being acquired as part of the Tyler Seguin trade in summer 2013, scored 30 goals playing mostly on Krejci's wing, and the center himself finished with 63 points. Of course, the Bruins couldn't afford to re-sign Eriksson, who left via free agency, preferring to sign centerman David Backes instead.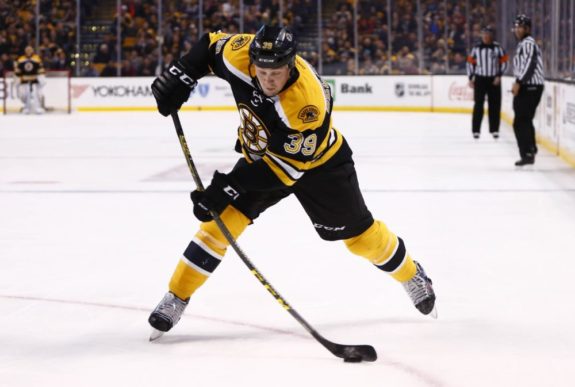 In 2016-17, the most used second line grouping featured Backes and Spooner on the flanks, but that unit played just 31% of the even strength shifts. Pastrnak and Drew Stafford were the wingers 18% of the time, and the pair of choice late in the season, while Frank Vatrano and Peter Cehlarik also featured as parts of various combinations during a season where Krejci mustered just 54 points, despite playing all 82 games.
Compare that with the former second round pick's most successful seasons, and it's apparent that the playmaker, whose greatest skills are his feel for the game and quick instincts, needs to know his wingers, and that he finds that chemistry most easily with players in the Lucic, Horton and Iginla mould. In 2013-14, he took 91.4% of his even strength shifts alongside Iginla and Lucic and scored 69 points, in 2012-13, he enjoyed a sublime playoff run after a regular season where he took more than 80% of his shifts playing with Horton and Lucic. When the Bruins won the Stanley Cup in 2011, the same group played around 75% of their even strength shifts together throughout the year. Even in his breakout 73-point campaign in 2008-09, Krejci got to spend nearly 60% of 5-on-5 ice time with the same duo, Michael Ryder and Blake Wheeler.
A Match For Krejci In Nash
As much down to the fact that the rest of the line-up has been settled, coach Bruce Cassidy hasn't mixed things up too much on his second pivot's wings so far. Rookie Jake DeBrusk and Spooner had been the partnership 59.8% of the time before Nash's arrival, DeBrusk and Krejci have actually played together 95% of the time, while other young players like Anders Bjork and Cehlarik, as well as Spooner, have filled the opposite side.
Spooner worked hard and actually adjusted relatively well to playing on the wing, but there was always the feeling that perhaps he and Krejci were a little too similar in terms of where they wanted to be on the ice. DeBrusk has been something of a revelation scoring 12 goals and 33 points through 58 games as a rookie, but he'll thrive even more as a "third wheel" on a line with Nash and Krejci.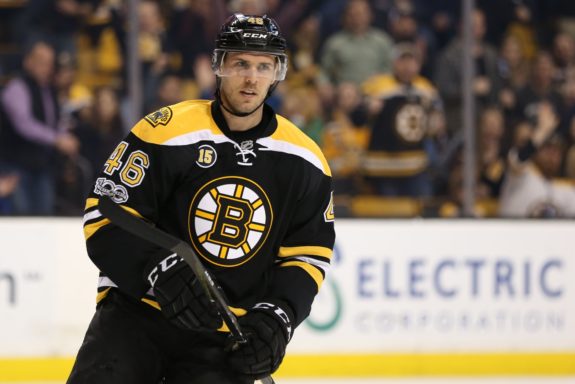 Similarities between Lucic and Nash are impossible to ignore. Both players bring size, good straight line speed, a willingness to do the dirty work on the boards and in front of the net, and both have very hard (though quite different) shots.
Boston's newest acquisition appeared genuinely flattered by the comparison with Lucic telling NHL.com,
"I don't know if I could play as hard as that guy plays, as tough as him. He's obviously one of the best power forwards in the league."
However, as an eight time 30-goal scorer (three times 40+), Nash possesses far greater offensive pedigree than Lucic, or indeed arguably any player Krejci has partnered during his career so far (Iginla was 36 when he played for the Bs). With his new winger in tow, watch out for a postseason campaign of the 2011 and 2013 ilk.
A Good Situation for Rick Nash as Well
In 2008-09, while predominantly playing with Kristian Huselius and Manny Malhotra, Rick Nash finished as one of the league's leading scorers with 40 goals and 79 points. Such was the way during the 33-year old's Columbus days, when he had 30+ goal campaigns in seven of his first nine seasons.
Besides Huselius and Malhotra, the 2002 first overall selection's linemates during his Blue Jackets' career included the scrappy and savvy, but hardly offensively explosive Antoine Vermette and RJ Umberger, and young talented players like Derick Brassard and Jakub Voracek. On the one hand, Nash never quite fulfilled the star player remit of making those around him significantly better, but the consistency of production is nonetheless impressive.
Nash's time in New York was more of a mixed bag. Five straight playoff appearances, 42 goals in 2014-15, as well as bringing leadership intangibles, two-way play and penalty killing contrasted with a notable drop in production, especially in the last three seasons, and just 14 goals and 38 points in 73 postseason games.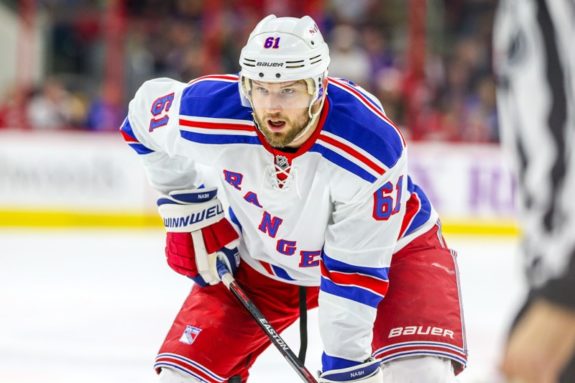 This piece isn't ambitious to the point assessing the undoubtedly complex reasons for his performance variance during that time. However, the absence of linemates, specifically a center who knows how to get the puck to an elite scorer on a consistent basis, may be one factor. Scoring 30 goals consistently as a 20-something-year-old in low pressure situations isn't the same as trying to produce under the bright lights of Madison Square Garden in a big playoff game aged 30 and older.
Brassard, Brad Richards, Derek Stepan, Mika Zibanejad and Kevin Hayes all filled the middle regularly alongside Nash. All had their moments in that role, Stepan and Brassard in particular, but in Krejci, Nash now has a partner who is a proven 65-70 point scorer when paired with a true sniper, especially one with size. It's his best chance to banish the criticisms on an otherwise glittering career.