When the Boston Bruins' season commenced on Oct. 5, the B's found themselves on home ice versus the defending Western Conference champions, minus Patrice Bergeron, David Backes and Torey Krug.
Though first-year players Charlie McAvoy, Jake DeBrusk and Anders Bjork would garner most of the headlines following the victory in which all three were utterly brilliant, veteran David Krejci delivered a vintage three-point performance, leading the way for an undermanned crew.
He looked quicker and more aggressive with his skating than in recent years past. He was registering points at even-strength and on the power play, assisting on the first career goals for both DeBrusk and McAvoy. He even won 77 percent of his faceoffs on the night for good measure, coming up huge for a team featuring numerous new faces, missing several key veterans and eager to start the season off on the right foot.
Fast-forward two weeks and Krejci had become yet another early-season casualty to injured reserve, landing on the shelf for four weeks in what would be his first of three separate stints on IR. The 18 games spent off the ice conjured up many of the same narratives that have floated around Krejci in recent history:
That he's injury prone, or overpaid. That he cashed-in on several big postseasons and was never more than a second-line center. That he needed top-caliber talent on his line to succeed; that he himself couldn't elevate the play of his linemates, et cetera.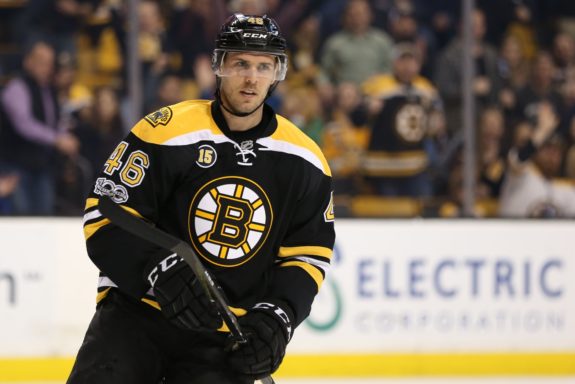 But throughout the season, be it during his periodic returns in between injuries or during this most recent stretch post-IR, Krejci has steadily, perhaps even sneakily, produced for the Boston Bruins, in more ways than one.
Second-Line Role, First-Line Production
There's no debate as to who Boston's top-line center is these days. Though Krejci and Patrice Bergeron spent several seasons serving as centers "1A and 1B," Bergeron's play this season (not to mention the Super Line he anchors) have left zero room for independent interpretation.
However, David Krejci has produced at a first-line rate this season for the Bruins, especially of late. His 24 points across 28 games equate to a 70-point pace over an 82-game schedule. Moreover, the 23-goal pace he's currently in the midst of would match the highest goal total of his career. Sixteen of his 24 points have come at five-on-five, dispelling any notions of stats being padded with the man advantage.
His current faceoff win percentage of 56.8 percent is also the highest rate of his career and ranks just one percentage point behind stalwarts Jay Beagle, Jonathan Toews, and teammate Bergeron.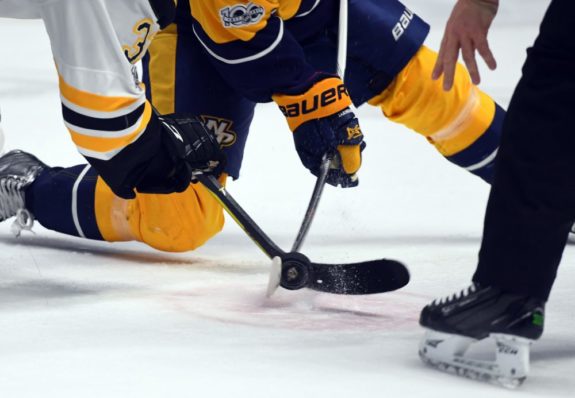 He's been able to accomplish these numbers despite once again spending a large chunk of the season with a rotating right wing. David Pastrnak began the season on Krejci's wing. Pastrnak became Anders Bjork. Bjork became Ryan Spooner.
Through injuries, rust and a rotating right wing, the 31-year-old Czech pivot has produced at a first-line rate.
Bruins' X-Factor?
Bergeron, Brad Marchand, and Pastrnak are Boston's three most valuable forwards, probably in that order (though Bergeron and Marchand are kind of a package deal, like Lennon and McCartney). But beyond those who comprise the best line in the world, there isn't a forward whose presence means more to the Bruins than David Krejci.
He has been a tremendous stabilizing force to the middle of Boston's lineup. The oft-criticized and seemingly out-of-place Ryan Spooner has been born anew on Krejci's right wing. Spooner undoubtedly deserves credit for his own turnaround, but Krejci's three-zone reliability at center has enabled Spooner to play more to his strengths as a swift-skating playmaker.
The shackles of defensive-zone responsibility that come along with playing center have been significantly loosened for Spooner, and the results speak for themselves.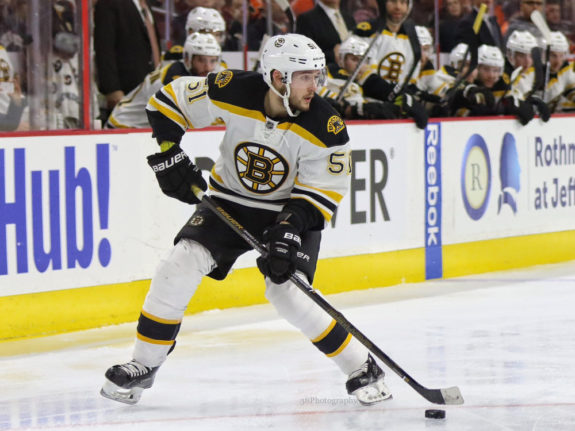 Jake DeBrusk, meanwhile, came into the season with zero games of NHL experience. After 40-plus games spent largely to Krejci's left, DeBrusk is scoring at roughly a 20-goal, 50-point rate. Like Spooner, DeBrusk deserves the lion's share of the credit for his own performance. But he's also the beneficiary of playing alongside a tremendous playmaker with more than 800 regular-season and playoff games under his belt.
When he's in the lineup, Krejci ensures that the best line in the world can remain intact. On his own line, he has been able to shepherd a talented rookie through his first NHL career while aiding in the resurrection of his other linemate's career. Further down the lineup, David Backes has been able to get his own game back on track from Boston's bottom six thanks in large part to the stability provided by Krejci's two-way play.
With what he himself brings to the table as well as where his presence allows others to be positioned and deployed, it's obvious the Bruins are a significantly more dangerous team when he's in the lineup.
Red-Hot of Late
Over the past few weeks, Boston's bottom six has cooled off. The third line of Backes, Riley Nash and Danton Heinen that has played such a pivotal role in Boston's ascent toward the top of the league's standings has combined for just two goals over its last six contests. The fourth line of Noel Acciari, Tim Schaller and Sean Kuraly, though not necessarily relied on for its offense, has combined for zero points over that same stretch.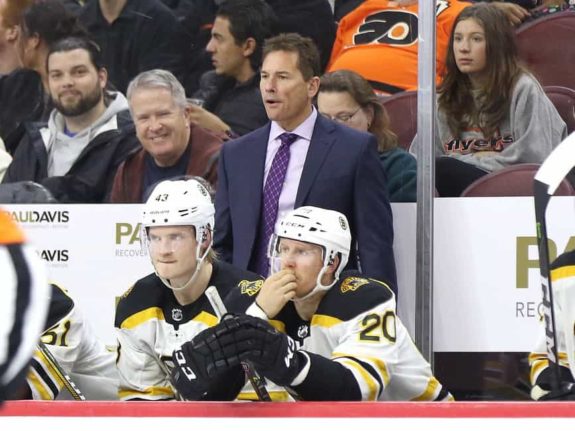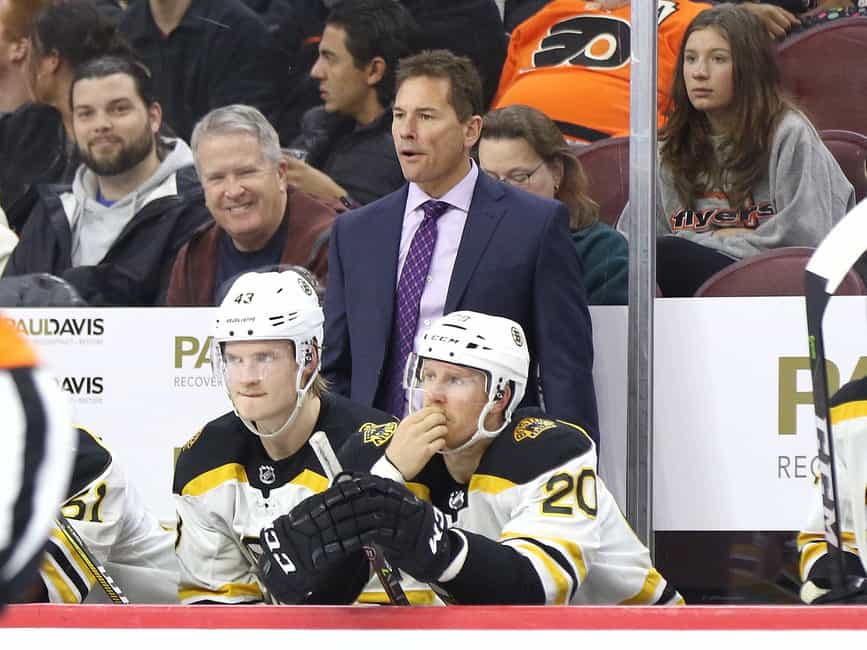 By no rationale is either of those lines playing poorly, but the offense generated by them has dried up of late just the same. Krejci and his line, however, have picked up the slack and are firing on all cylinders.
Krejci himself has two goals and seven points over his last six games, registering at least one point in five-straight contests leading up to Tuesday's tilt versus New Jersey. He's scoring at a point-per-game rate since returning from IR on Dec. 30, with 10 points in as many games.
Spooner recently potted a goal in three straight games, a first for the five-year veteran. DeBrusk has five points in 10 games since Krejci's return as he maintains a consistent scoring rate while avoiding the egregious or prolonged droughts which frequently torment first-year players accustomed to big point totals at lower levels.
His return has also bolstered the power play, with the Bruins connecting on eight of their 27 chances dating back to Dec. 30. That's a 29.6-percent success rate; more than 8 percent better than their full-season totals to date.
Krejci's Return to Health
Though the suggestion of David Krejci being injury-prone is indeed overblown, it didn't materialize out of thin air.
During the halcyon days of Boston's hockey renaissance between 2008 and 2014, Krejci missed just 16 of 458 regular-season games; an average of fewer than three games per season. He missed just four of the team's 90 playoff games over that same stretch.
But since the Presidents' Trophy campaign in 2013-14, the injuries have been more frequent and significant. He missed 35 games during the 2014-15 campaign. He missed 10 games the following season. Though he suited up for all 82 regular-season contests last year, he did miss three games during Boston's first-round loss to Ottawa, including the deciding Game 6.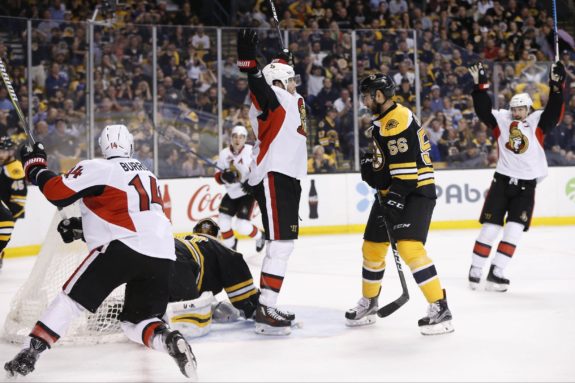 This season he has missed 18 of his team's 46 games thus far. Injury-prone may be an exaggeration given his sterling attendance record throughout his first seven seasons with the B's, but Cal Ripken Jr. he is not.
Though the NHL's policy of vagueness as it pertains to disclosing injuries clouds the picture somewhat, Krejci's hip, back, knee and shoulder hold the keys to prolonged success for the Bruins down the stretch and into the playoffs. Though the club's record without Krejci this season (9-4-5) shows the team can compete and win without him, their record of 19-6-3 with the 31-year-old in the lineup paints a picture of a legitimate Stanley Cup contender.
If the aforementioned ailments can remain at bay, the Bruins can continue to ride the wave, receiving first-line production from their second-line center. Rookies and role players can slot into their most comfortable and productive spots in the lineup. Three world-class players can continue teaming-up to wreak havoc nightly. And Boston will have as good of a one-two punch down the middle as any foe once the "second season" starts in April.
This is not a team anyone wants to draw in the first round….as long as David Krejci can stay on the ice.