Entering the 2010 NHL Draft after his freshman year at Notre Dame, Riley Sheahan was heralded for his defensive prowess. Rich Michalowski of TheScoutingReport.org noted that Sheahan was a "great defensive player with excellent awareness and hockey sense". Jack Barzee of NHL Central Scouting noted that "he's very conscious in the defensive zone and down behind the net in the defensive corner". However, not all scouts were sold on Sheahan's ability to score, as he netted just six goals and 17 points in 37 games. Scouts figured that a man with Sheahan's size (6'2″, 202 lbs) and hands (49 goals and 134 points in 85 games in the GOJHL) should have been able to finish better, and thus he was projected to be a late first-round pick. The Detroit Red Wings decided to make Sheahan the 21st pick in the 2010 draft, and the rest is history.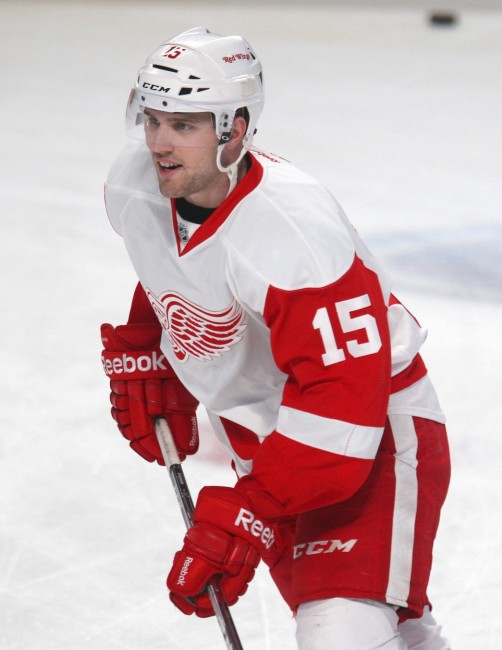 Sheahan is now 85 games into his NHL career, and Wings fans can safely say that the Wings struck gold. The Red Wings have numerous youngsters who have garnered a lot of attention over the past season, from Gustav Nyquist scoring 23 goals in the final 34 games of the 2013-2014 season to Tomas Tatar winning TSN's play of the year last season. Sheahan's play on the other hand has largely gone unnoticed on the national level. Last season, I tried to bring some attention his way by talking about his dominant possession and faceoff numbers. This season, I want to continue the hype train.
Sheahan's Offense
Let's start with an anonymous player comparison table.
| PLAYER | GP | 5-ON-5 G/60 | 5-ON-5 A/60 | 5-ON-5 P/60 | FO% | 5-ON-5 CF% | 5-on-5 CF/60 | 5-on-5 CA/60 | 5-ON-5 FF% | 5-ON-5 SCF% | 5-ON-5 SCF/60 |
| --- | --- | --- | --- | --- | --- | --- | --- | --- | --- | --- | --- |
| Player A | 83 | 0.70 | 1.14 | 1.84 | 50.8% | 57.7% | 57.8 | 42.4 | 57.8% | 56.6% | 28.3 |
| Player B | 126 | 0.58 | 1.08 | 1.66 | 48.7% | 50.6% | 56.2 | 55.3 | 51.8% | 52.2% | 29.6 |
| Player C | 155 | 0.83 | 0.62 | 1.45 | 52.5% | 58.2% | 57.8 | 41.6 | 59.1% | 56.5% | 28.7 |
| Player D | 128 | 0.81 | 0.72 | 1.53 | 51.4% | 52.7% | 51.8 | 46.4 | 55.6% | 57.2% | 27.8 |
Data from War-On-Ice 
From this table, you can see that all of these players seem pretty comparable. Player A seems to have the edge when it comes to 5-0n-5 points/60 and seems to be dominant when looking at puck possession, rankings 2nd in both 5-on-5 CF% and 5-on-5 FF%. If you were to ask a person to pick a player based off of only these numbers, you could make case that either player A or player C would be a fine choice. Ready for the reveal?
Player B: Claude Giroux's first two seasons of his career
Player C: Valtteri Filppula's first two seasons of his career
Player D: Joe Pavelski's first two seasons of his career
Player A: Riley Sheahan's first two full seasons of his career
Now I'm not saying that Sheahan is going to develop into the prolific playmaker that Giroux is or become the prolific goal scorer that Joe Pavelski is, but at this stage of his career, you have to be impressed. Sheahan's offensive skills were discounted when he was a prospect, but 85 games into his career, you can see that he is producing points, generating shot attempts, and creating scoring chances at a high level.
Sheahan's Defense
Coming out of Notre Dame, we knew Sheahan was a strong, two-way center. He was very sound defensively, and solid in all three zones. That has not changed at all, even with his transition to the NHL. Take a look at the numbers.
| | Sheahan On-Ice | Sheahan Off-Ice |
| --- | --- | --- |
| 5-on-5 Goals Against/60 | 1.57 | 2.01 |
| 5-on-5 Corsi Against/60 | 38.8 | 47.1 |
| 5-on-5 Scoring Chances Against/60 | 18.5 | 23.3 |
| 5-on-5 Shots Against/60 | 22.4 | 27.3 |
Data from War-On-Ice 
Those numbers are impressive, let alone for a 2nd year player who has barely played a full season's worth of games. These numbers should be taken with a grain of salt. Sheahan has started the highest percentage of his shifts in the offensive zone of any current Detroit forward. Only Dan Cleary, Tomas Jurco, and Darren Helm have faced opponents who have an average Corsi For% lower than that faced by Sheahan. However, the numbers still prove that Sheahan is able to dominate the puck against NHL-caliber players.
It's tough to project how Sheahan will turn out. He's gaining confidence with each and every game, and his most recent goal against the Calgary Flames showcased this. He's rapidly improving in the offensive zone without sacrificing his defensive responsibilities. He's been a force in front of the net on the powerplay, displaying his great hands on deflections and moves in tight on the goalie. The next step in his development will be taking on more defensive responsibilities by matching up against a higher quality of opponents. As Detroit stars' Henrik Zetterberg and Pavel Datsyuk age, Sheahan will be expected to pick up more responsibilities as the future #1 center of the team. He will be expected to match up against better opponents, win faceoffs at a consistent rate, and continue to produce at a high level.  This season he is on pace for 16 goals and 36 points. With the way he dominates the puck, I think he should be able to settle in as a consistent 20 goal, 55-point player. Detroit's center prospect depth has been called into question, but with the way Sheahan has produced in his first 85 games, I think the Wings may have their future #1 center. To be continued….