Over the last month or so, fans across the NHL have seen highlight reel plays made by Tomas Jurco, Tomas Tatar, and Gustav Nyquist. Fans of other NHL teams have cursed the Detroit Red Wings management, frustrated with the fact that the Red Wings always seem to strike gold. However, lost within the hoopla is the fact that Riley Sheahan is quietly having a phenomenal season. He's not as flashy as Jurco or Tatar and doesn't have the same playmaking ability as Nyquist. Sheahan is the guy that allows his wingers, Tatar, Jurco, or Nyquist, to make those plays by always being in a responsible position.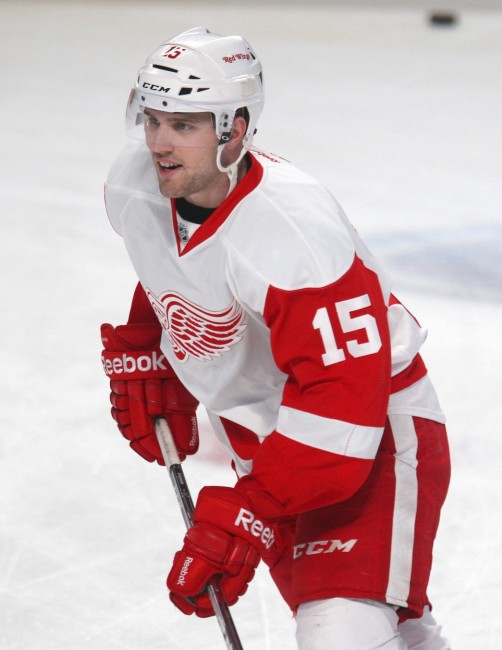 Two years ago, Sheahan was caught in an irresponsible position, driving under the influence and unfortunately dressed as a purple Teletubby. Face it, after hearing of his arrest, most of us thought he would never make it with the Wings. However, something changed for Sheahan. He has matured a significant amount, so much so that he is now trusted with significant ice time. What's more impressive is what he's doing with that ice time. I took a look at Sheahan's basic stats and advanced stats, and the numbers are very impressive for such a young player. All stats are taken from Extra Skater
Sheahan's Basic Stats
| Player | GP | Goals | Assists | Points | TOI/60 | FO% | PIM |
| --- | --- | --- | --- | --- | --- | --- | --- |
| Riley Sheahan | 36 | 6 | 15 | 21 | 14.1 | 51.0% | 6 |
At first glance, his point total is modest and respectable for a rookie. However, what should really catch your eye are the last two boxes in the table. A faceoff percentage of 51.0% is incredibly high for a rookie. When you look at some of the great faceoff men in the league today, Sheahan's faceoff percentage compares very favorably to the numbers those guys put up as rookies. We generally think of guys like Patrice Bergeron, Jonathan Toews, Pavel Datsyuk, and Joe Pavelski as top-notch faceoff artists. Below is their faceoff percentage as rookies.
| Player | FO% as rookie |
| --- | --- |
| Jonathan Toews | 53.2% |
| Joe Pavelski | 48.6% |
| Patrice Bergeron | 49.4% |
| Pavel Datsyuk | 47.7% |
From this you can clearly see that it's not easy to jump in as a rookie and win better than 50% of your faceoffs as a rookie. Sheahan has done that and thus has earned coach Mike Babcock's trust in late game situations. The other stat to be impressed with is how few penalty minutes he has. Sheahan has taken a whopping three minor penalties through 36 games. That indicates that Sheahan is skating hard, playing smart, and that is very impressive for a rookie.
Sheahan's Advanced Statistics
When you shift the conversation to Sheahan's advanced statistics, the numbers become more impressive. The advanced statistics indicate puck possession by tracking the number of shot attempts made while a player is on the ice, both for and against. It's one thing for a rookie to have a decent plus/minus. That statistic is always a product of puck luck. It's a different thing to have a strong Corsi for percentage because that indicates that when Sheahan is on the ice, a higher percentage of shot attempts are made at the opposition's net instead of his own.
| Player | 5-on-5 GF% | 5-on-5 CF% | 5-on-5 FF% | 5-on-5 SV% | 5-on-5 close CF% | 5-on-5 tied CF% |
| --- | --- | --- | --- | --- | --- | --- |
| Riley Sheahan | 62.5% | 55.9% | 56.3% | 92.4% | 52.4% | 48.5% |
What can we see from this? First off, be very impressed with Sheahan's 5-on-5 CF%. The 55.9% is the second highest mark on the Red Wings behind only Jurco. The next impressive number to look at is his 5-on-5 SV%. This number indicates his goalie's save percentage while he is on the ice in 5-on-5 situations. That means Jimmy Howard/Jonas Gustavsson/Petr Mrazek are stopping 92.4% of shots they face in 5-on-5 situations when Sheahan is on the ice. These strong possession numbers and save percentage numbers indicate to me that Sheahan has become a defensively responsible player that can still generate offense on a consistent basis.
Sheahan's Room For Improvement
While Sheahan is in the midst of a fantastic rookie season, there are still plenty of places for Sheahan to improve. If we look back to the table of Sheahan's advanced statistics, you'll notice the 5-on-5 close CF% and 5-on-5 tied CF% are considerably lower than his general 5-on-5 CF%. There are a couple of possible explanations for this. First, this may be a result of the fact that Sheahan has very few minutes in these scenarios. The 5-on-5 close measures the Corsi numbers when the score is tied at any point of the game or if the game is within one goal in the first or second period. The 5-on-5 tied measures exactly that, the Corsi numbers when the game is tied. Sheahan has only played 273 minutes when the score is close and 174.4 minutes when the score is tied. This could simply be a case of small sample size. The other possible explanation is that Sheahan's choosing to sit back and the other team is taking it to him. When the score is tied, Sheahan's line faces 0.957 shots against per minute. That number drops to 0.853 when score is close and an even better 0.792 when we just look at 5-on-5 situations. On the flip side, when Sheahan is on the ice, the Wings generate 0.9 shots/minute when the score is tied, 0.941 shots/minute when score is close, and 1.004 shots/minute in 5-on-5 situations. Sheahan will learn with more experience not to sit back when the score is close or tied and to continue to attack. He does a great job of attacking when we look at 5-on-5 numbers as a whole as the Wings are +0.212 shots/minute, but the Wings are -0.057 shots/minute when the score is tied. This is something that will come with more experience in close situations and thus is not a major concern at this time.
Conclusion
Sheahan is a fantastic young player but unfortunately for him, he's been constantly overshadowed by the brilliance of Nyquist, Tatar, and Jurco this season. He's been very responsible defensively and takes very few risks. He's good in the faceoff dot and has been highly disciplined. To be honest, Sheahan reminds me a little bit of former Red Wings' great Kris Draper. He doesn't have the same speed that Draper does and he's not quite there with the defensive abilities, but Sheahan just seems to carry himself in the same manner that Draper did on the ice. He has no fear, plays smart hockey, and can score the big goals. Only time will tell what Sheahan becomes, but more people need to stop and recognize what he's doing this season, because it's downright impressive for a rookie.