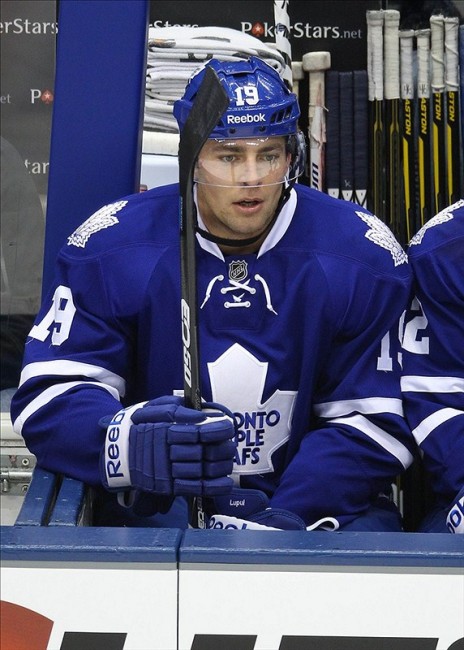 The bodies just keep piling up for fantasy hockey rosters. On the bright side for Pittsburgh Penguins fans is that Paul Martin is returning after missing 18 more games. For some reason, you get the sense that there will be even more injuries and sure enough there were a couple more almost right on cue Thursday evening.
Fantasy Hockey Injurious Basterds
It was sad that Joffrey Lupul could not give it a go but he definitely was not playing against the Boston Bruins. As reported by many sources, a lower body injury had done him in this morning apparently.
-> RT @LeafsPR: Joffrey Lupul is not in the lineup this evening. Lower body injury.#Leafs #TMLtalk

— Toronto Maple Leafs (@MapleLeafs) April 3, 2014
If that was not enough, the next tweet just speaks volumes to how Lupul just can never quite stay healthy enough.
Lower body injury keeps Joffrey lupul out of tonight's game. 68 games played this season are lupul's highest total in 8 years. #TMLtalk — Paul Hendrick (@HennyTweets) April 3, 2014
Again, that is all you really need to know about the player. Yes, it is unfortunate but that is just how some players are health wise. This may come across as unfair or over the line but so be it. Joffrey Lupul is kind of fragile and there is no sugarcoating that fact. This injury may reek  of Kyle Okposo's in a way. It just came all of a sudden and with little fanfare. Hopefully this does not sideline Lupul for more than a game or two because he is kind of needed in Toronto's quest to sneak back into the playoffs.
Then the hockey gods apparently wanted to add insult to injury as the Carolina Hurricanes had their own surprise injury just waiting for the masses. That is right. Andrej Sekera was a relatively late scratch tonight with a, you guessed it, lower body injury. Does that feel like a theme to fantasy hockey fans. Honestly it should. This one was broken a little bit before puck drop.
Is it a severe lower body injury or a minor "LBI", people in the know just were sure he would be out for tonight.
Defenseman Andrej Sekera out tonight with lower body injury. Tough break for Hurricanes. He's been playing well.

— Mike Heika (@MikeHeika) April 3, 2014
Tough breaks just seem to be following around some players lately and that even included Ryan McDonagh from the other night. The Sekera news is a hair more significant only because he looked like a pretty sure bet to play yesterday and then all of a sudden he was not. McDonagh is the better fantasy talent but Sekera just flew under the radar for so long. Here is the Carolina laundry load of injuries tonight. Let's see if he comes back soon. Hopefully he does anyway.
#Canes scratches: Andrej Sekera (lower), Jiri Tlusty (upper), Drayson Bowman (illness), Alex Semin (illness) & Justin Peters (healthy).

— Carolina Hurricanes (@Canes_Gameday) April 3, 2014
Can you say ouch? I thought that you could. This just seems like the most nightmarish playoff stretch that I can remember as far as injuries at the worst times. Fantasy hockey fans literally just have to scramble, adapt, and hope to survive. There really is little else other than to pick up talent that will play at an increased roles mostly at the expense of the injured. It is just the nature of the beast.
What The Heck Is Next?
What will happen the next few nights? All I know is keep a close eye to Twitter. Something tells me when the fantasy hockey injuries break, they will build to a higher crescendo. Good luck everyone!
===============================================
P.S. Please add Jonathan Bernier (MCL Sprain) and Ryan McDonagh (shoulder) to your lists. Bernier is out for the rest of the regular season plus a week while McDonagh could be back with a couple games left.