It's been 18 years since the New Jersey Devils and New York Rangers played in the 1994 Eastern Conference Finals, and in Game 1 of the 2012 East Finals it was the Rangers who took the early series lead with a 3-0 win behind 21 saves by Henrik Lundqvist and three, third period goals. The Devils may have had some better scoring chances, but if they are to win this series they need to find a way to get shots past the Rangers' shot-blockers (26 blocked shots in Game 1).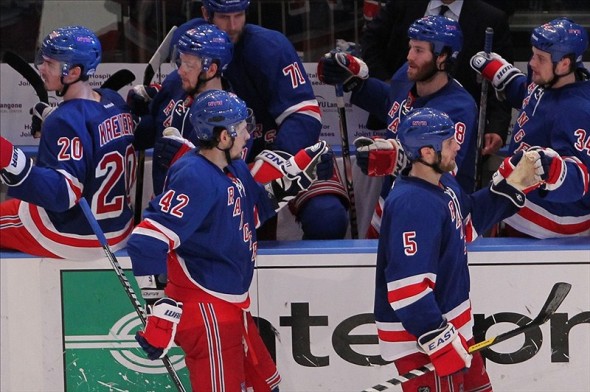 A scoreless opening period saw the Rangers out-shoot the Devils 8-6, but many of their shots were unscreened, harmless shots that Martin Brodeur was able to handle easily. Both teams squandered a power play, with Lundqvist turning aside two shots during his team's PK, and Brodeur only facing one. Rangers defenseman Ryan McDonagh was maybe the best player on the ice after he stymied two breakaway attempts by Zach Parise and then Ilya Kovalchuk, resulting in no shot on goal for Parise and a weak backhander by Kovalchuk. Other plays of note during the first twenty minutes included Derek Stepan laying out and blocking a Kovalchuk slapper and Patrik Elias taking a puck in the face at center ice (no time missed for either player).
After forty minutes, still nothing settled, still no goals. New Jersey led in shots on goal 11-10, but New York had two PP attempts that both went empty. The closest anyone came to scoring was Parise's shorthanded flurry that resulted in three shots on goal and three saves by Lundqvist. The Devils got their lone PP late in the period, but failed to register a shot on goal, with their best pressure coming when the Dainius Zubrus-Adam Henrique-Petr Sykora unit. Zubrus almost scored early in the period, ala David Clarkson-style, nearly batting the puck out of the air past Lundqvist after a horrible pass attempt from behind the cage by Dan Girardi. "Through forty minutes, I thought we could have been winning, give them credit for finding a way to win." said coach Pete DeBoer during his postgame press conference. "We have to find a way to finish; we watched Ottawa score on them, we watched Washington score on them, we just have to find a way."
It took just 53 seconds into third for Girardi to earn redemption as his long shot beats Brodeur with Stepan in front of his crease as a perfectly-timed screen. Brodeur would make a lunging glove save on Marc Staal's shot to keep it 1-0 with 10:17 in the game, but he was unable to stop rookie Chris Kreider's PP wrist shot two minutes later that widened the lead to 2-0.
Unfortunately for New Jersey, about twenty seconds before Kreider's goal, Michael Del Zotto committed an obvious penalty when he closed his hand on the puck, but the referee didn't make a call and such is life. The Devils didn't muster much after the second goal, heck even after the first goal as they were out-shot for the period and out-chanced as well before Artem Anisimov sealed the Game 1 victory for New York with an empty-net goal with 1:27 left to make the final 3-0.
The Blueshirts held serve in Game 1, and now Game 2 awaits us on Wednesday in less than 48 hours. "We had a good third period, and got the job done," said Girardi to MSG television after the game. His coach John Tortorella agreed with his star defenseman's assessment, "These are tight checking games, to get some offense from your defensemen, is important. Hank gave us a chance in the second, and we came through in the third."
Dan's 3 Stars of the Game:
#1) Henrik Lundqvist (NYR) 21 saves, shutout
#2) Dan Girardi (NYR) gw goal, assist, 5 blocked shots

#3) Martin Brodeur (NJ) 25 saves
Dan Rice can be reached via Twitter: @DRdiablo321 or via email: drdiablo321@yahoo.com
Dan Rice is in his 9th year of reporting for THW & has covered NJ Devils home games for 15+ years at various websites. He began his journey working for legendary broadcaster/writer Stan Fischler from 2002-04 & completed an internship at the ECHL; he also has been writing features for the NWHL (nwhl.zone) website since 2016.