We have reached the halfway point of the NHL playoffs and there are some very clear Conn Smythe candidates separating themselves from the pack.  Many of the opening round contenders have continued on strong through the second round, but not everyone survived the cut.  Before identifying the top playoff performers heading into the Conference Finals, let's take a quick look at some players who had excellent postseason runs even though their teams were eliminated along the way.
Note: All statistics as of 5/13, before the Conference Finals began.
Early Exits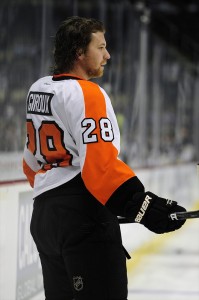 Claude Giroux, Phi– Giroux ended the playoffs on a very sour note, serving a one game suspension as the Philadelphia Flyers lost Game 5 to the New Jersey Devils.  He finished his playoff run with 17 points in just 10 games, leading all scorers by 4 points after the Conference Semifinals.  After putting up 5 special teams' goals (3 powerplay and 2 shorthanded), he would have undoubtedly been the favorite amongst forwards for the Conn Smythe had the Flyers advanced.
Danny Briere, Phi – Another clutch scorer for Philadelphia, Briere finished the playoffs with 13 points in 11 games and tied Giroux for the league lead in goals with 8.  He was a dominant 61.2% in the faceoff circle, but slowed down greatly in the New Jersey series as he finished the playoffs with a -6 rating.
Braden Holtby, Was – Undoubtedly the playoff MVP for the Washington Capitals, Holtby finished with a 1.95 GAA (4th in the NHL) and .935 Save % (4th).  Despite being the 4th best goalie by the numbers though, Holtby's offense could not help him move on to the Conference Finals.  This could very well have been a coming out party for his career, so perhaps he will get another chance at it next year.
Now on to the contenders….
Los Angeles Kings
Jonathan Quick – It doesn't take a genius to say that the goalie with the best record (8-1), best GAA (1.55), and best Save % (.949) would be the odds on favorite to win the Conn Smythe right now.  Quick shut the door on Vancouver swiftly in the first round and was an integral part of Los Angeles Kings' complete dismantling of the St. Louis Blues in four games in Round 2.  His numbers state his case on their own.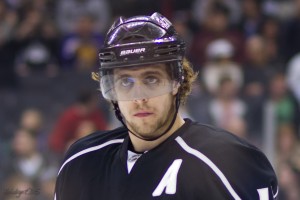 Dustin Brown – While Quick takes care of the defensive side, Brown has been an unstoppable force for the Kings.  He entered the conference finals with 11 points in 9 games and a league-leading +9 rating.  With 2 shorthanded goals and 2 game-winners, Brown has played big in every moment that the Kings have needed him.
Anze Kopitar – Following ever so quietly in Brown's footsteps, Kopitar has produced 10 points in 9 games and is a +8 as well.  He hasn't been overly flashy yet in the playoffs, but is still finding ways to score as the Kings' first line continues to dominate opponents.  For as well as he is playing; there is still a strong possibility that he can reach another level before the postseason is over.
Phoenix Coyotes
Mike Smith – Smith continues to be one of the best stories in the NHL as he carries the Coyotes through the playoffs.  He ranks 3rd in GAA (1.77) and 2nd in Save % (.948) despite facing two Top-10 offenses (Chicago and Nashville) in the first two rounds.  Smith continues to push Jonathan Quick for goaltending supremacy in the playoffs in a sizzling battle.
Antoine Vermette – In what is either proof of Smith's dominance in net or a very underrated deadline acquisition for Phoenix, Antoine Vermette enters the conference finals as the Coyotes leading scorer.  Vermette has put up 9 points in 11 games, including 3 powerplay goals.  He has provided a strong faceoff man (58.4%) and a solid forechecking presence for the Coyotes.  If Phoenix is going to continue winning, someone will have to score, and it might as well be Vermette.
Mikkel Boedker – Certainly the longshot of the group, Boedker deserves merit simply for his clutch goals from the first round.  He only has 3 goals and 4 assists in 11 games, but 2 of those goals were overtime winners which cannot be overlooked.  Again, someone has to score for the Coyotes, so it might as well be Boedker clinching games for them if not Vermette.
New York Rangers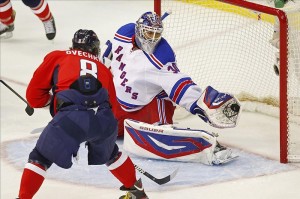 Henrik Lundqvist – The 2012 playoffs appear to be a goalie's game and Lundqvist has joined the party with the others.  He ranks 2nd in GAA (1.68) and 3rd in Save % (.937).  Also of note, Lundqvist has already played over 892 minutes, which has only been surpassed by Holtby.  To provide a comparison: Quick has only played about 542 minutes heading into the conference finals.
Brad Richards – The Rangers added Richards in the offseason in hopes that he would be the final piece to their championship puzzle, and so far it is paying dividends.  Richards is 4th in the league in scoring with 6 goals (2 powerplay) and 5 assists.  His methodology for the playoffs appears to be to throw everything at the net until it works as he leads the league with 55 shots heading into the conference finals.  It looks like Richards is ready to will this team through the playoff grind on his own if necessary.
Marian Gaborik – As the other expensive piece of the offensive puzzle for the Rangers, Gaborik is also paying dividends to the tune of 10 points in 14 games, including an overtime winner against Washington.  His 41 shots may seem far lower than Richards' total, but it still ranks him at 4th in the league as the two forwards pepper goalies night in and night out.  With a wicked wrist shot, there is potentially much more firepower for Gaborik to unleash in the coming weeks.
New Jersey Devils
Ilya Kovalchuk – On his first trip this deep into the playoffs and despite dealing with a lower body injury, Kovalchuk finds himself entering the conference finals as the top remaining scorer in the league.  He has 12 points in 11 games, including 3 powerplay goals.  His incredibly long and pricey contract looks much less foolish for the moment.
David Clarkson – You were expecting Zach Parise here?  So was I.  Clarkson deserves credit though, he has 8 points in 12 games (same as Parise), including 2 game-winning goals.  He also has been a strong +6 (Parise is a +1).  Clarkson seems to continually find a way to mix the role of an agitator and spark plug with a clutch scorer and it has worked beautifully for the Devils.
Martin Brodeur – The "worst" of the 4 remaining goalies, Brodeur has a 2.05 GAA and .920 Save % after 2 rounds.  He also has racked up 3 assists along the way.  Perhaps the best goalie in history, Brodeur has demonstrated more than a couple of times this year that he is still capable of robbing some of the best shooters in the league.  Reports of his demise may have come a bit too early as he has the Devils half way to yet ANOTHER Stanley Cup.
Personally, my top 3 right now would be:
1) Jonathan Quick
2) Mike Smith
3) Henrik Lundqvist
Sorry forwards.
Time to enjoy the Conference Finals and then revisit this discussion before the Stanley Cup Finals!
Meesh is an attorney and one of the Pittsburgh Penguins Contributing Writers for The Hockey Writers. He also writes for ThePensNation.com. You can contact him on twitter @HockeyMeesh or e-mail HockeyMeesh@gmail.com