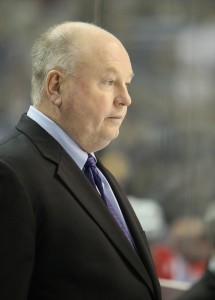 The game of hockey, much like life, is in a constant state of flux. It moves along with rapidity rarely rivaled in sports, and as such, a stabilizing force is paramount for success with regards to those who engage in it.
For the Anaheim Ducks, Bruce Boudreau has become their stabilizing force. After signing a two-year extension that will keep him in Southern California through 2014-15, he is now the constant, the leader that will guide them back to their rightful place amongst the Pacific Division's elite.
The hiring of Boudreau speaks volumes about the light in which Anaheim management holds him. Only hours after administering walking papers to Randy Carlyle, Boudreau was brought aboard. The quick turnover lends credence to the idea that Boudreau's hiring was made with an eye on the long-term vision Anaheim brass possesses for the club.
Handed the reigns to a floundering, but skilled Anaheim team, Boudreau admirably led a team devoid of confidence to a respectable 27-23-8 record under his watchful eye. While Anaheim made a slight, albeit far-fetched playoff run, it is important to note that the season was lost early on. The final five months of the season served more as an audition for the players and an opportunity for Boudreau to become acquainted with the new weapons at his disposal.
That the team improved under Boudreau's short tenure is apparent, but it did so only slightly more than marginally. There is nothing wrong with that however, as success on the ice is a byproduct of stability and cohesion in the dressing room. As Anaheim players adjust to life under a new, and less tyrannical regime, the on-ice product will improve as the dressing room will become a more jovial place in which they can ply their trade.
Unlike Randy Carlyle, Boudreau is a "player's coach", a mentor who knows full well that mistakes are going to happen, young players need time to learn the game as they develop and that star players need to be leaned on if you want to win in NHL. The philosophy which Boudreau espouses when compared to his predecessor will enable the next wave of Ducks, who are integral to the future success of the franchise, to flourish.
Rather than being chastised for not adhering to a strict and rigid game plan, youngsters such as Devante Smith-Pelly, Luca Sbisa and Cam Fowler will be encouraged to play to their strengths in what will be a much more free-flowing system. Instead of being scared to make a mistake and playing within a defensive scheme, these players will rely on their hockey IQ in order to make plays and take chances, learning what does and does not work by trial and error on their own accord.
Having the freedom to play the game in a manner that best suits their skill set, under a coach that understands every young player is subject to a learning curve, is infinitely more valuable than being misused within a system that negates the best qualities of its young players. As Greg Wyshynski notes, Cam Fowler is a player that could see himself ascend into the elite category of offensive defensemen, paralleling Mike Green's rise to stardom under Boudreau in Washington.
The player in Anaheim's organization that should benefit most from Boudreau's arrival is a player who hasn't even laced up his skates for an NHL game yet in Emerson Etem. After a season in which Etem put on a scoring clinic in the WHL, he's on the fast-track to the bright lights of the NHL.
While the opportunity to have his name penciled in amongst the top-six forwards come the season-opener for Anaheim is a distinct possibility due to their lack of depth and need for secondary scoring, his inclusion on the opening-night roster hinges on a strong training camp and the decision of veteran Teemu Selanne regarding retirement.
Regardless of whether Etem debuts in the NHL next season, or the following year, this is a player that will thrive in Boudreau's freewheeling, offensive system.
Those are goal-scorer's goals and Etem's contributions would have been severely mitigated with his offensive skills being reined in by Carlyle.
As Boudreau's personality wears off on players in the dressing room and the team becomes more accustomed to the shift in coaching philosophy, Anaheim will once again find themselves in the thick of things, both in the Pacific Division and the Western Conference. With Boudreau locked up for the next three seasons, he will be given time to mold this team into the offensive force it is capable of being as evidenced by the offensive players it employs.
Improvement will be expected, and made, as soon as next season, but the real jump will come in 2013-14. Anaheim's trio of Ryan Getzlaf, Corey Perry and Bobby Ryan will be supported by players such as Cam Fowler, Luca Sbisa and Devante Smith-Pelly, who by then will have started to truly realize their potential under Boudreau.
No hiring in the NHL is without risks, but the move to acquire the services of Boudreau was a shrewd one by general manager Bob Murray. The hiring leverages Boudreau's best assets, namely his ability to work alongside young players and his willingness to allow his team to get creative offensively, and utilizes them in a way that benefits the organization all the way down to the CHL level.
As much as things change, the unexpected occurs and unforeseen circumstances arise, extending Boudreau's contract allows Anaheim to hedge against anything that could derail the long-term plan the organization has for the current group.
As a calming influence in a volatile sport, Boudreau's presence will allow Anaheim's players to concentrate on playing to the best of their abilities rather than the ramifications of straying outside of a system that doesn't suit them.