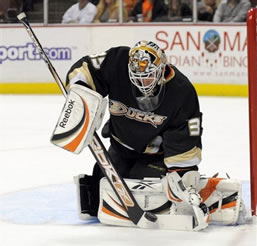 Anyone who reads this likely realizes that it is asinine to try and handicap the Conn Smythe race this early in the playoffs.  The Conn Smythe Trophy is awarded to the most valuable player of the playoffs.  It is usually awarded to a player on the Stanley Cup winning team, though a player on the losing team in the finals has won it 5 times (most recently, J.S. Giguere in 2003).  Regardless of how early in the playoffs it is, it's still fun to watch the race as it plays out through the playoffs.  With 14 teams still in it, most fans have not had a chance to see every game or even every series (is anyone paying attention to New Jersey and Florida aside from their fans?).  So feel free to consider this an article on who is hot around the league right now as well as who is taking their early first steps towards the Conn Smythe.  Of course, pay more attention to the players most likely to move on.
Vancouver Canucks – Los Angeles Kings (Kings lead 3-1)
Jonathan Quick (LA) – Anyone that has paid any attention to the Kings this year realizes that Quick is the life force behind that team's story this season.  He has continued his wonderful play into the playoffs, catapulting the Kings into a surprising position to upset the Canucks.  He is currently 2nd in the playoffs with a .952 save percentage and 4th with a 1.76 goals against average.
Dustin Brown (LA) – The Kings' captain has led by example, through big hits and 2 massive short-handed goals in one game as he has his 8th seeded team on the verge of upsetting the Presidents' Trophy winners.  Brown has been dangerous all over the ice with every shift and appears ready to do anything to help this team go deep in the playoffs.
Cory Schneider (Van) – On the opposite side of Quick, despite not starting the series, is now potential savior Cory Schneider.  Schneider was dominant in Game 4 for the Canucks and will have to be at the top of his game if Vancouver has any chance of coming back in this series.  His save percentage of .969 and GAA of 1.02 are the best in the NHL.
St. Louis Blues – San Jose Sharks(Blues win 4-1)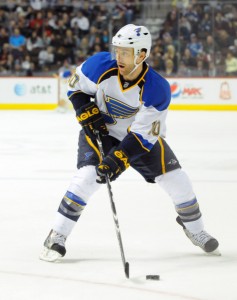 Brian Elliott (StL)– Though Elliott did not start the series, he came in at top form in Game 2 when Jaroslav Halak went down with an injury.  Elliott has continued his strong play from the regular season, ranking 3rd in save percentage (.949) and 2nd in GAA (1.37).  His goaltending allowed the Blues to make quick work of the Sharks to move on.
Andy McDonald (StL) – McDonald is one of only 2 players that are in the top 13 and not in the Pittsburgh-Philly series, which has featured no goaltending.  He is 3rd in points with 8, including 4 goals.  He has been dominant in the faceoff circle, winning 57.6% of his draws and has played most of the game-changing shifts that St. Louis has had.
Phoenix Coyotes – Chicago Blackhawks (Coyotes lead 3-2)
Mike Smith (Phx) – After getting through 5 overtime games in this series so far, Smith has had the ability to demonstrate the difference between strong and weak goaltending.  He has done enough to outlast Chicago's Crawford in net as Crawford has let up a couple of bad overtime goals.  He is on the bottom cusp of the top goalies in the playoffs, with a 2.13 GAA (9th) and a .941 save percentage (8th).
Mikkel Boedker (Phx) – Though his 5 on 5 and regulation play hasn't been all that great, it's easy to open eyes with 2 game winning goals in overtime.  Boedker has been in the right place at the right time for the Coyotes when sudden death has come into play, which has been every game in this series.  He is certainly amongst the most surprising names on this list early on.
Jonathan Toews (Chi) – Toews came back from a concussion that plagued him towards the end of the season just in time for the playoffs.  He scored the winner in overtime in Game 5 to keep the Blackhawks alive and has been a monster in the faceoff circle, winning 62.5% of his faceoffs.  His +5 is tied for 2nd in the league as "Captain Serious" does his best to keep his team alive.
Nashville Predators – Detroit Red Wings (Predators win 4-1)
Pekka Rinne (Nsh) – Rinne has already helped the Preds get past their arch-nemesis Detroit.  He currently ranks 6th in both GAA (1.81) and save percentage (.944).  He came up with a plethora of timely saves late in Games 4 and 5 to survive Detroit's final onslaughts.
Shea Weber (Nsh) – Despite a controversial hit on Henrik Zetterberg that led to a $2,500 fine, Weber has played a significant number of valuable minutes for the Predators and has added 2 goals to his solid defensive play.  He is averaging almost 28 minutes per game and is a key component to Nashville's ability to hold 1 goal leads late in games.
New York Rangers – Ottawa Senators (Senators lead 3-2)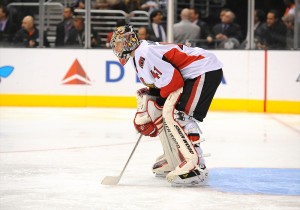 Craig Anderson (Ott) – Entering the playoffs, many analysts questioned Ottawa's defensive abilities and whether they could keep the puck out of the net enough to keep up with the Rangers.  Anderson has taken that task upon himself, putting up a shutout in Game 5 to give the Sens their first series lead.  His GAA (1.79)  ranks 5th and his save percentage (.943) ranks 7th in the NHL.
Henrik Lundqvist (NYR) – As the Rangers struggle to score, the onus is on Lundqvist to play near perfect hockey to spur a comeback.  His numbers are solid with a 1.78 GAA (4th in the NHL) and .945 save percentage (5th), but his team isn't helping out much at all thus far.
Brian Boyle (NYR) – Boyle has drawn the ire of Senators fans both for his hitting and for his clutch play now.  He has the game-winning goal in both Rangers' wins in this series.  He suffered a concussion in Game 5 at the hands of a Chris Neil hit though, so it is unknown how long he will be out moving forward.
Notable Mention: Dan Girardi (NYR) leads the league with 25 blocked shots and is averaging over 28 minutes per game.  He also has 3 points, but would likely be overlooked for the Conn Smythe, which favors offensive additions or goaltending in comparison to strong defensive play.
Boston Bruins – Washington Capitals (Capitals lead 3-2)
Braden Holtby (Was) – There was a big question in net for the Capitals as unproven Braden Holtby had to step up in place of veteran Tomas Vokoun and regular Michael Neuvirth for the playoff run.  Holtby has demonstrated that he may have been the best of the three all along as he has the Caps in a surprising position to move on.  He is 4th in the NHL in save percentage (.946) and 8th in GAA (1.86)
Dennis Seidenberg (Bos) – Though most people don't realize it, Seidenberg is tied for the team lead in points for the Bruins (3) and is leading the team in ice time per game, even over Zdeno Chara.  He is on for all key moments, and has been less of a liability than Chara in regards to discipline and penalties.
Florida Panthers – New Jersey Devils (Panthers lead 3-2)
Kris Versteeg (Fla) – Versteeg has made his mark on the powerplay for the Panthers, which has been dominant against the Devils in this series so far.  He has 2 powerplay goals and an additional 2 assists as he leads the team in points.  He came up especially big in Game 5, putting together a great effort and scoring the game winner on the powerplay.
Travis Zajac (NJ) – If the Devils come back in this series, people will look to Kovalchuk or Parise as the heroes.  However, Zajac has been the consistent player thus far, putting up 4 points and a strong 61.7% in the faceoff circle.  He has looked very strong as the top line center and has been one of the better forwards on the penalty kill, though that doesn't say much for New Jersey right now.
Pittsburgh Penguins – Philadelphia Flyers (Flyers lead 3-2)
Claude Giroux (Phi)  – Though this series is hard to analyze since goal scoring has been extremely high with poor goaltending, Giroux has looked brilliant throughout nonetheless.  He is currently the league leader in points with 11 and has 2 powerplay and 1 short-handed goal.  His work in the faceoff circle (53.4%) and his defensive zone play has also been excellent as he has earned a +4 and put in complete games throughout the series.
Jordan Staal (Pit) – Not Malkin, not Crosby, but it's actually Jordan Staal who has led the comeback for the Pens as they try to erase a 3-0 deficit.  He is the league leader in goals with 6 and is 2nd in points with 9.  He has played tremendously at both ends of the ice, putting up a +4 in the process.  His shooting percentage is an astounding 54.5% (6 for 11) thus far as he has been a steady force for the Pens.
With this list as the starting point, expect an update in a week or two on how players have shifted around as teams get eliminated and other players take over the spotlight.
Stats taken from the NHL's site.
Meesh is an attorney and one of the Pittsburgh Penguins Contributing Writers for The Hockey Writers. He also writes for ThePensNation.com. You can contact him on twitter @HockeyMeesh or e-mail HockeyMeesh@gmail.com