After losing by a 5-3 score on Saturday night to the Buffalo Beauts, the New York Riveters fell in a Sunday shootout, 3-2, against the Boston Pride. Although they only gained one of a possible four points over the weekend, the biggest story on and off the ice was the retirement of fan-favorite and one of the original Riveters: Morgan Fritz-Ward. Earlier in the week she had announced she was leaving the game she loved to return home and start school again.
"This was no easy decision, as hockey has been a part of my life since I was ten years old, but I have decided to get back on track with school, which I will be attending in January," Fritz-Ward said in a statement through the NWHL. "I am truly blessed for having had the opportunity to do what I love for over a year. Thank you again for the support and dedication you have given to me and the league."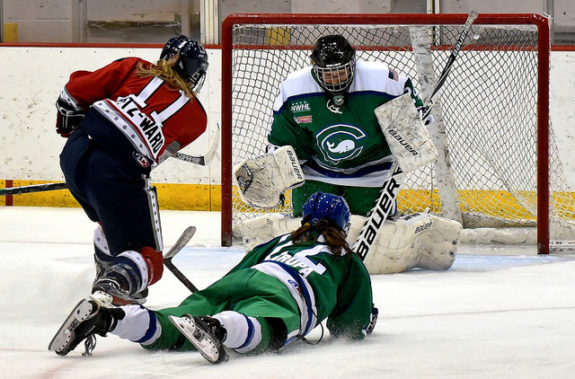 The 23-year-old from Mason City, Iowa was a leader on and off the ice with the Riveters, as evidenced by the alternate captain 'A' on her jersey, as well as how highly (and emotional) her teammates spoke of her following the weekend's games.
Here are some of the highlights from the postgame press conferences, first from her teammates and then from Fritz-Ward herself.
Captain Ashley Johnston:
"It's awesome to have a friend like that, somebody that's part of the leadership team…Fritzy's a special person. She's someone who, you talk about people who change your life; she's someone who everyone she touches, she changes their life one way or another. It's always in a great, great way. The friendship that we've created these past two seasons, something as historic as starting the league last year — that team, in general, is always going to have a really special place in my heart, as well as with Fritzy."
Shout out to @fritz_ward, couldn't be more pumped to lace em up with ya one more time. Best leader, role model, and friend around ❤️

— Stretch (@strettyit) December 4, 2016
"I can't even begin to explain how special she is, how amazing she is with me. Last year she always managed to find somewhere for me to stay, which was amazing when I was driving back (to Albany) and I really shouldn't have been driving back (laughs) at three in the morning. That's just the type of person she is, she always looks out for everybody else. How she plays on the ice is how she is as a person."
Gunna miss this kid. A hardworking leader, who always did the thankless jobs w/ a smile on her face #enjoythejourney @fritz_ward @NYRiveters pic.twitter.com/U78C7I2xre

— Madison Packer (@madison_packer_) December 5, 2016
Alternate Captain Madison Packer:
"It's tough for me….she's my roommate…a good friend of mine, and I've watched her struggle through the decision process the last couple of weeks. It's tough especially because it's someone who I formed a relationship with away from the rink. Our team is going to miss her, she's a leader, she has that letter on her jersey for a reason. She's a big part of the Riveters from the beginning; there's definitely going to be a hole in the locker room."
Bray Ketchum:
"Fritzy's a fighter; she has, from the start, worked her butt off every day; off the ice, on the ice, in practice, in games. We're really going to miss her; she's a grinder and a great PKer for us, great on special teams. Hopefully, she'll be back to visit, but we're definitely going to miss her in the lineup."
Coach/GM Chad Wiseman:
"It's a mild distraction. There's nothing negative about it, she's going on her own terms and she wants to pursue her career a little early. Whether all of the stuff going on with the league maybe made her decision easy to do that, or not…again, from a coaching standpoint you're losing some heart and soul from your team; she's not the only one, but she's a big part of it. She was last year, and she is this year. To replace her would be tough, we won't be able to replace her at this point. She'll definitely be missed."
We'll miss you, @fritz_ward. Thanks for everything.
📷: @trancemoment pic.twitter.com/Cvh1D8SvMD

— The Ice Garden (@TheIceGarden) December 4, 2016
Standing in front of her teammates it was evident how much it hurt them that their sister, that part of the Riveters family, was going away. When Fritz-Ward herself met the media for the final time as a professional hockey player (for now?), at least externally, she didn't show any signs of sadness, virtually smiling and grinning the whole time. Which I guess, in one way or another, backs up how her teammates all described her.
"Tired," she said with a laugh when The Hockey Writers asked her how she was feeling following that final game. Naturally, we followed up by asking whether it was physically or emotionally. "Physically," she said, laughing even louder than moments ago. "I guess you could say both. It was a good game, huh?" she returned fire, hitting us with a question. "We gave them a run for their money."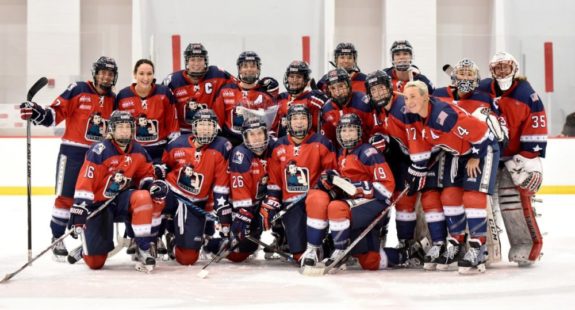 Them being the Boston Pride, who have yet to lose a game this season or this calendar year. One of the only games that Boston lost last season was to Fritz-Ward and the Riveters.
"Every game was important to me," said Fritzy when asked what she will remember about her hockey career. "I started late playing hockey from everyone else. I didn't know if I was actually going to make it to college hockey and when I got that chance I just, every game was memorable for me. Especially because my parents were the ones who made it possible for me in high school."
"Obviously this one takes the top of the cake," she added with a grin, "because it's my last game…as of now. And we went into overtime and the shootout." Fritz-Ward scoring in overtime — or the shootout — in her final game would have been a storybook ending. So how close did she come to getting on the ice in the shootout?
Your @NYRiveters player of the game as chosen by her teammates- Morgan Fritz-Ward/@fritz_ward. #NWHL pic.twitter.com/5vc9EzwMya

— Mike Murphy (@DigDeepBSB) December 5, 2016
"Oh God no," she told THW when we asked if there was any disappointment in not being selected to take part in the tiebreaker. "If he (coach) would have called me I would have declined. I'm not a shootout person, I don't do it in practice, I don't do it in games." She laughed and added, "that's not my style."
While she will be far away from New Jersey and the many teammates she grew to love, you can bet she will be watching from home cheering on her girls, and if the Riveters make it to the Isobel Cup Final?
"Hopefully," she said when asked if she would attend the games. "I hope so. I plan on it," she added, still flashing her trademark smile.