The 2015-16 season was a major disappointment for the Columbus Blue Jackets for many reasons including their sluggish start, their coach being fired, and their captain's disappointing season.
The Jackets selected Nick Foligno as captain after a stellar 2014-15 campaign where the winger tallied career highs in goals, assists, and points with a 31-42-73 mark. Along with these career highs, Foligno was named to his first NHL All-Star game.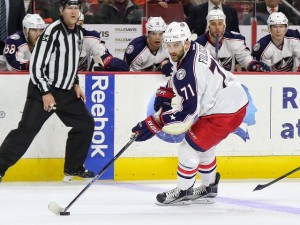 Everything was looking up for Foligno headed into 2015-16, but he was unable to build off the previous season's success tallying 12-25-37. While those numbers aren't far off from his season averages, it is disappointing that his numbers dropped substantially after being selected captain.
Though Foligno scored less, he was impressive as a leader. He has shown throughout his time in Columbus that his effort cannot be questioned. Foligno plays a tough style of hockey with a touch of finesse. He battles in the dirty areas while having the skill to make the flashy play.
Foligno's Improvement This Season
The Columbus Blue Jackets have been very impressive up to the quarter mark of the season. One big reason is their captain finding his stride. Foligno has tallied 10-12-22 in 23 games. His 10 goals put him tied for team leader with Sam Gagner while his 22 points put him second on the team only trailing Cam Atkinson
Foligno is a scorer, but he has shown growth as a leader. With the Blue Jackets youth, teams may take some shots at the younger players. These shots have not gone unnoticed by the captain who has dropped the gloves to protect the Columbus younger players.
Sam Gagner Reestablishing Himself
Along with Foligno's growth, the Blue Jackets have gained a very good veteran this season with what seemed to be a minor signing in Sam Gagner. The Blue Jackets and Sam Gagner agreed to a one-year $650,000 deal before the 2016-17.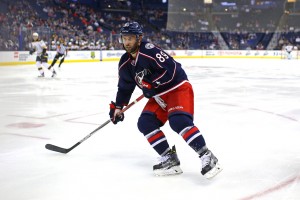 Gagner signed with the Blue Jackets after a disappointing season with the Philadelphia Flyers, so the length and term of this deal are not surprising. Gagner has proven that he is a capable NHL player, but he has to prove to the NHL that he still has it. He was not impressive in his first two games in Columbus being a healthy scratch.
With his early season struggles behind him, the consensus this season is that Gagner is still a very viable pro. He has tallied 10-7-17 for the Blue Jackets in 23 games. Gagner's 10 goals tie him with team captain Nick Foligno.
The Columbus Blue Jackets signing was a low-risk move that has paid off early with Gagner adding secondary scoring depth to a team that is clicking. His impressive scoring numbers were padded Monday night with his first four-point game with Columbus (2G, 2A) against the Coyotes — including the shootout winner.
I am a Junior Sports management Arden at Ohio University with a passion for Hockey at all levels.