Week seven of fantasy hockey was taken over by some new and unfamiliar faces. For the first time this year, all three awards were taken by players who only participated in three games, which is normally odd since the higher stats come from more games played. Regardless it was a great week for fantasy hockey across all positions. And with that, here are your week seven fantasy hockey major award winners:
Fantasy Hart Trophy – Mike Hoffman
GP:3 G:4 A:2 Pts:6 +/-:+2  PPP:3
The Fantasy Hart Trophy is awarded to the week's most valuable player.
Starting your week off with a hat trick on Monday night is always a nice way to start a big week. For Mike Hoffman, his three goals on the first night of week seven was a nice microcosm of what was to come from the Ottawa right-winger.  He doubled his total goal output through six weeks in the past seven days.  Hoffman may finally be coming back to the consistent goal scoring form fantasy owners have come to rely on over the past few years.
Averaging  above 28 goals per season across his past three seasons, Hoffman came into this year looking to finally eclipse the 30-goal plateau for the first time in his career. Sadly, the start of his season hasn't gone as planned as he had only assembled 4 goals through the first 19 games of the 2016-17 season.
This lack of production led a lot of owners to give up on the sniper and release him to free agency for more effective options.  On pace for a lowly 17 goals, before the week started, it was nice to see the power-play specialist show us why he was so highly touted fantasy-wise to begin the year.  For the owners who decided to hold onto Ottawa's top sharpshooter, they finally reaped the benefits of their patience as he was the most effective fantasy producer through week seven among all players.
Hoffman's six points on the week found him sharing the top spot among all players with superstar Sidney Crosby. His four goals were also tops among skaters with his three power-play points leading all players for Hoffman's third top category of the week.
As mentioned, Hoffman's season did not start as planned but make note that week seven was the period where he may have lost the snake bite and regained his scoring touch. Owners will hope he is back to the form that was expected prior to the season's start, as his value will skyrocket if he can produce like he did this past week and re-establish himself as one of the league's pure goal scorers. Playing on the Senator's top power-play unit, owners should expect Hoffman to continue to bring his season numbers closer to his career averages rather than the lowly output he had given them so far this year.
Honourable Mentions: Vladimir Tarasenko, Kris Versteeg
Fantasy James Norris Trophy – Kevin Shattenkirk
GP:3 G:2 A:4 Pts:6 PPP:2 SOG:11
The Fantasy James Norris Trophy is awarded to the week's most valuable fantasy defenseman.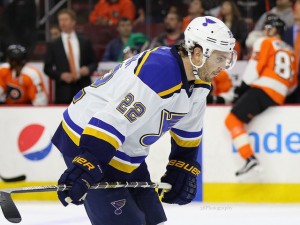 Shattenkirk has been enjoying a phenomenal season and the best of his career through the first 25 games of 2016-17.  After his Norris-worthy performance in week seven, he is on pace for 62 points on the year, 17 points higher than his previous career high of 45 from the 2013-14 season. The St.Louis Blues player has given fantasy owners plenty to enjoy statistically and after this week continues to give them hope that he may be the next Erik Karlsson or Brent Burns fantasy-wise.
In week seven, the Blues' top defenseman led all NHL blueliners with five points. His two goals were tops among defenders tied with five others, but his three power-play points impressively led all defenseman. Much like Hoffman with the Fantasy Hart trophy, Shattenkirk is leading in three categories for his position making him deserving of this award.
As the year continues, owners can only hope Shattenkirk sustains his steady weekly production and can continue to develop into the elite fantasy option he has shown to be. Expect Shattenkirk to continue to warrant consideration for this weekly award as long as he sticks to his high-end play and the Blues continue to score. Now the number one offensive option on the Blues' blueline, Shattenkirk's fantasy value has never been higher.
Honourable Mentions: Ian Cole, Justin Schultz
Fantasy Vezina Trophy – Chad Johnson
GS:3 W:3 L: GAA:1.62 SV%:.948 SO:1
The Fantasy Vezina Trophy is awarded to the week's top goaltender.
Chad Johnson is taking the fantasy hockey world by storm and surprise. Since taking over the Flames' starting goaltending job, Johnson has done nothing but impress and win with the suffering Calgary Flames. Struggling to even establish a starting job in the NHL, Johnson worried a lot of fantasy owners due to his overall career inconsistency, but with Brian Elliot floundering and Johnson surging, anyone who was in need of a goaltender and acquired this journeyman, was more than pleased with his performance and the results he delivered for fantasy week seven.
With three wins in three games, Johnson was second only to Steve Mason's impressive four-win week. The difference that made Johnson the most valuable fantasy goalie was his 39 save shutout, one of five total shutouts across the week league-wide, which gave him and owners a very important point in the SO fantasy category. His .948 save percent was sixth among goalies with two starts or more which further adds to his value on the week and earning him this honour.
Prior to this season, Johnson had struggled to establish himself as an NHL worthy goaltender. With 88 starts through six total career seasons with five different teams, it seemed as if Johnson's break into the league as a starter would never come. Luckily, with the Flames acquiring Elliot in the offseason and his terrible early start along with that of the Flames, Johnson has finally earned himself a starting job and looks like he is going to do whatever it takes tokeep it.
Chad Johnson before Calgary (101gms):
50-30-11 / 2.39 GAA / .917 SV% / 4 SO

Johnson with Calgary (13gms)
8-4-1 / 2.06 GAA / .930 SV% / 3 SO

— 🅱️𝗥𝗢𝗖𝗞 🥅 (@Brock_Seguin) December 2, 2016
The Flames may have found a diamond in the rough in Johnson as a solution to finally solve the goaltending issues that have played the organization for years. It may be a short sample size and Johnson may just be on a hot streak, but while he is starting in Calgary, owners can enjoy their new starting goaltender and ride his success for the time being.
I wouldn't expect Johnson to be up for this weekly award often, but for now, his owners can enjoy the unexpected success he is bringing to all of their goaltending stats. Anyone who puts up elite goaltending numbers across any week is extremely valuable, especially for desperate owners in need of goaltending help.
Honourable Mentions: Steve Mason, Martin Jones