As Robert Bortuzzo and his fans are quickly learning, depth can be a very complicated topic in the life of an NHL player. Depth charts are created with the idea of simplifying some rather tenuous scenarios. As the Pittsburgh Penguins have demonstrated through their use of defensemen this season, depth charts don't necessarily mean much when injuries, contract statuses, and intangibles come into play.
The Wait for NHL Playing Time
Bortuzzo had his first taste of the NHL in the fall of 2011 after a string of injuries tore Pittsburgh's defense apart. Unfortunately for him, he only played six games before joining the list of injuries with a concussion. By the time Bortuzzo was cleared to play again, the rest of the defense had returned to the lineup and he was sent back down to the AHL for the remainder of the season.
With the NHL locked out in the fall of 2012, Bortuzzo continued to play with the AHL's Wilkes-Barre/Scranton Penguins until he was called up for Pittsburgh's training camp in January 2013. From then on, it was a struggle to get ice time.
Bortuzzo was one of nine defensemen invited to camp for the shortened season. Of those nine, six had one-way NHL contracts, two (Bortuzzo and Brian Strait) had two-way contracts but had to clear waivers to be sent back down, and one (Simon Despres) could freely move between the levels.
The team opted to keep eight of the nine on the roster for opening night and they placed Brian Strait on waivers. Strait was claimed by the New York Islanders, leaving the Penguins with eight defensemen.
The blue line was crowded, especially for a rookie trying to make a name for himself, but injuries and a trade would quickly help Bortuzzo get some playing time. Matt Niskanen and Kris Letang both suffered injuries early in the season, giving Bortuzzo a chance to make a strong impression with the team. He did just that and the team opted to trade away Ben Lovejoy to Anaheim since Lovejoy was falling further on the depth chart.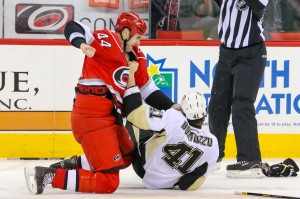 Bortuzzo played on the 3rd pairing through most of February, but his lineup spot would soon disappear. The Penguins decided to bring back Mark Eaton at the start of March to provide depth and a veteran presence that had been quite valuable during the 2009 Stanley Cup run.
Bortuzzo went back to the press box in depth chart purgatory. He had proven that he had the skills to play in the NHL, but he was stuck behind too many veterans. He was also stuck in the NHL because the team didn't want to risk losing him on waivers.
He would only play four more regular season games in the 2013 season and did not play in the playoffs since the Penguins had also acquired Douglas Murray to create a massive logjam at the blue line again. Bortuzzo finished the 2013 season with 2 goals, 2 assists, and 27 penalty minutes in 15 games played.
Re-Signing and a Chance to Play
While the 2013 season didn't pan out quite as he may have hoped, it was still a season in the NHL and the 24-year-old had plenty to look forward to. As the Penguins let go of Douglas Murray and Mark Eaton in the offseason, opportunities on the blue line started to open up again. One of those openings disappeared when the Penguins signed Rob Scuderi, but Bortuzzo was not deterred.
He re-signed with the Penguins as a restricted free agent, coming to terms on a two-year deal worth $1.2 million total.
Everything looked promising in the preseason. Head Coach Dan Bylsma decided against using him in every preseason game for evaluation purposes, stating that, "He's not trying out at the NHL level. He's at that level."
Even with the crowded blue line (seven defensemen including Bortuzzo on one-way NHL contracts and several highly-touted prospects), Bortuzzo felt that he was up to the task:
"I'm not overwhelmed by all of the good defensemen in the organization. I want to be one of them."
When the 2013-14 season began, everything looked great for Bortuzzo. Despite the Penguins unexpectedly keeping another defenseman in Olli Maatta, Bortuzzo had a spot in the opening night lineup and was ready to play.
He played in 14 of the team's first 18 games, mostly alongside Maatta, and played a very steady role with the 19-year-old prospect at his side.  Whether it was playing strong defense or defending teammates, Bortuzzo could handle it all.
Back to the Press Box
For some inexplicable reason, things went awry after that. The team had been using Deryk Engelland at forward to compensate for a lack of grit and depth up front, but that experiment ended and Bortuzzo lost his lineup spot on defense despite playing over Engelland early in the season. Since then, he has been jumped on the depth chart by Simon Despres, who had started the season in the AHL. At this point, Bortuzzo has played just once in the past 11 games.
The benching confused Pittsburgh writers as well.
Bortuzzo is a healthy scratch for the Penguins again. Why he has fallen so far out of favor with this coaching staff is baffling.

— Dave Molinari (@MolinariPG) November 28, 2013
Finally, someone asked the man in charge.
Dan Bylsma explaining why Robert Bortuzzo hasn't been in the lineup. Says Despres a better fit with Martin out, and Engelland playing well

— Chris Adamski (@C_AdamskiTrib) December 2, 2013
Bylsma:"It's just Deryk has gone in and been physical and provided that for our team…Simon, w/the injury to Paul Martin, has stepped in.."

— Chris Adamski (@C_AdamskiTrib) December 2, 2013
While depth charts are inherently tricky, it would appear that Bortuzzo would be the 9th defenseman on a healthy Penguins team behind Rob Scuderi, Kris Letang, Brooks Orpik, Paul Martin, Matt Niskanen, Olli Maatta, Deryk Engelland, and Simon Despres. No defense ever stays healthy, but that certainly isn't a promising spot.
What the Future May Hold
General Manager Ray Shero has a history of taking care of players who can't find a fit in the organization anymore. Bortuzzo was a part of it last season when he moved up the depth chart and forced Shero's hand in trading Ben Lovejoy to Anaheim for a 5th-round pick. As Seth Rorabaugh of the Pittsburgh Post-Gazette suggested with the Lovejoy trade:
"There's multiple layers to this trade. First, it appears to be a favor to Lovejoy who has been a good citizen in this organization for many seasons. He wasn't going to get playing time at the NHL level unless massive injuries set in. Coupled with the fact that the Penguins can't assign him to the AHL without exposing him to waivers, they dealt him to a team with less depth, especially given Fowler's ailment, in order to give him a better chance.
On top of that too, instead of losing him through waivers for nothing, they get an asset back. Much like the trade of Mark Letestu to Columbus last season, the Penguins turned an undrafted player into a fifth-round pick. Not a bad return."
It sounds like an extremely similar situation to what Bortuzzo is going through now. Simon Despres has played very well since his call-up and Bortuzzo is currently the 7th defenseman since Scuderi and Martin are injured. With Scuderi expected to return later this month or early next month, Bortuzzo can only hope to stay 7th at best if Despres is sent down or drop to 8th and further away from the lineup.
Right now, the Penguins are under no pressure to do anything with Bortuzzo. He is under contract, still a valuable prospect, and provides insurance on the blue line.
However, with plenty of veterans on the team and more-heralded defensive prospects in the pipeline, it may be time for Shero to send Bortuzzo away and let him spread his wings elsewhere. The team could use forward depth or even a draft pick in return.
Bortuzzo has earned his chance; some team elsewhere should let him have it at least. Just ask Ben Lovejoy how it all worked out.