While Eddie Shack was known as "The Great Entertainer," it was mostly because of his performance on the ice. In 1966, though, it was a song about him that was entertaining people on the airwaves.
Eddie Shack joined the NHL with the New York Rangers in 1959 and found limited success over the course of his first two seasons.  In 1961, he was dealt to the Toronto Maple Leafs.  He fit in right away on the Leafs' third line.  Playing in Toronto, he would go on to win four Stanley Cups.  More importantly though, it was during his time in blue and white that he would be immortalized in song.
The Secrets were an up-and-coming band in the Toronto area in the mid-1960s. They had just released their debut single, "Cryin' Over Her," which resulted in more live shows, including one at the Toronto Pressmen's Club. Brian MacFarlane of CBC TV approached the band backstage after the show and asked them to record a song he'd written for his friend, Eddie Shack.  The band went to work in the studio and sent the recording to MacFarlane, thinking that would be the end of it.  They were wrong.
"At that time, we were under the impression he wanted it just for Shack. We didn't know it was going to be released as a single and played across the entire country. Once it was released, we thought (or hoped) it would just disappear into the night and nobody would care about it. As fate would have it, it didn't disappear. For some reason people loved it." – Singer Doug Rankine in an interview with Chas Kit of Garage Hangover
They sure did.  The song hit number one on Toronto's 1050 CHUM-AM in February 1966.  It stayed at the top for two weeks and remained on the chart for nine.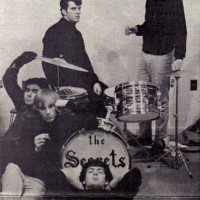 The single did well and so did Shack. The record came out midway through Shack's fifth season with the Leafs, in what would be his highest goal scoring season. He netted 26.
After their unexpected success, the band had a hard time getting away from their novelty record.  In 1967, they changed their name to The Quiet Jungle.  While they had moderate success with the song  "Ship of Dreams" in 1967, the group never again attained the same level of success that the two-minute novelty track  "Here Comes Shack"  had brought them.
Shack, while he had a great career with the Boston Bruins, Los Angeles Kings, Buffalo Sabres and Pittsburgh Penguins before returning to the Leafs for his final two seasons, also never again had the same level of success.
He would never again score more than twenty-five goals and after being traded away from Toronto in 1967, would never again win another Stanley Cup.
(Of course, neither would the Leafs, but that's another story…)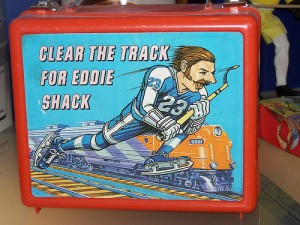 For the rest of the entries in this ongoing series,
don't miss Now That's What I Call Lockout!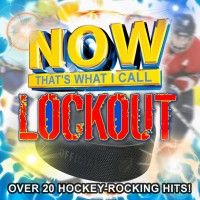 Josh is a life-long hockey fan. He grew up as a fan of the New York Rangers, but thanks to their general mismanagement and years of mediocrity, has developed a great appreciation for every team across the league.
He's been writing about hockey on various sites since 1995. In addition to his work at The Hockey Writers, he also keeps tabs on the referees over at ScoutingTheRefs.com.