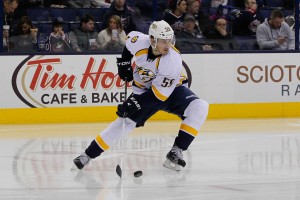 Roman Josi's 7 year, 28 million dollar extension has been a guiding light for every GM this summer with a good young defenseman to re-sign, and – despite  the slew of restricted free agents culled from the market since – has remained one of the best contracts under the new CBA.  For starters, the extension is such a wickedly smart deal because Josi already fills the role he's being paid for.  Even if the 23 year old Swiss defenseman's development doesn't take a single step forward in the next seven years, the kid is already a top pairing blueliner – one Shea Weber plays better with than without – capable of logging upwards of 20 minutes a night and facing off against opposing top lines.  Guys like Josh Gorges and Brayden Coburn make about that much to do exactly that and we pretty much know what those players are by now.  Even if Josi's point totals don't improve, effectively filling that shutdown role is pretty much worth the four bills alone, especially considering how Seth Jones will get to ease his way into the league gobbling up cushy deployments because of the Josi-Weber pair's heavy lifting.  Even stopping here, Poile still paid slightly below market value to fill one of the most important positions in hockey for the next seven years.  Not bad at all.
The real value in the contract however, is that Josi's upside is much higher than what you can get for $4 million in unrestricted free agency.  His IQ is off the charts, hinting at latent offensive potential as well as an evolving defensive game, and his topmost projection is a dominant three zone presence.  Ask Barry Trotz about his young defenseman, and the Preds' boss will readily bring up Ryan Suter, and Josi is further along at the same age.  The backloaded structure of the extension reflects this long-term upside, waiting three seasons before its yearly salary eclipses its four million dollar cap hit – but remaining a pittance for a number one defenseman if Josi actually gets that far.  This framework also plays nice with the "we can't actually afford this" years of Shea Weber's contract, because Josi's priciest seasons all come after the Captain's salary drops from 14 to 12 million.
Another reason the contract is so significant is that precious few comparables existed when Josi and the Predators put pen to paper.  Under the new CBA, only Oliver Ekman-Larsson, a more proven defenseman on a team with severe ownership issues had an extension on the books, and it had been for 1.5 million more and 2 years less.  Josi's extension was a bold, market defining step from Poile, that set the tone for the extension of every other contributing young defenseman this summer in terms of cap hit, contract length, or both.  Here are a few contracts influenced from the Josi fallout.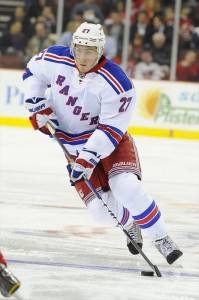 A week after Josi extended, the Kings locked up Slava Voynov for the next six years, averaging only .17 million more than the Josi deal.  Second round classmates in the 2008 draft, Voynov is the slightly better player now, but he also benefits from a vastly superior situation, even while readily admitting that Shea Weber is better than Drew Doughty.  Unfortunately for the Kings, the Russian's slightly more productie figures also mean that LA is getting one less year of that sweatheart cap hit, with Voynov hitting the free market at the ripe old age of 29 – with plenty of prime years left for another payday.
Later in the summer, Josi's cap hit and term would be crucial to the Rangers keeping costs down on the lynchpin of their defense. Ryan McDonagh's spearheaded one of the best shutdown units in the entire league over the past two seasons, logging ludicrous amount of even strength and shorthanded minutes for John Tortorella, but only outscored Josi by a single point this year.  The Rangers likely used this – and Dan Girardi getting all his partner's 2012 Norris votes for no reason – to club McDonagh's agent down from an average of even five million per season, much less the six he'd earn on  the open market.
Josi's deal also influenced some of the shorter term signings of the summer.  The Blues couldn't get extra cheap years for Kevin Shattenkirk because he eclipsed 40 points in 2012 – and because they're a budget team that needs to keep long-term cash open for Alex Pietrangelo's looming extension – and had to settle for a four year deal that scales similarly to the early years of Josi's contract while averaging 250k more.  Washington's defensive stalwart Karl Alzner also took home a four year extension this summer, with a cap hit about a half-million less than Josi's first four years because 2007's 5th overall pick only scored 5 points this season.
The signing that inspired this column however, was the extension Winnepeg signed Zach Bogosian to on Wednesday, a 7 year, 36 million dollar deal that is exactly what Poile avoided while locking up Josi.  At 23, Bogosian's still a great young player with a lot of potential, one who would have kept a little more shine over the last four years on a better team, but he's missed a bunch of time to injuries the past two seasons and doesn't exactly play noteworthy defense.  But rather than play bad cop and tell his young blueliner the hard truth that Voynov and McDonagh are better players, Kevin Cheveldayoff kowtowed and paid a premium for Bogosian's draft pedigree rather than his performance.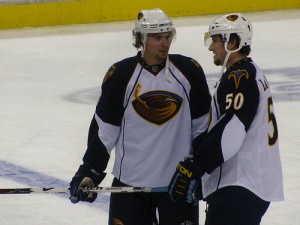 The 5.14 AAV contract – the highest pricetag of the summer's crop of young defenseman for arguably its worst player – is the type of premium and a half spending that compounds in multiples.  Like paying over $16,000 a pound on Dustin Byfuglien, 5.6 million a season for Blake Wheeler and, a contributing NHL salary for Olli Jokinen, much less 4.5 million.  This all culminates with the Jets stuck less than two million from the ceiling while icing an at-best fringe playoff team.  If they want to make a major addition between now and the deadline, they'll have to send back one of their bloated salaries, a tough sell for any budget-minded trading partners, and anybody they want to extend or sign can point to their out-of-whack compensatory structure while demanding a premium plus contract.
While the Predators have a few million more in available cap space than Winnepeg, they also have a bunch of "million here, 500k there" overpayments, like Paul Gaustad's extension and everybody they signed this year out of unrestricted free agency.  And that's before you get to Shea Weber's monstrous contract or Pekka Rinne's painfully market value deal.  Going into the summer, Nashville sorely needed a long-term contract with the potential to be a bargain, and thanks to some visionary GMing by Poile, the Predators have that in Roman Josi.