The truncated 2012-13 NHL season was one of transition for the Calgary Flames. The team part ways with captain (and all-time leading scorer) Jarome Iginla and blueline minute-muncher Jay Bouwmeester prior to the trade deadline, while long-time starting goaltender Miikka Kiprusoff is considered all-but-retired following a sub-par, injury-addled year.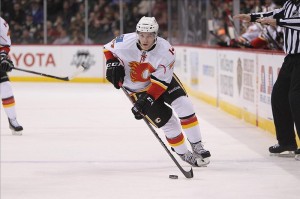 As a result, the Flames are entering uncharted waters as they prepare for the 2013-14 campaign. With nobody incumbent in the franchise's most important roles – no number-one goalie, no elite blueliners, no top-line forwards, no captain – coach Bob Hartley and the team's rag-tag bunch of youngsters will have a clean slate to build upon.
On one hand, it's an incredibly exciting time in Calgary, with nothing set in stone and nobody entirely sure what kind of team will open the regular season on October 3 in Washington. On the other hand, the team's very lean on NHL experience and while youthful exuberance will be in great supply, these guys will make some mistakes and face some bumps along the way.
In short: much like the Cleveland Indians in the classic baseball film Major League, these guys may not look so good on paper. They will probably be better than people expect, if only because some hockey pundits (and some fans, even) are already penciling them in for dead-last in the NHL. Hartley won't let anybody's work ethic slip far enough for the team to totally tank, nor is the team entirely short on talent. But it could be a long winter in the Stampede City if the youngsters don't get their stride for awhile.
Here's a quick look at how things look for the Flames heading into the last month of the summer.
THE FORWARDS
FIRST LINE: None
SECOND LINE: Mike Cammalleri (31; 606 NHL games), Matt Stajan (29; 652 NHL games), Curtis Glencross (30; 398 NHL games), Lee Stempniak (30; 564 NHL games), Mikael Backlund (24; 170 NHL games)
THIRD LINE: Jiri Hudler (29; 451 NHL games), David Jones (29; 272 NHL games), Sven Baertschi (20; 25 NHL games), T.J. Galiardi (25; 221 NHL games), Corban Knight (23), Roman Horak (22; 81 NHL games)
FOURTH LINE: Blair Jones (26; 114 NHL games), Brian McGrattan (32; 233 NHL games), Tim Jackman (31; 390 NHL games), Lance Bouma (23; 43 NHL games), Max Reinhart (21; 11 NHL games), Markus Granlund (20)
AHL FORWARDS: Ben Hanowski (22; 5 NHL games), Greg Nemisz (23; 15 NHL games), Ben Street (26; 6 NHL games), Turner Elson (21), David Eddy (23), Carter Bancks (24; 2 NHL games), Paul Byron (24; 34 NHL games), Ryan Howse (22), Michael Ferland (21)
WILD CARD: Sean Monahan (18)
Like last year, Calgary's problem is not enough top-line guys and perhaps too many second and third liners. Glencross, Stajan and Stempniak were very good and consistent last season, effectively becoming the Flames' top line. I'd expect the Flames to rotate through Backlund, Stajan and NCAA star Corban Knight as the top two centers, and any combination of Cammalleri, Glencross, Stempniak, Baertschi, Hudler and Galiardi as the top-six wingers. However, like last season, their lack of tried-and-true first line guys will result in some players punching above their weight for the year – or, ideally, growing into the role.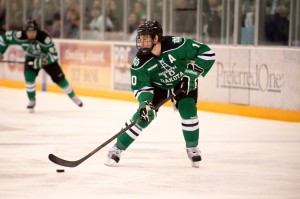 The bottom-six will be anchored by Jackman, David Jones and Horak. Brian McGrattan will slot in here and there to act as a bodyguard to the kids. Blair Jones is a borderline NHLer, but could be bumped to the AHL by somebody younger having a good camp. Lance Bouma is a prime candidate, as he was likely angled for a roster spot before being injured in the AHL during the lockout. Finnish junior star Markus Granlund is a bit of a wild card, as is Sean Monahan, who has a pro contract and will press hard for a spot in Calgary.
THE BLUELINE
TOP PAIRING: None
SECOND PAIRING: T.J. Brodie (23; 104 NHL games), Mark Giordano (29; 385 NHL games), Dennis Wideman (30; 581 NHL games)
THIRD PAIRING: Chris Butler (26; 267 NHL games), Kris Russell (26; 364 NHL games), Shane O'Brien (30; 483 NHL games), Derek Smith (28; 80 NHL games)
AHL DEFENDERS: Chad Billins (24), James Martin (22), Chris Breen (24), Tyler Wotherspoon (20), John Ramage (22), Mark Cundari (23; 4 NHL games)
WILD CARD: Pat Sieloff (19)
Once again, the Flames lack elite talent on the back-end. The three closest guys are power-play specialist Dennis Wideman, two-way veteran Mark Giordano and the rapidly improving T.J. Brodie. Brodie went from being a healthy scratch to open the 2012-13 NHL season to being a top-pairing guy at the end of it. The big question is if he can maintain consistency, or even improve on last year's performance.
Beyond that, the Flames have several guys with some NHL experience as depth options in Chris Butler, Shane O'Brien and Kris Russell. Veteran Derek Smith may be pushed for the seventh spot by AHLers Chris Breen and Mark Cundari, or even by OHL blueliner Patrick Sieloff, who signed a contract this summer and impressed Flames brass with his physical maturity and smash-mouth style of play.
THE GOALIES
STARTER: None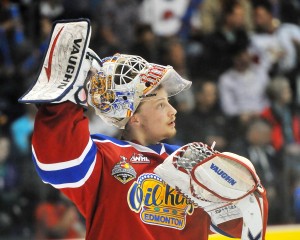 BACK-UP: Karri Ramo (27; 48 NHL games), Joey MacDonald (33; 122 NHL games), Reto Berra (26)
AHL GOALIES: Laurent Brossoit (20), Joni Ortio (22)
Who will be the successor to Flames legend Miikka Kiprusoff? Will it be Joey MacDonald, who served as back-up last year and stole more games for the club than Kiprusoff did? Will it be Karri Ramo, the Finnish KHL star hoping to cement himself in North America after a shaky stint with the Tampa Bay Lightning? Will it be Swiss standout Reto Berra, acquired in the Jay Bouwmeester deal and who looked great at the World Championships in the spring? Or could it be a dark horse? Excellent WHL goaltender Laurent Brossoit hasn't played a minute of pro yet, while Joni Ortio played 10 pro games in North America before returning to Finland for the better part of two years.
The Flames have five possibilities in net, but almost zero assurances that any of them will pan out. However, this is the first season of their proposed rebuild and, as the saying goes, these things take some time to shake themselves out.
A LOOK AHEAD
Heading into training camp, the Calgary Flames have a lot of question marks and few certainties. It's likely that either Mark Giordano or Curtis Glencross will become the team's next captain. Beyond that, Calgary has a lot of openings for a lot of players. Who emerges as the team's key contributors will likely determine who gets sent down to the AHL's Abbotsford Heat, who gets put on waivers and who, perhaps, gets traded as the team ramps up its rebuild in the weeks and months to come.
In other words: don't be shocked if Flames GM Jay Feaster continues to tinker with his club's roster as we get closer to the opening puck drop.
The NHL regular season schedule was released on Friday. Check out our partners at TiqIQ for the best deals on Calgary Flames tickets for all 2013-14 games.