Roman Polak Scores First Goal in a Toronto Maple Leafs Uniform (Video)
When the Toronto Maple Leafs traded for veteran defenceman Roman Polak this off-season, they were looking to add some extra leadership and muscle on the blue line.
What they didn't expect to see was any extra offence, but that changed tonight when Polak recorded his first goal (and point) in a Leafs uniform, putting everyone's favourite team ahead 3-2 against the New York Islanders midway through the second period. The goal helped Toronto move past a sloppy start to the game and was quickly followed by another Toronto goal – this time from beleaguered forward David Clarkson.
In 431 career NHL games, Polak has 80 points (14 goals, 66 assists) and 321 penalty minutes. Prior to joining the Leafs, he spent the last eight seasons playing for the St. Louis Blues (a team that can play some solid defence).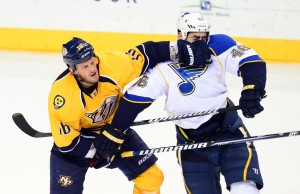 The goal represents the lone and current highlight of Polak's short time in Toronto so far. He was -2 heading into tonight's game and many fans were beginning to complain about his defensive play. Tonight's heroics might be enough to earn him a second look from some fans, but Polak will need to follow things up with further contributions if he really hopes to capture the hearts of Leafs fans. (We can be a difficult group to please.)
The Leafs now lead the Islanders 5-2 heading into the third period thanks to goals from James van Riemsdyk, Phil Kessel, Polak, Clarkson and Kessel again. Toronto (2-3-1) is aiming for its third win of the season and their first win in three games.
Nick Leddy and John Tavares have scored for the Islanders.
---
Follow me on Twitter for regular posts about sports (especially the Toronto Maple Leafs and the Toronto Blue Jays), politics and other news topics: @williamefwilson