With the Czech Republic team eliminated from the World Championships, Jan Rutta is set to make his future in the NHL known. According to inside hockey reporter and always trusted analyst Darren Dreger, the finalists seem to be the Edmonton Oilers and the Calgary Flames.
Player agent Allen Walsh represents Rutta and Walsh didn't waste time letting everyone know that Rutta was named the player of the game in the Czech loss to Russia and that his client would be making a decision on the offers he's received to date. There is no official confirmation on which teams have tabled offers, but it looks as though a number of Canadian teams are out and a few American teams might have interest.
Defenseman Jan Rutta named Player of the Game for Czech Republic today. Will make decision on NHL offers soon. https://t.co/NdvwAxzXEd

— Allan Walsh (@walsha) May 18, 2017
Who Is Jan Rutta?
The 26-year old defenseman is a 6'3″ 200lb right-shot blueliner with some major offensive upside potential. Rutta scored 32 points in 46 games in the Czech league this past season and was looked to as a major contributor on the Czech powerplay. Many expect he'll be able to step right into the NHL, flourishing if he's brought in with a team that can place him in a more protected offensive role.
With the Czech loss and elimination from the tournament, Rutta will be ending his fourth season in the Czech's top league. Outside of his somewhat breakout season this year, in 2015-16, he scored 21 points in 44 games. His seasons prior weren't much to speak of offensively but he's being looked at as a prospect just beginning to pick up steam.
Calgary Flames a Fit?
The Calgary Flames' blue line has just four defensemen signed for the upcoming season. Those four are Mark Giordano, Dougie Hamilton, T.J. Brodie, and Matt Bartkowski. It's a legit group but it could use some depth.
The Flames may choose to bring back Michael Stone and if they do, they'll need to find a six or seven option — a spot that Rutta could nicely fill. Calgary isn't shy about looking to the Czech league for help either. In their recent history, they've signed Jakub Nakladal, Daniel Pribyl and David Rittich.
Flames are tight lipped, but I'm hearing Calgary is also in on offensive dman Jan Rutta.

— Darren Dreger (@DarrenDreger) May 18, 2017
The Edmonton Oilers
The Oilers are a team that will look to make some minor adjustments heading into next season. They did well in 2016-17 signing college free agents and they're not shy about going outside the league to fill some pretty big roster spots.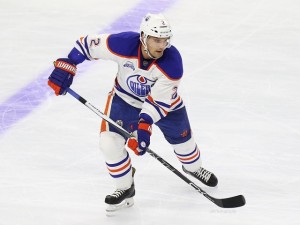 With minute-munching defenseman Andrej Sekera out for up to nine months and the uncertainty surrounding Kris Russell returning, the Oilers may look to add depth. They don't have much in the way of an offensive shot from the point. That job was almost exclusively left to Oscar Klefbom.
Where Does He Go?
An unsuspecting team could come out of the woodwork here, but both Calgary and Edmonton make sense as possible destinations. In the end, it doesn't sound like fans will have to wait long to hear which direction Rutta is leaning.
Where he fits on whichever team he chooses will be interesting to watch and it adds just that much more intrigue to what is already lining up to be a busy summer — especially for two hockey-mad cities like Edmonton and Calgary.