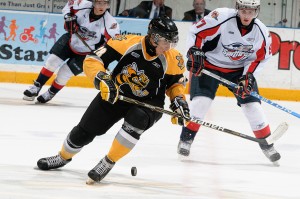 Trade rumors always make for interesting water cooler conversation, and give the media something to talk about as the NHL approaches the dog days of summer. The Edmonton Oilers won the draft lottery this year and the right to select first overall at the NHL entry draft.  They've selected first the past two years in a row, picking Taylor Hall and Ryan Nugent-Hopkins, both excellent players with bright futures. Because the Oilers didn't finish last in 2011-12, they weren't expecting to have that first pick, but thanks to the luck of the lottery, they now have a decision on their hands. The consensus number one pick is Russian sniper, and current member of the Sarnia Sting, Nail Yakupov. Scouts believe he is the best player available this summer, but he isn't a lock that he end up in an Oilers sweater.
GM Steve Tambellini stresses that he is keeping all his options open, which include picking Yakupov, going with a different player, or even trading that pick. The prospect of Edmonton dealing that pick is intriguing to many in the hockey world, because the team has a lot of pressing needs. The Oilers need to strengthen their defense corp, but they could also use a big centerman. When the Penguins were eliminated from the playoffs, GM Ray Shero expressed his desire to keep his core together, but acknowledged it wouldn't be easy. Sidney Crosby and Jordan Staal are both slated to become free agents following next season, and getting both of them locked up to long term deals is a priority. But with salary cap constraints and other roster needs, there's a possibility one of the big three in Pittsburgh may be on the move. The name most bandied about in rumors is that of Staal, who despite liking the Penguins, has allegedly expressed the desire to fill a bigger role. Has he asked for a trade? Apparently not. But many feel that something's gotta give in steel town, though nothing has been confirmed from Staal, his agent, or the organization.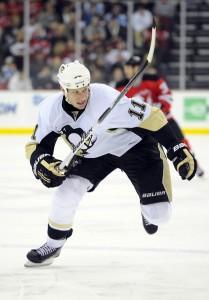 There was some talk that Staal could be headed to Carolina to play with brother Eric, but that's still another rumor. Would the Oilers give up the chance to take Yakupov for a player who's never gotten more than 50 points in a season? Staal was forced into the number one role last season thanks to injuries to Crosby and Evgeni Malkin, but some felt he looked out of place being the number one guy. The ideal role for a player with Staal's skill set is to the number two center, but that may not happen on a team with the strength down the middle like the Penguins have. Would Staal become an offensive force if given more ice time, and powerplay minutes? Would he thrive on a team like the Oilers who could use his defensive responsibility? Hard to say. The funny thing about rumors is that they usually don't happen, yet they get fans up in arms. It's not clear whether the Penguins will even try to move Staal, nor if Edmonton would be willing give up the pick for him.
There was some talk that the Oilers would trade down, say with Montreal, for a defenseman. P.K Subban's name was thrown into that scenario, though it seems unlikely the Canadiens would want to part with him. Would the Oilers be best served to keep their pick, and try and sign a free agent, like Ryan Suter for example? There are so many possibilities, and most of them will never come to fruition. But the Oilers have some interesting decisions to make, and in the mean time are giving everyone something to talk about.