On paper, it was a tight come-from-behind win in Game 4 for the New Jersey Devils. After Philadelphia jumped out to a quick 2-0 lead in the first period, New Jersey managed to take the lead in the second before adding an empty-net goal in the third to win it, 4-2. A close comeback win, right? Wrong.
The true tale of Game 4 of this semifinal series is much more one-sided. As a matter of fact, the last time such a one-sided beating was handed out to someone from Philadelphia, it may have been this one. The Flyers were outworked and outmuscled as the Devils dominated from the start, forechecking and peppering beleaguered Flyers goaltender Ilya Bryzgalov with 32 shots in the first two periods. As the first period unfolded, there was a sense that the Flyer lead was only temporary and New Jersey would come storming back. They did, in spades.
As is becoming the norm in these Stanley Cup Playoffs, the Devils got key contributions from players other than their stars. Sunday night, it was Dainius Zubrus and Marek Zidlicky who burned the Flyers,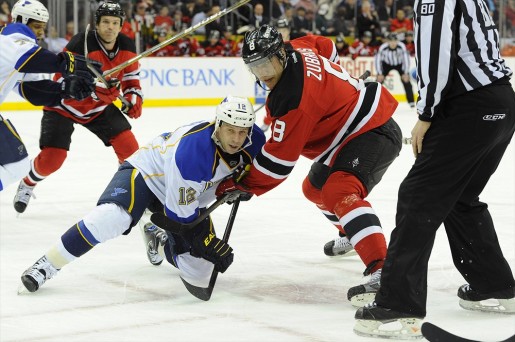 as Zubrus logged two goals and Zidlicky a goal and an assist. It was the type of timely play the Devils have been fortunate to get from somewhat unexpected places throughout the postseason. In their seven playoff wins, the game winning goal has been scored by seven different players.
"I think when you get on a little bit of a roll in the playoffs, you have a different hero every night and tonight he (Zubrus) was at the top of that list," head coach Peter DeBoer said. "He was everywhere. He did all kinds of things, kept his composure. They tried to bait him in a few times and he just played his game. He was great."
The strength of the Devils in this series has been the suffocating defense and an aggressive, swarming forecheck that has kept the Flyers on their heels, including a 16:23 span in Game 4 in which Philadelphia did not register a single shot on goal. Captain Zach Parise cited both areas as key reasons why New Jersey has been so tough to beat:
"Our D have done a really good job, and I think our best defense right now has been our ability to forecheck and keep them in their zone. Our forwards are doing a good job coming back and that allows our D to have really good gaps. They've done a really good job in our zone."
On the other side of the equation, frustration is mounting for the Flyers, who have all but admitted that they underestimated every aspect of New Jersey's game coming into series.
"I don't know what's going on," Flyers center Danny Briere said. "All year, we've been a team where we make heads-up plays. Right now, we're forcing things. Instead of making a good, hard play, we're giving the trouble to the next guy. I don't know if it's panic or what. We're making things way too difficult."
Center Claude Giroux echoed Briere's sentiments.
"They're winning battles and it looks like they want it more than us. It's frustrating because the whole season we've been out-working every team and now it's the other way around."
Giroux's frustration showed during Game 4, when he was penalized for a hit to the head of Dainius Zubrus with 3.6 seconds remaining in the second period. A supplemental disciplinary hearing with the league is scheduled for Monday at 11 A.M.
DeBoer certainly felt the hit was suspension-worthy:
"For me it looks textbook, like the hits they're trying to get out of the game," he said.
Not surprisingly, Giroux feels otherwise, and even threw in a jab at Devils defenseman Anton Volchenkov:
"I think I should be fine. He was leaning in, same time. Volchenkov also hit (Wayne) Simmonds in the face with an elbow. If they look at mine they should probably look at that one too."
The series will return to Philadelphia for Game 5 on Tuesday night, when the Devils will attempt to eliminate the Flyers and reach the Eastern Conference Finals for the first time in almost ten years.