The Columbus Blue Jackets had all the momentum.
After losing a hard-fought, tough series to the Pittsburgh Penguins, the Blue Jackets went into the summer of 2014 hopeful of what would happen the next few seasons. Before summer got into full swing however, a story developed that lingered throughout the entire summer. The Blue Jackets and Ryan Johansen couldn't agree on a contract.
Johansen finished that season with a career best 33 goals in helping lead the Blue Jackets to the first round of the playoffs. Johansen's camp felt as though the Blue Jackets should pay him as a 30-goal scorer. The Blue Jackets wanted a bridge contract to show that his season was no fluke.
Each side made offers, but they couldn't agree to a new contract. This started to raise serious questions.
Did Johansen even want to play for the Blue Jackets? Did the two sides grow bitter toward each other as a result? The fact that negotiations dragged on all summer didn't do anything to extinguish those questions.
It took all of training camp, but Johansen finally got a new deal. It came as a relief to both him and the team.
Johansen expressed as much to me when we chatted last December.
"Yeah, it was very relieving. I don't think anybody wants to be in that situation, on both sides," Johansen said. "The best part about the whole situation was when the deal got done.  I was playing the next day. There wasn't much time to sit at home and really think about ok I'm coming back.  I just had to get on a flight and start playing basically, and just jump into the fire right away.  I was just thankful I was able to get back for game one and be with the guys."
Johansen didn't miss a beat, or a game for that matter.
Although he missed all of training camp, Johansen played in all 82 games for the Blue Jackets last season, finishing with 26 goals and a career high 71 points. He along with Nick Foligno represented the Blue Jackets at the All-Star Game at Nationwide Arena in Columbus.
The contract negotiations were now a distant memory. His season helped answer any questions about his intentions. Johansen's maturity reached a new high.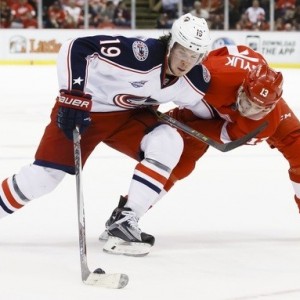 Need proof of this? Remember back to last season when the Blue Jackets lost 15 of 17 games in October and November. Johansen would sit on the bench alone with his thoughts wondering what went wrong. It was a hard stretch for the team. I asked Johansen about the lessons learned during that time.
"It was a tough stretch there, we were losing a lot of hockey games. It felt like we were unable to win no matter what. It was a tough time, with a lot of injuries.  We really had to battle back. I like the way the guys have stepped up and been playing this month. We need to keep trying to get better as year goes on."
Right then, I knew the light-bulb had turned on for him.
His response centered around team. He used "we" several times in that response. He is a team player. He always has been a team player, even during the negotiations. His heart was with Columbus. A couple of recent tweets further illustrates this.
We didn't want him anyway

— Ryan Johansen (@RyanJohansen19) June 17, 2015
This was in regards to Mike Reilly signing with Minnesota. This tweet is as pro-Columbus as it gets.
— Ryan Johansen (@RyanJohansen19) July 14, 2015
He tweeted this picture from his home in Port Moody, British Columbia. If the first tweet was pro-Columbus, this one speaks for itself.
The recent acquisitions of Brandon Saad and Gregory Campbell have instilled a championship mentality to the locker room. This will help Johansen and others reach even higher levels for themselves. One Eastern Conference executive called the Blue Jackets "scary good."
From wondering if a contract will get signed, to the hype surrounding the Blue Jackets now, what a difference a year makes. For Ryan Johansen, the events of the past year have helped shape him into the player and person he is now. He embodies what it means to wear a Blue Jackets uniform. The best days are yet to come for Johansen and the Blue Jackets.