The San Jose Sharks are celebrating their 25th anniversary season in 2015-16. While they have yet to win the Stanley Cup, they have had a long run of success. Overall the Sharks have made the playoffs 19 times in their first 24 seasons. A near 80% franchise playoff success rate is pretty darn good. The Anaheim Ducks may have won a Stanley Cup, but conversely have only made the playoffs 52% of the time. Yes winning Cups is the biggest contention in terms of bragging rights among franchises but there is an argument to be made for sustained success. Competing for Stanley Cups year after year and not winning one could be argued as more fulfilling than winning just one time (Anaheim) but frequently missing the playoffs. That is another argument for another day though.
A big reason why the Sharks haven't won a Stanley Cup is because they have lacked quality defense over the years. Drafting defensemen hasn't been a strong suit and the team went many years without having an elite offensive stud on the blue line. That said, there have been a few upper-echelon defensemen to don the teal and black. Without further ado, here are the top five defensemen in Sharks franchise history.
5. Mike Rathje
Mike Rathje is like the typical famous artist. He wasn't appreciated in his own time. The 6'5″ Alberta native was constantly criticized for not using his size to his advantage. He didn't score a whole lot either, so he didn't contribute in the two sexiest ways. He was however, solid defensively for quite a long time. Drafted third overall in the 1992 draft, Rathje is still currently the franchise leader in games played among defenseman.
The hulking defender played 671 games for the Sharks from 1993-2004, piling up 27 goals and 155 points with a plus-11 rating. He managed to stay effective for a decade in San Jose, playing a key role on the 2003-04 Sharks team that made the franchise's first appearance in the Western Conference final. Rathje finished with 19 points and posted his second best plus/minus of his career (plus-18) that season, his final as a Shark.
4. Scott Hannan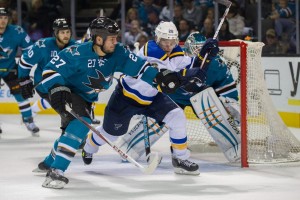 Unfortunately for Scott Hannan, his second tour of duty with the Sharks hurt what was a solid reputation. Fans can be harsh and have short memories. These last few years Hannan has been a shell of his former self, a former self that was actually a terrific shut-down top-pair defenseman. Drafted late in the first round in the same year Joe Thornton and Patrick Marleau were taken first and second overall (1997), Hannan developed into an elite shut-down defender with the Sharks.
From the 2000-01 season through the 2006-07 season, Hannan was a staple on the Sharks blue-line. In the postseason he was tasked with shutting down guys like Peter Forsberg and the late Pavol Demitra (may he RIP), among other highly skilled forwards. Not only was Hannan given that responsibility, he did an admirable job year in and year out. His success parlayed him into receiving an extremely nice four-year UFA contract with the Colorado Avalanche in the summer of 2007.
Overall Hannan played a total of 626 regular season games as a Shark, good enough for third most in franchise history among defenseman. His plus-43 career rating is second in franchise history on the blue line and 146 points is decent for a defensive defenseman. The last few years of his career in San Jose has seen him be the butt of many jokes for not being able to keep up with opponents. That's certainly disappointing because he is one of the best defensemen the franchise has ever known.
3. Sandis Ozolinsh
Sandis Ozolinsh was the first bona-fide super-star defenseman in franchise history. While Doug Wilson was the first ever All Star for the Sharks, he was at the tail end of his career. Ozolinsh grew up in the Sharks organization and absolutely sparkled.
Neither Dan Boyle nor Brent Burns hold the franchise record for points by a defenseman. No, no, that still belongs to Ozolinsh and his 26 goal, 64-point performance in 1993-94. San Jose's second round pick in their first ever draft (1991), Ozolinsh morphed into a stud in that miracle season where the Sharks knocked off the top-seeded Detroit Red Wings in the first round in seven games.
No other Sharks defenseman has ever scored 20 goals. Burns' 17 goals last season is the closest anyone has ever come to matching "Ozo's" 26. The Latvian defenseman had unreal puck moving vision and had he remained with the organization long term, he would easily be the top defenseman on this list. Ozolinsh though was traded to Colorado in the middle of the 1995-96 season in the deal that brought fan favorite Owen Nolan to San Jose. All told Ozolinsh only played 212 games as a Shark but amassed a cool 132 points.
2. Dan Boyle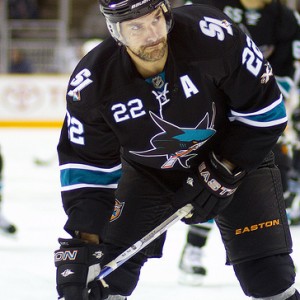 From the time Ozolinsh was traded in 1995 through the time the Sharks acquired Brian Campbell in 2008, the Sharks didn't really have a true top pair quality puck mover. While the Sharks made the playoffs a number of years in that stretch, this was by far the biggest piecing piece. Campbell came in and helped boost the team to a fantastic finish in 2008 and that offseason Boyle was acquired via trade.
Boyle immediately became a fan favorite joining the Sharks. The undersized puck mover boosted the power play and delivered three straight 50 point seasons in his first three years in San Jose. He followed that up with a solid 48 point season in 2011-12. Known as fierce warrior, a gamer, a great veteran leader, Boyle was the heart and soul of the blue line for five seasons before his sixth season was derailed by a concussion and Father Time.
All told, Boyle scored 269 points as a Shark, the most in franchise history for a defenseman. His .624 points per game is also the all time best, just a fraction better than Ozolinsh.
1. Marc-Edouard Vlasic
Like Rathje, Vlasic won't truly be appreciated until he is gone. Despite earning increased national recognition by playing on and starring for Team Canada in the 2014 Olympics, Vlasic is still incredibly underrated. Since Nicklas Lidstrom retired, no defenseman in the world uses a better defensive stick. Vlasic is an absolute rock on the blue line.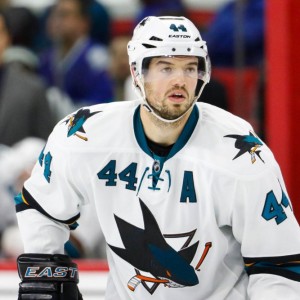 Two games into next season Vlasic will surpass Rathje as the franchise leader in games played by a defenseman. "Pickles" as he was known in his early years, has a career rating of plus-110, the best mark in franchise history by more than 67 points. Still only 28-years old, Vlasic, or "Eddie" as his teammates now call him, is already approaching 700 games played. Having been a full-time NHLer since he was 19, Vlasic has an opportunity to reach Chris Chelios' record of 1, 651 games played on defense.
Barring significant injury, Vlasic should, at worst, play through age 35 with his skating ability. Eight more seasons averaging 75 games per year would be another 600 games to his current 670. That would be a conservative estimate of 1,270 games by age 35. Conservative because Vlasic is actually averaging 78 games per season. If Vlasic plays until he is 40, five more seasons at 75 games per year, that is 1,645 games, or six short of Chelios. Even if Vlasic doesn't play that long, he is on pace for at least 1,300 games, putting him in the top-20 all time.
Andrew has been credentialed to cover the Sharks since 2010 and the 49ers since 2012. He graduated with his BA in Broadcast Electronic Communication Arts in 2013 from San Francisco State University.