Much like their parent club, the Vancouver Canucks, the Utica Comets are currently undergoing a youth movement of sorts. After a marvelous run to the Calder Cup Final in just their second year in the American Hockey League, the Comets have experienced a slight dismantling of their roster, with key cogs such as Brandon DeFazio, captain Cal O'Reilly, Bobby Sanguinetti and Joacim Eriksson all parting ways to sign on with other organizations, as well as top players such as Adam Clendening, Frankie Corrado and AHL superstar Jacob Markstrom all likely to join the Canucks this coming season.
As grim as these losses may look on paper, reinforcements are on the way in the form of prospects Jake Virtanen and Jared McCann, who, while not eligible for next season, will be when 2016-17 rolls around, as well as increased roles for the likes of Nicklas Jensen and Hunter Shinkaruk. The organization has done some patching up by signing goaltender Richard Bachman and forward Blair Jones, both of whom will play key roles during the 2015-16 campaign, but the ones to watch will be the aforementioned skaters, as well as some other talented dark horses.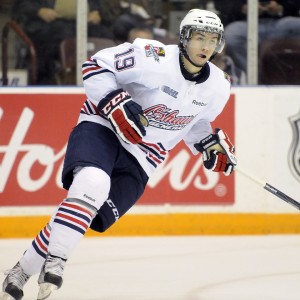 The Rookies
The Comets got a taste of the future during their Calder Cup run this season, with 2014 6th overall selection Jake Virtanen playing an important depth role with the team and impressing with his grit and tenacity. While Virtanen has a realistic shot of making the big club this upcoming season, it's hardly a sure thing, and should he remain in the AHL, it makes sense to assume that the power-winger will play a relatively important role in the success of the 2015-16 Comets.
In addition to Virtanen, two-way centers Jared McCann and Cole Cassels will play important depth roles with the club in bottom-six capacities, with a promotion up the lineup undoubtedly a possibility. Cassels, selected in the 3rd round of the 2013 entry draft and the only one of these three eligible to play in 2015-16, shot up many a prospect ranking this season, with a campaign that saw him score 81 points in 54 regular season games and 31 in 21 playoff contests, as well as shutdown a number of star players (including phenom Connor McDavid), and will be closely watched by many Canucks and Comets supporters.
Similarly, Jared McCann had himself a fine season, scoring 81 regular season points in 56 games, with 16 points in 14 post-season contests. McCann himself has said that he used his fall in the draft to 24th overall (in 2014) as well as being left off Team Canada's World Junior squad as motivation for the past season, and that his one and only goal going into training camp is to make it to the NHL for the upcoming campaign.
While it's conceivable that one of Cassels or McCann can make it up to the Canucks, it's hardly likely, and one should bet on both of them working their way through the ranks of the Comets before centering a line in Vancouver over the next couple of seasons.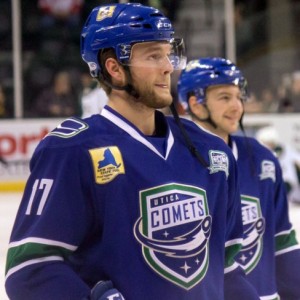 The Experienced Skaters
While the rookies coming up may be exciting, one should also pay attention to some of the skaters who have already seen significant AHL action, such as former first-rounders Hunter Shinkaruk (in 2013) or Nicklas Jensen (in 2011), who will see a jump in ice-time and have plenty of opportunity to make a difference on an every game basis.
While Shinkaruk struggled early, he started to put it together late, and finished with a respectable 31 points in 74 games while playing in Utica's top-six. Jensen, while showing promise late in the 2013-14 season with the Canucks, hasn't yet become a big producer in the American league, with numbers just below 0.5 PPG over his first two full seasons in the AHL. However, Jensen could start putting it together this season with the added motivation of young talent coming up fast in the pipeline and knowing that this could potentially be his last shot with this organization.
Other players with AHL experience that will be fun to watch develop into core pieces include winger Alex Grenier, who many have penciled in as a depth forward with the Canucks, due to his wonderful o.67 PPG campaign and 0.65 PPG post-season, as well as 2012 26th overall selection, two-way force Brendan Gaunce, who showed tremendous promise as a quality bottom-six forward throughout the entire season.
All this goes without touching on the abundance of young blue liners, such as Ben Hutton, Jordan Subban and Anton Cederholm, who will see the ice in 2015-16, or the less-celebrated prospects such as forwards Darren Archibald and Mike Zalewski. Yes, it's shaping up to be an exciting season in Utica, even if the youngsters don't do quite the job that the departed veterans did. The focus may be on the Vancouver youth this season, but supporters and media alike would do well to keep a close on eye on the Utica Comets over the next season or two.
I wanna thank Utica comets for 2 amazing years I had a great time, and I'm forever thankful! #UticaComets

— Joacim Eriksson (@joacimerikssonn) July 10, 2015