In a very predictable way, the Oilers followed suite as they had with Taylor Hall and Jordan Eberle before him, and handed Ryan Nugent-Hopkins a long-term contract worth $6 million dollars a season. The young center from humble beginnings was legitimately grateful in his press conference for the faith the Oilers organization has in him. But now that the ink is dried, the weight of expectations on this kids frail shoulders has grown drastically.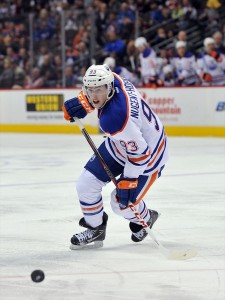 Edmonton has a whole lot of money tied up in three players. Normally that wouldn't be such a big deal. However these three players, in particular Nugent-Hopkins, are somewhat unproven. This isn't the Penguins giving Sidney Crosby and Evgeni Malkin rich extensions, or the Blackhawks doing the same with Jonathan Toews and Patrick Kane. These are three very young players who will now have the responsibility of leading a storied franchise back to the playoffs. And as we've seen recently that is no easy task.
Ryan Nugent-Hopkins is a strong prospect. He plays his position very well. He controls the play, and dishes the puck in a potential elite way. But potential is really all we have to go on right now. RNH is coming off shoulder surgery, and a season in which he scored just four goals, and was rewarded with a $42 million dollar contract. The Oilers love this kid. They feel he is their present and future down the middle and they will live and die by that assertion.
The Oilers also believe his shoulder problem is fixed (which is likely) and that the salary cap will continue to go up (which isn't set in stone). The deal doesn't have a no trade or no move clause, and it only comes into affect at the start of next season.
Perhaps the quote of the day regarding RNH's new contract would be that of Toronto Maple Leafs forward Nazem Kadri, who's stats and games played and fairly similar to that of Nugent-Hopkins. Kadri was an RFA this summer and signed a two-year extension worth a total of $5.8 million.
Nazem Kadri on the #oilers: "I guess they don't believe in bridge contracts."

— Chris Johnston (@reporterchris) September 20, 2013
Interesting words from Kadri, who wanted a long term deal but settled for a bridge contract, similar to the Canadiens P.K Subban last summer. (It could be argued that Edmonton signed Sam Gagner to a bridge contract though, Nazem). But the Oilers certainly had no interest in any kind of short term contract in which Nugent-Hopkins would have time to prove himself. They believe in him and his abilities, and while that must make the player feel nice, it still comes with risk.
There's just no indication what kind of player Nugent-Hopkins will be. Will he be a Patrice Bergeron, who became a star a little later on? Will he be a John Tavares, who's breakout season came a couple years after he was drafted? Nugent-Hopkins isn't categorized as a goal-scoring center. His job is to distribute the puck, and the Oilers are happy with how he's progressing with that. He has strong chemistry with Hall and Eberle, and that can't be measured in dollar figures.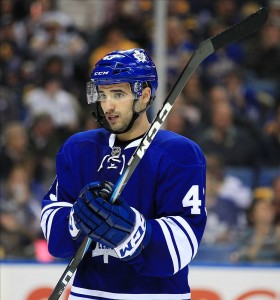 The Oilers have to sign Nail Yakupov and Justin Schultz next summer, and now have set a precedent for their young stars. This will all be a moot point if Nugent-Hopkins breaks out and has a huge season. After all, the contract the Islanders gave Tavares looks like a bargain after his MVP-caliber season last year. Nugent-Hopkins needs to focus on getting fully healthy, and getting some more muscle on that small frame. The Oilers have invested a lot into him. Only time will tell if it will be worth it.
Marcy, a former hockey player, is a hockey correspondent on CTV News and TSN radio. She began her career as a Sports Journalist in 2009 and has been part of The Hockey Writers since 2010, where she is currently a senior writer and editor.