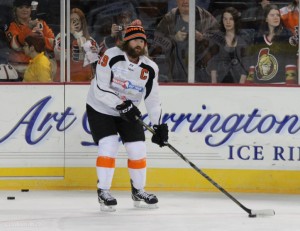 Not much went right for the Philadelphia Flyers last season.  Blame it on the lockout-shortened season, the disastrous defense, or the bumbling goaltender in between the pipes, last year was the worst the team performed since the dreadful 2006-07 campaign.  Of course, there were a couple of bright spots but those were overshadowed by the lack of consistency as a whole.
One of the biggest victims of inconsistency was forward Scott Hartnell.  In 32 games, the shaggy red-haired fan-favorite netted eight goals and put up a disappointing 11 points.  He was expected to provide veteran leadership to a team with a young nucleus and although he lacked a little in that department, it could have been frustration due from his lack of production.
Last year also marked the beginning of the #HartnellDown Foundation, a charitable organization the 31-year-old started to support local benefits.  Maybe that had something to do with on ice production but considering how the Flyers played as a whole, it likely was just a struggle to generate points.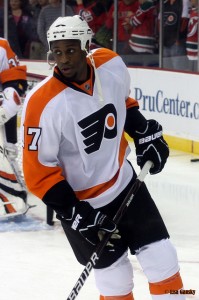 But now with a slightly new look to a team in a reorganized division, a fifth-year head coach that is under the microscope and an aging defense, there's as much pressure as ever on Hartnell and his teammates to start winning hockey games and performing to the expectations of ownership.
Hartnell is just two years removed from a career season – one in which he had 37 goals and 30 assists.  Those are numbers he will have to get back to putting up, especially given the hefty $4.75 million cap hit he will receive this year and for the next five seasons.  But how can Hartnell bounce back and once again become an effective weapon for Philadelphia?
The biggest thing would be to once again return to being an effective presence in front of the net.  At 6-foot-2 and 210 pounds, he's not the biggest player but he has the physicality and grit to be a presence in front of the net.  Collecting rebounds and screening the goaltender has worked for Hartnell in the past and could lead to plenty of garbage goals and quality scoring chances.  Both he and Wayne Simmonds could become a nice one-two punch in front of the net with a little bit more practice.
Hartnell's linemates could also play a role in his success.  Though the lines are uncertain at this point, it would not be a surprise to see No. 19 on a line with Claude Giroux and Jakub Voracek.  While Voracek killed it last season and was the team's most valuable player, Giroux had a quiet – yet productive – year but will certainly be looking to step up his game this season.  To share a line with two potential 80 to 90 point producers can't hurt Hartnell's production – as long as he spends his shift on the ice.
He might not throw down the gloves too much – only when he has to – but Hartnell certainly spends his fair share of time in the penalty box, a great deal of which is thanks to mental lapses.  Last year, in 48 games, Hartnell had 70 penalty minutes, which often proved costly for Philadelphia.
As a veteran player, it's hard to expect Hartnell to change his ways after a productive 12-year career, but if he can play a smart brand of hockey, one where he calls the crease home, while playing smart, then he could be poised for a bounce-back season.  Whether or not he can prove to be worth his cap hit remains to be seen and will often be a topic of conversation.  He's one of the longest tenured Flyers remaining and he could certainly be worth the money if he steps up and provides veteran leadership to the youngsters – while netting 30 goals, of course.  We shall see.
Ed is a die hard sports fan from Philadelphia who follows all of the city's local teams. He has written for a number of print and internet media sources and is a hockey junky. When he is not watching a game, he is spitting out useless trivia knowledge, or upholding his title as movie quote extraordinaire. You can follow Ed on Twitter @PhillyEdMiller.