Put yourself in Damien Brunner's shoes (or skates if you will) for a minute or two; you travel halfway across the world from Switzerland to New Jersey on Monday — that's a six-hour time difference for those wondering. Tuesday meet your new team (about 59 players) and you have your first practice with players that you really don't know much about other than playing against them (maybe) or watching them on television. Same deal on Wednesday (hey, at least you have one practice under your belt) and then on Thursday night you play your first NHL game since May 29.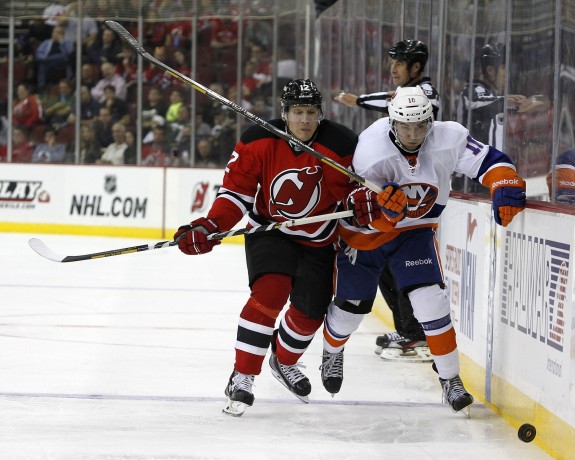 Oh, and don't forget you don't even have an NHL contract yet, you are only in camp with the New Jersey Devils on a tryout basis. That is the path Brunner has been on this past week and in his Devils' debut on Thursday night he did some good things but afterwards admitted that he wasn't nearly at the top of his game.
"It was tougher to play in the evening than practicing in the morning. I was pretty tired in the beginning (of the game)," said the 27-year-old Brunner after his team's sloppy 5-3 preseason loss to the New York Islanders. "But when the game went on my legs were coming (back to me). So there was progress throughout the game but was not my best game."
Brunner has some slick shootout moves, an element the Devils were definitely lacking last year:
He admitted that both his conditioning and timing were off, but didn't feel overwhelmed by the fact that at this time last week he didn't really know any of his current teammates. "Actually its not too bad," he said, "we talk a lot on the ice." He was a bit critical of himself afterwards and knows he must improve to give himself a chance at earning a roster spot. "It's hard to say, when your legs are moving the right way, then you are creating and you move in the right direction. The first period was very tough; I had no legs. The game I had in the second and third period was a little better."
His new coach liked what he saw from Brunner in the 20:49 that he played in the game, despite the fact he only registered one shot on goal. "I thought he gave us some jump (tonight), he made some plays; he's got some skill," said coach Peter DeBoer after his initial game wearing a Devils uniform. Considering how sloppy DeBoer thought his team was in the loss, he seemed to like what Brunner brought to the team, skating mostly on a line with Travis Zajac & Rostislav Olesz; he also played 9:30 on the power play, but was on the ice for both shorthanded goals the Isles scored.
He wouldn't confirm it when the Hockey Writers asked him, but it's likely that Brunner had offers to play elsewhere and it seemed he wanted to be in New Jersey. "We were talking in the early summer already and I was interested in coming here. I was excited to come here and give it a shot and I'm happy to be here." He also mentioned how he liked that he was joining a team with established stars, like Martin Brodeur, Patrik Elias & Jaromir Jagr. "Yeah of course, it's always nice to play on a team with players like that. Guys that I look up to; you have a locker room full of leaders here. It's a good situation."
It was only one game, a preseason game at that, and honestly I don't think that the Devils wouldn't have brought Brunner in for a tryout unless they were very serious about adding him to the team before the season starts. They will certainly have some interesting roster decisions to make if he does eventually sign a contract, but it would be silly to speculate on whom he would or could replace at this point. As of the morning of September 20, New Jersey has 38 players left in camp after assigning 21 to the AHL or back to their Junior team. Chances are he doesn't even know all of his teammates on a first-name basis yet, but he definitely has potential to be another hidden gem that GM Lou Lamoriello has uncovered.
Brunner shows a flair for the dramatic with this playoff OT goal in Game 4 vs. Anaheim:
His numbers in Detroit last season weren't mind-blowing by any means: 26 points (12g-14a) in 44 regular season games/9 points (5g-4a) in 14 playoff games. But Damien Brunner is a promising player who could be an asset in DeBoer's system and he could help replace some of the scoring that the team has seen abandon them the past two summers; only time will tell.
Dan Rice can be reached via Twitter: @DRdiabloTHW or via Email: drdiablo321@yahoo.com