In the game of hockey, a true number-one center is a lot like a unicorn. It's hard to find, but you know it when you see it. For the Calgary Flames, this proverbial unicorn has been almost impossible to find. In the 2001-02 season, Jarome Iginla made the leap from being a good NHL winger to being an elite player. Almost immediately, Flames management began salivating over what could happen if the team could find a strong center to partner with Iginla and some strong goaltending.
While the goaltending question was answered a couple years later with the acquisition of a spare-part named Miikka Kiprusoff from the San Jose Sharks, the Flames have spent the last decade searching in vain for a top-line center to partner with their captain. Some analysts have looked at the recent offer-sheet given to then-restricted free agent Ryan O'Reilly and justified it based on his potential to become a true number-one center in the near-future. Seen in this light, the calculated risk of losing a first and third round draft pick in a deep draft can be justified given the Flames' failure to find a world-class pivot through other avenues.
But in the present-day NHL, what exactly is a "number-one" center? What qualities do they have? And, more importantly, what's the market value for them?
DEFINING THE NUMBER-ONE CENTER
First and foremost, a distinction must be made. Just because a player is a particular club's best center or plays primarily on their first line, does not mean that player should be considered a "number-one" center.
A "number-one" center should be exceptional in a few ways. They should play the other team's best players (measured via Corsi Rel QoC, weighing the average scoring chance plus/minus of opposing players). Not only that, they should out-play those players (measured via Corsi Rel). They're good at face-offs. They generate a lot of offense, among the leaders on their team.
In short: "number-one" centers make both their team and their line-mates better.
IDENTIFYING THE NUMBER-ONE CENTER
To begin with, we look at the players that play the other team's best players (and eat up the hardest minutes for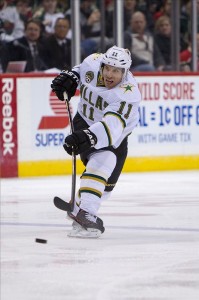 their team) while out-chancing those players, in terms of Corsi Rel. This search yields seven definite contenders and three borderline contenders.
The definite contenders are Saku Koivu (Anaheim), Pavel Datsyuk (Detroit), Ryan Nugent-Hopkins (Edmonton), Mikko Koivu (Minnesota), Tomas Plekanec (Montreal), Derek Stepan (NY Rangers) and Henrik Sedin (Vancouver). The borderline contenders are Matt Stajan (Calgary), Derek Roy (Dallas) and John Tavares (NY Islanders).
The reason we have "borderline" contenders is because these three players do play the tough minutes for their teams, but the "tough" minutes are relatively easy compared to the tough minutes that the other seven "definite" contenders face.
When you take into account face-off prowess, several of these contenders drop off a bit. Of the ten previously-mentioned players, only four of them – Datsyuk, Mikko Koivu, Plekanec and Stepan – have won 50% of their face-offs or higher.
If we choose to ignore face-offs – as they can be as much a product of bad luck as actual skill – and focus on offense generation, candidates disappear nonetheless. Most notably, Ryan Nugent-Hopkins (zero game-winning goals, seven points) and Matt Stajan (zero game-winning goals, 11 points) drop off the list. Derek Stepan of the Rangers only has 11 points – good for fifth on his team – but he has two game-winning goals, which keeps him on the list, albeit barely.
Based on the criteria that we've defined, there are eight "number-one" centers in the National Hockey League: Saku Koivu, Derek Roy, Pavel Datsyuk, Mikko Koivu, Tomas Plekanec, John Tavares, Derek Stepan and Henrik Sedin. Of this group, Sedin and Datsyuk face the toughest opposition and generate the most chances against them.
VALUATING THE NUMBER-ONE CENTER
Looking at the cap hits, they range from $875,000 for Stepan to $6.75 million for Mikko Koivu. It's worth noting that Stepan is still on his entry-level contract and Saku Koivu (at $3.8 million) is on what could be his last contract, so those cap numbers are probably lower than they should be.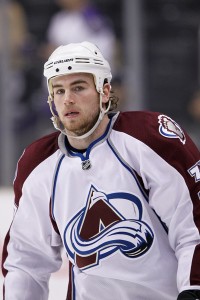 It's also worth noting that most of these players are playing for the team that originally drafted and developed them. The exceptions are Koivu (who signed as a free agent) and Derek Roy, who was traded from Buffalo to Dallas for Steve Ott and Adam Pardy. I can't help but imagine that if Buffalo knew how he would perform once he arrived in Dallas that they would've asked for more in return.
As for the rest, it's likely that the price-tag for acquiring a Henrik Sedin or a Pavel Datsyuk would be, to be blunt, massive. We're talking multiple first rounders. We're talking high-end prospects. We're talking top-six roster players. In the case of the Flames, we're talking about trading away key pieces of their existing roster, which would run counter to the team's stated "win-now" mantra.
Seen in this light, seeing what "number-one" centers are worth in the trade market, if the Flames thought that Ryan O'Reilly was going to become a bonafide top-flight NHL center, the price of a first round and a third round pick in the 2013 Draft is a pittance.
If the goal of the whole O'Reilly Affair was to grab a high-end player for less than the market price, waiver confusion aside, Jay Feaster and the Flames management almost achieved just that.