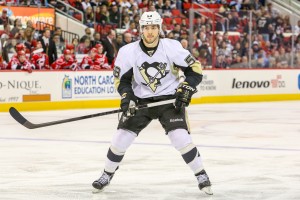 Should Kris Letang be inserted as a top-six forward on the Pittsburgh Penguins? Letang leads all NHL defenseman in scoring with 21 points. That mark is tied with the Sedin twins in Vancouver for tenth highest total in the league. Letang's point total leaves him one point shy of James Neal, two shy of Evgeni Malkin, and it's easy to see why when you watch Tanger on the offensive. He is a premier play-maker.
Letang showed off his play-making ability when he dished a pass to Sidney Crosby for what should have been the game-winning goal against the Tampa Bay Lightning Monday night. Letang showed great patience by not shooting from a terrible angle when the puck was passed to him coming down the right wing. He held the biscuit circling behind the net and found Crosby for a one-timer that put the Pens up 3-2 late in the third period. These were natural offensive instincts displayed by Letang.
Letang is averaging a point-per-game as a defenseman. For a defenseman, a point-per-game average is nearly unheard of these days. If this were the 1980's, Letang would fit right in as a defenseman with the likes of a Paul Coffey. There aren't many forwards who are putting up the pace set by Letang this season. That's why Letang should be moved up to left-wing on Malkin and Neal's line, right? If this game was all about scoring goals, we would be just dandy now wouldn't we? Throw Tanger up front to add to the offensive depth of the Penguins. The Pens are indeed looking for a top-six forward on the Malkin/Neal line. This just in, Letang needs to play defense more than the Pens need a top-six forward.
I have stressed before, and will stress again, that the NHL is very lenient in their statistic keeping when the stat refers to giving a puck away to an opponent. Letang had 21 giveaways entering Monday night's game against the Lightning. He left the game with 23 giveaways, fourth most in the league. I can guarantee that Letang handed a puck over to an opponent more than 23 times this season.
Around the 12 minute mark of the first period, Letang and Brooks Orpik each gave the puck away twice to the Lightning in about a 30 second span. Later in the contest, Letang put the puck on a platter for Steven Stamkos who nearly scored if not for a brilliant save by Marc-Andre Fleury. There was at least one other giveaway by Letang that I counted preceding a commercial break at 12:59 of the second period. Spectators at home missed this giveaway due to a poor camera angle.
Letang is usually the Pens' last line of defense when carrying the puck up the ice. With this being the case, Letang must make intelligent decisions with the puck at all times. Puck intelligence is something that Letang is severely lacking. He attempts to thread the needle and force way too many passes when the completion percentage of those passes is very low. If a secure pass is not available, Letang needs to be more willing to throw the puck high off the glass or make a soft dump to space to avoid turnovers.
Along with poor decisions with the puck, Letang needs to make smarter decisions without the puck. Chris Kunitz gave the puck away in the neutral zone to Lightning defenseman Keith Aulie with a little over nine minutes remaining in the second period. Crosby started chasing Aulie (the puck carrier) from behind while Letang was defending Aulie as Aulie was about to enter the Pens' zone. When Aulie made a cross-ice pass to Martin St. Louis, Letang chased the puck over to St. Louis who Orpik was already defending. This decision by Letang hung Crosby (below top-left of screen) out to dry and nearly resulted in the Penguins surrendering a goal. If Letang would have stayed in position (on his side), St. Louis would have been unable to pass the puck back to Aulie which would've resulted in a poor angle shot from St. Louis. If St. Louis decided to hold onto the puck and not shoot, this would've at least given the Pens' forwards more time to get back in position to pick up a Lightning player.
Letang is such a fantastic skater and many times can make up for poor decisions with his skating ability when he is out of position. Surely he relied upon this strength during his journey to the NHL. A defender can only be so quick in this game. The puck moves faster than any player skates. Letang needs to be more conservative in his risky decision making when defending. If he were more intelligent in his positioning and took fewer chances, Letang would be on the ice for fewer goals against.
Letang is supposed to play defense, hence the name of his position. I'm not saying he isn't trying, but Letang is not playing the defense part nearly as well as the offensive role. You can argue his plus/minus stats as much as you want but those numbers do not truly justify how Letang has been playing outside of the Pens' offensive zone. Letang, and whoever his partner may be on a given night, are paired against an opponent's top-line. Shutting down an opponent's top scoring unit should be Letang's number one priority. If this task isn't Letang's biggest concern, then he should be relieved of this duty until he makes defense his number one prerogative.