"I think it's different because this year I know I can't go back to juniors — it's either pro in the NHL or the AHL. It'll be a different scenario. I think it's a great opportunity that I know I'm going to be down here, one way or another. I'm looking forward to getting my pro career full-time started."
– Ryan Strome via NHL.com
At twenty-years old, Ryan Strome sure has plenty of time to make the New York Islanders' roster and stick with the team. After being assigned to the Bridgeport Sound Tigers of the AHL, some fans have expressed incredulity over the fact that the move was made to benefit Strome's development in the long term.
Despite the fact that Strome has made it hard to ignore his prowess by recording three assists in Bridgeport's first four games of the AHL season, Islanders fans can rest easy knowing that the team's highly touted prospect will hit the NHL scene when New York's management feels that he is completely ready to adapt to the rigors of NHL life. While nobody can downplay the talent that Strome possesses and the impact that he could have on an NHL lineup, there certainly is a purpose in debating the merits of the young forward's assignment to the American Hockey League.
Nino Niederreiter Revisited?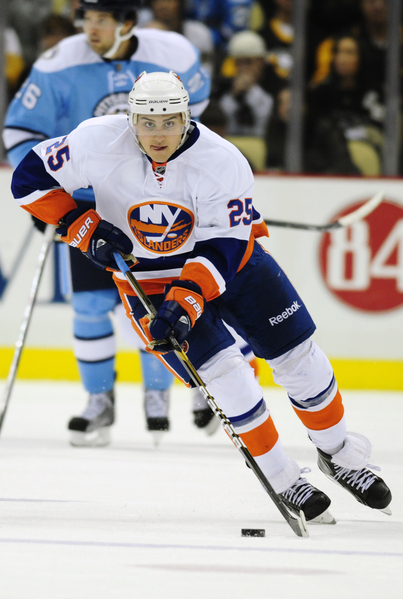 Islanders fans remember all too well how Niederreiter's time with the Isles ended, and there is certainly nobody that wants such a scenario to come about again. Even though Niederreiter did not cause too much of a fuss last season, reports of the winger being slighted (whether true or not) over not making the Isles' 2013 roster were still a distraction to the team.
By keeping Niederreiter in Bridgeport and subsequently trading him away, the Islanders made it known that prospects are liable to be moved – regardless of their perceived talent level. This is not to say that Strome could potentially be in the same boat as Niederreiter, but the team's message to its prospects as of late has been one of patience. Many fans have argued endlessly about the Islanders' development of Josh Bailey and Niederreiter, and the last thing that any Islanders fan wants to hear is for Strome's name to be included on that list.
When Niederreiter was with the Islanders for 55 games during the 2011-2012 NHL season, many were clamoring over the amount of ice-time that the forward was receiving. Of course, the case could be made that Niederreiter wasn't surrounded with the most talented of line-mates in New York's bottom-six rotation, but even with Strome potentially having a better cast to play with it doesn't mean that the Islanders should tinker with a prospect that they might feel has some development left to fulfill. With New York's top two lines producing a significant amount of offense and gelling well, it's tough to envision Strome seeing top-six minutes – something he will see plenty of with the Sound Tigers.
Slow & Steady Wins The Race
Ever since Garth Snow took over the GM reigns for the New York Islanders and embarked on a rebuilding process, the general manager has stressed the utmost dedication to developing his on-ice product through the NHL Draft. Strome, one of Snow's coveted top selections over the last couple of years, will undoubtedly be a key piece of New York's future on-ice product, but there is still a bit that the forward could gain from his stint in the AHL.
As previously mentioned, Strome will see top minutes with the Sound Tigers, and he will also be facing competition that is stronger than what he is used to playing against at the junior level. Even if the Islanders might have been more apt to give younger talent a shot at playing in the NHL a few years ago, the team's core is sufficiently developed and new members have started to be incorporated at a gradual pace.
Strome was a man playing amongst boys in the OHL, so it was only logical that the forward's next step would be one featuring him playing on the professional stage. Whether or not that professional stage would be the NHL was something that was going to be determined at this year's training camp, and despite being willing to make a switch to right wing there was still something that Garth Snow and the rest of New York's management saw that made them decide that their promising forward needed a little bit more seasoning.
Paying His Dues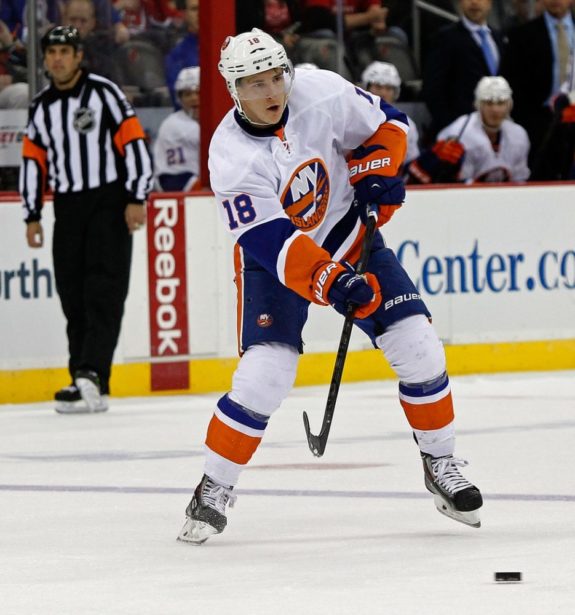 Much like Matt Donovan and Brock Nelson, Strome will ultimately have to pay his dues before he earns a roster spot with the New York Islanders. While Nelson only had one major stint with the Sound Tigers (66 games in '12-'13), the center had a very impressive showing as he recorded 25 goals and 27 assists in his only full season in Bridgeport. On the other hand, Matt Donovan played 153 games in the AHL and had to patiently wait for his shot to crack the Isles' blue-line.
Not only has patience been a virtue for Donovan and Nelson, they have both had to prove their worth with the Sound Tigers before making it to the NHL. While Donovan and Nelson's promotion to the NHL was a steady process, Garth Snow helped make sense of the two players earning their roster spots when he spoke with Arthur Staple of Newsday and said:
"Brock and Matt Donovan basically picked up where they left off last season. That's why they're still here," Snow said. "They came in and both had great training camps and have well-earned spots on the roster."
Despite the fact that Strome was able to show off some of his talents for the Islanders during training camp and the preseason through his play, one must also consider the fact that players such as Brock Nelson have the size advantage on Strome. Since Nelson is about twenty pounds heavier than Strome, it would make sense for the Islanders to let the latter player work on his strength and conditioning before becoming a full time member of the Islanders.
While Strome's 6'0″, 183 lbs. frame is not sub-par by any stretch, the forward could benefit from seeing what professional hockey is all about one level at a time. There will certainly be a time and place for Ryan Strome on the New York Islanders, but for the meantime it would be logical for the team to take a slower approach with the development of their talented forward – especially since this New York team seemingly has the most depth out of any Islanders product that has been iced over the last decade. Gradual promotion will likely be a staple of Islanders hockey and management over the next several years in Islanders Country, and if there are any indicators of Strome making the Isles' roster in the near future, then they will have to be shown through the forward's dedication and play at the AHL level first.
In his third year with The Hockey Writers, Toli covers all things related to the New York Islanders. Focusing on the Islanders, the NHL Draft & draft-eligible prospect goalies, and hockey history, Toli can be contacted on Facebook by searching/messaging Toli Metter and on twitter by searching @ToliMetterTHW.