He isn't seeing a different hair stylist or spending time at the tanning salon. Carey Price looks different in the net. I've noticed it, play-by-play and color commentators say so in game, and the TV and print media have documented it. He's different this season.
Price's performance in Vancouver on Oct. 12th was his finest effort in recent memory. A 39 save clinic that ensured a 4-1 Canadiens win. It was obvious this was not last season's Carey Price.
However, what is the difference? I admittedly have limited understanding of what makes one goaltender's technique better than another's. Like most, I rely on simple stats including shots faced versus saves made.
The New Numbers Are Beginning to Tell a Story
Through 4 games played Carey Price has made 117 saves on 126 shots faced. A save percentage of 0.929. This ranks him 19th in save percentage in the league out of 55 goalies who have played this season. He has appeared very strong thus far. Last season in 39 games played, a 0.905 save percentage ranked him 50th amongst 82 of the league's goaltenders.
So, the numbers are a first clue that Price is working under a new mantra. The second clue is that he appears to be making the bigger stops that eluded him last year. What has he changed, if anything? Work through it with me below.
Was Carey Bored?
First, I'll go on record that I am a very big Price fan (I like Jaro Halak too) and I've watched him very closely over the past six years. I don't necessarily care for his pre-game warmups, or video of his post-game interviews. I watch Carey Price during gameplay and breaks, like a hawk.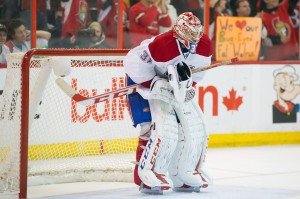 I wouldn't be the first to comment that Carey has looked bored on the ice in seasons past. Others characterize his game as being very calm and effortless. I have called it "Carey looks bored". He certainly looked mad and frustrated when he let in the occassional soft goal, but he still appeared to not be fully engaged.
The window to Price's level of engagement in a game is his body language and posture during breaks in play. Negative body language or posture = poor engagement, which often ends with a poor overall performance.
Early in this new season he appears to be more upright, more upbeat, and enjoying his game more than I've seen in seasons past.
Is Price the Best Goalie in the World?
According to media and expert appraisal Price remains one of the world's top goalies. All of this acclaim in the absence of recent success and accomplishment, aside from several All-Star game appearances. What are the experts seeing? Sidney Crosy himself just picked Price as the top goalie in the world.
Price has always been hailed as an excellent technical goaltender. None will dispute this, but many believe he has never played to his potential. In my view his success and failure is determined by the grey matter between his ears. Is he different this year due to better mental preparation and sharpness?
It is the mental game that has affected him in the past. Stringing together poor performances seemed to weigh more heavily on his future performances. The odd soft goal that he let in would be followed by a poor performance through the rest of the game, perhaps longer.
The Canadiens rely on Price to keep them in games. This team needs Price to win games.
What Impact Has a New Mentor Had?
Obvious credit can be given to Stephane Waite who was brought in this year to refresh Carey's mindset and technique. Playing for the Habs can wear on even the most seasoned professional.
Just last season Price commented he feels like a caged animal in Montreal, unable to live a normal life, unable to go grocery shopping. Is this a major reason for his mediocre results in seasons past? Is Montreal right for Price? Has his fear of Montreal's confinement changed?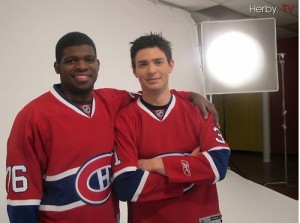 I would be hard pressed to understand exactly what Waite has brought to Carey's new game. I would believe the recent assessment by many, that he appears more controlled and efficient. His movements are less extreme and obvious.
He has always been a top positional goaltender, but Waite's improvements would be subtle for a goalie of his calibre. Many would not spot a difference.
To me Carey does look different. Posture? Confidence? Attention? Movement? Athleticism? Anticipation? Reaction? All of the above?
Do the Ends Justify the Means?
The changes introduced to his game by Waite, by Carey, or by other sources have contributed to direct, early success for Price and the Habs. One of the key elements identified by the media for the Habs success was the performance of Carey Price.
He has performed well in the new season and I am wagering that we continue to see a different Carey Price this year. This may be the "normal" Carey Price. He may still be prone to the occassional soft goal, but his new mantra should help him avoid the effect softies have had on him in the past.
Why did Carey have to change? He didn't. He could have remained one of the world's best goalie in the eyes of many, without having the accolades and trophies to show for it. Perhaps, until retirement.
He needed to change so that he could accomplish what most expected he would. To be the player he was supposed to be. Leading his team to post-season success and a prolonged Stanley Cup drive.
Why is Carey Price Different?
Carey Price is different between the ears this season. Waite may have tweaked positioning and posturing as much as he could. Yet Price is already anointed one of the league's best technical goalies. It is his mental game that afforded the greatest improvement.
Lead Writer for the Montreal Canadiens at TheHockeyWriters.com. Also, tracking man games lost data for pro sports at ManGamesLost.com. PhD in cell biology from McGill University. Lifelong Habs fan.