Buffalo Sabres fans who were expecting something different to start the 2020-21 season were left disappointed with the results of the team's opening two games against the Washington Capitals. Buffalo played reasonably well both nights — and was arguably the better team in game two — but lost 6-4 on Thursday and 2-1 on Friday to start the season 0-2-0.
The team is clearly shaking off the rust of a 10-month layoff, and with a number of new faces, there is going to be a learning curve. But in an abbreviated season, back-to-back losses have huge implications, especially when you're playing the same seven teams. The Sabres need to get their act together quickly, and it starts with making some lineup changes.
No lineup is set in stone, but it's clear two games into the season that head coach Ralph Krueger needs to do some rearranging if the Sabres are to have a prayer of making the playoffs.
Jeff Skinner and Tage Thompson Need to Switch Places
Perhaps the two biggest surprises coming out of training camp were seeing Tage Thompson on the top line with Jack Eichel and Taylor Hall, and Jeff Skinner on a line with Curtis Lazar and Riley Sheahan in the bottom six.
While Skinner is coming off a hugely disappointing 2019-20 campaign, he's been one of Buffalo's better performers in the very early part of 2020-21. He hasn't recorded a point yet, but he drew two penalties in Friday's contest and has been buzzing around the ice.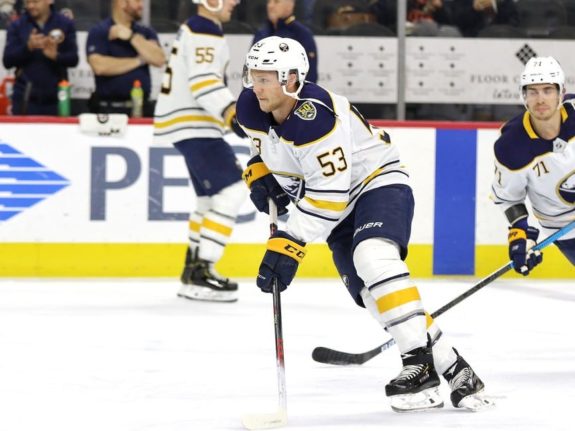 With the offseason additions of Hall and Eric Staal, the Sabres figured to have a very strong top six that included Skinner, Eichel, Sam Reinhart, and Victor Olofsson. Yet Krueger has insisted on keeping Skinner in the bottom six while giving Thompson — who has no significant NHL production on his resume — top-line minutes.
That's something that needs to change soon, but apparently won't as evidenced by the lines at Sunday's practice.
Skinner has a history of goal-scoring, but that's only going to happen if he's surrounded by playmakers. The Sabres don't have many of those guys in their bottom six.
Keep the Surprisingly Strong Third Line Together
It's certainly early, but 2019 first-round pick Dylan Cozens hasn't looked out of place at all in the NHL. After a dominant performance for Canada at the World Juniors, the 19-year-old has continued his strong play on the Sabres' third line with Tobias Rieder and Cody Eakin.
Cozens averaged just 12:29 of ice time in his first two games, but he recorded his first career point on an assist and has displayed a strong two-way game.
Hall and Eichel are seeking chemistry together on the top line, yet have still scored three points apiece in the opening two games. With them locked in on the first line, and Staal centering a combination of Reinhart, Olofsson, or (hopefully) Skinner on the second line, the Sabres would be wise to keep the Rieder/Eakin/Cozens triumvirate together.
And if Cozens continues to develop and shows that he's worthy of more playing time, well, there are worse problems to have than having too many top-six forwards.
Try Pairing Rasmus Dahlin with Rasmus Ristolainen
One of the biggest questions coming into this season for the Sabres was their blueline, and unfortunately, it hasn't been great in the early stages.
The top pair of Rasmus Dahlin and Brandon Montour, in particular, has struggled mightily, with Montour already sporting a minus-three rating and Dahlin making a number of mistakes in the defensive zone. Surprisingly, it's been the much-maligned duo of Rasmus Ristolainen and Jake McCabe who have been the most reliable blueline pairing for Buffalo so far. Ristolainen played his fewest minutes in years in 2019-20, resulting in one of his best seasons to date.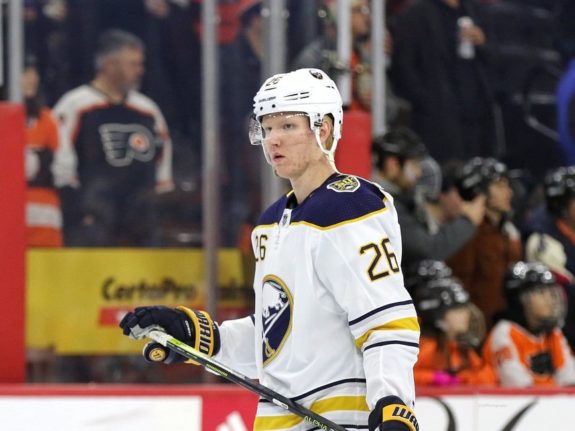 The strategy has been the same so far, with Dahlin boasting a team-high 22:56 of ice time with Ristolainen averaging 21:37. But with the Dahlin-Montour pairing struggling early, it might be worth a shot to put the two Rasmuses (Rasmi?) together.
The two have never played meaningful minutes together, but it might be worth a shot to mix things up. If nothing less, putting Montour on the second pair is likely to produce better results in the long term.
It's important to remember that Dahlin is still just 20 years old and is in many ways still learning to play a complete NHL game. He also, like most of the team, hasn't played competitively in almost a year. He's by far Buffalo's best offensive threat from the blueline and will only get better in his own end. Seeing what he can do with another strong offensive defenseman like Ristolainen is a chance worth taking.
The Sabres have put themselves behind the eight-ball early in this abbreviated season, and in the brutal East Division, they won't have much time to get things fixed. Lineup changes are a part of life in the NHL, but the ones that Krueger makes in the days and weeks to come will likely define Buffalo's season.
---
---