The Vancouver Canucks' first game of the season went off without a hitch as they were victorious over the Edmonton Oilers by a score of 5-3. Nils Hoglander scored his first NHL goal, Brock Boeser's elite wrist shot was back in his arsenal and Connor McDavid put up a big fat zero. Then, like clockwork, the sleeping giant awoke the next day with a hat trick and four points leading the Oilers to their first win and the Canucks first loss. Talk about a change in the tides.
After that, they met the Calgary Flames and former teammates Jacob Markstrom, Chris Tanev, and Josh Leivo and promptly got shutout 3-0. Markstrom, who took 128 games to get his first NHL shutout only needed one to get his first against the Canucks. Tanev also factored into the victory with a career-high eight blocked shots, which of course is his specialty.
Related: Vancouver Canucks' 2020-21 Season Preview & Predictions
Suffice it to say, the Canucks are in a bit of a pickle after back-to-back losses. They have nothing to show for 11 power plays, have allowed five goals on the penalty kill, and have been outscored 8-2. It might be too early to panic, but in a season that only has 56 games, a lengthy losing streak could turn out to be catastrophic. So they better rein it in soon before it gets too out of hand.
We are only three games into the season and we are already seeing positive and negative trends in the Canucks stock market. So without further ado, here is the first stock watch of 2020-21.
Trending Up
Nils Hoglander
Head coach Travis Green called Hoglander "found money" after his first game in the NHL. He's been that and more in his first three games, even though he only has one goal to show for it. Even in the two losses, he was all around the net and if not for some brilliant saves by Markstrom and Mikko Koskinen, he probably would be leading the Canucks in goals right now.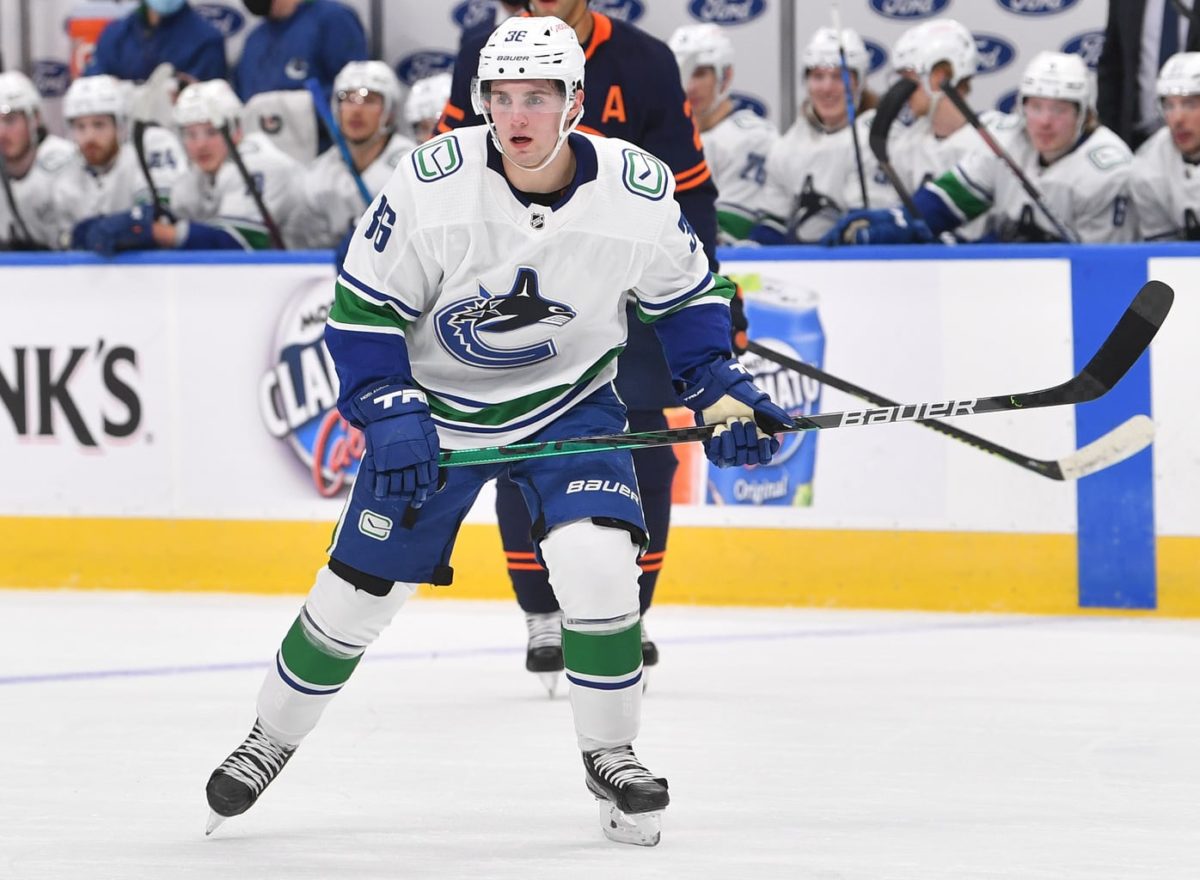 Hoglander has fit like a glove in the top-six alongside Bo Horvat and Tanner Pearson. He even has seen some time with Pettersson and Boeser on the top line, as Green continued his search to fill the massive shoes of JT Miller. The 20-year-old has quickly earned the trust of his head coach, playing almost 19 minutes a night at both even strength and with the man advantage. After Tyler Toffoli left to join the Montreal Canadiens in the offseason, everyone wondered who was going to fill his spot. Early on, the man they call "Hoggy" looks to be the answer to that question.
Brock Boeser
Despite not scoring in the last two games, Boeser has looked more like the elite goal scorer we knew and loved from way back in his rookie campaign. He put on a gun show in his first game of the season with two snipes on Koskinen, and if not for his former teammates' familiarity with his game, he probably would have had a couple against the Flames as well.
Bo Horvat
Without Miller's prowess in the faceoff circle, Horvat has been forced to take the lion's share of the faceoffs this season. Of the 172 faceoffs the Canucks have taken, he has been at the dot for 72 of them. That's 41.8 percent of the team's overall faceoffs. Impressively, he has won 62.5 percent of them. If not for him, they would be chasing the puck every single shift. It's only a matter of time before all that puck possession translates into goals on the scoreboard.
Trending Down
Jake Virtanen
For the second straight season, Jake Virtanen is trending down to start a campaign. After an offseason of trade speculation, contract uncertainty, and ultimately a two-year extension, the time is now for him to perform at a high level. Unfortunately, he hasn't stepped up to the plate with a hitter's mentality yet. He's swinging at the air at this point, and that's just not good enough for a guy that was gifted an opportunity in the top-six with Pettersson and Boeser.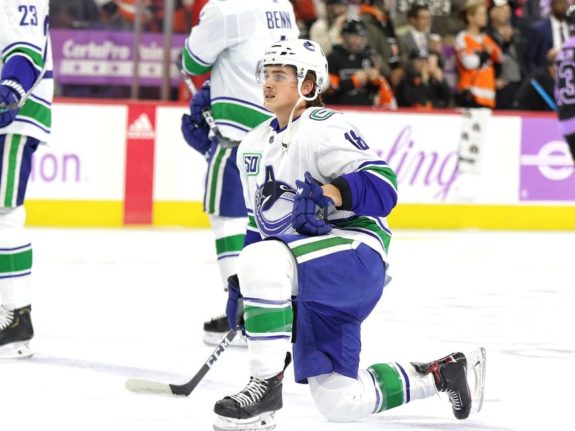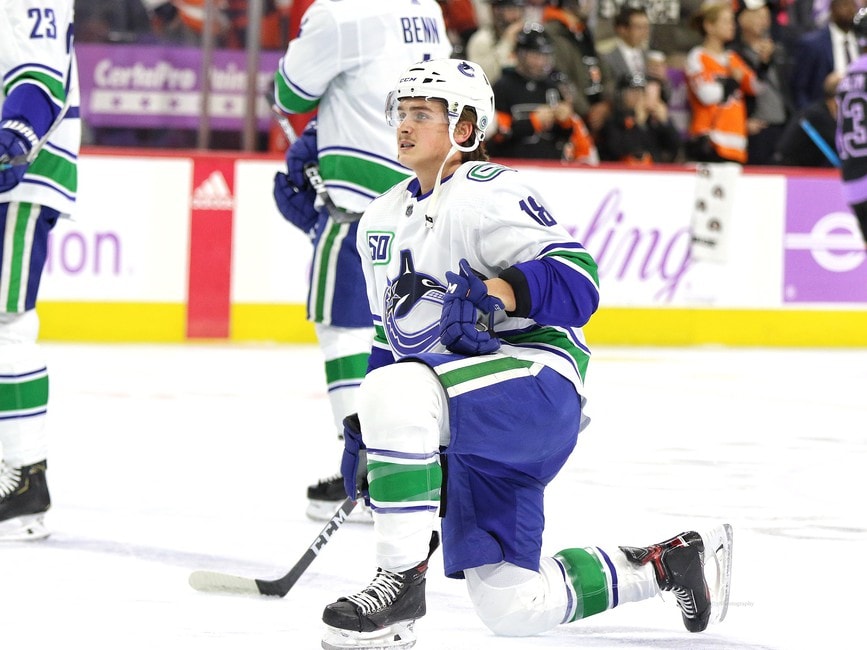 Despite the golden opportunity to play with two of the Canucks' best players, Virtanen has looked disinterested and unwilling to do the work to be successful. He is not a superstar, so he cannot get by with just his talent. He has to have the right attitude and put in the work or he will be out of Vancouver before you know it.
Elias Pettersson
Hopefully, with the Lotto Line reuniting, Pettersson will be trending up soon. But as of right now, he's struggling to find his game in 2020-21. So far he only has one assist in three games and has not looked like the top-five player we saw many times last season and in the playoffs. In fact, he has looked rather pedestrian, especially for a player of his caliber and pedigree.
Related: Vancouver Canucks: 5 Bold Predictions for 2020-21
Pettersson is as competitive as they come, so I'm sure this is just a blip on the radar. It won't be too long before he's on a point streak and these first three games are but a distant memory. He's just too stubborn to let anything stop him from being the best.
Absolutely, I can get better…That's what I'm working on every day. I'm never satisfied. I always think I can skate faster, protect the puck better — all the small things that you practice to perfection. I mean, I'm still learning. I'm still young in this league. I'm aware of that. But I'm trying to get better every day.
Those are the words of a winner, so look for Pettersson to get back on track soon. The longest he went without a point last season was two games, so he's due for a breakout. With Miller's impending return to the lineup, that may come as soon as Monday against those same pesky Flames that shut them out on Saturday.
Special Teams
To say that the Canucks' special teams have struggled so far would be a massive understatement. In the past two games (both losses, by the way), they have a big donut on 11 power play opportunities including a lengthy five-on-three, and to make matters worse, their penalty kill has failed to kill off five penalties as well. Usually, that is not a recipe for success.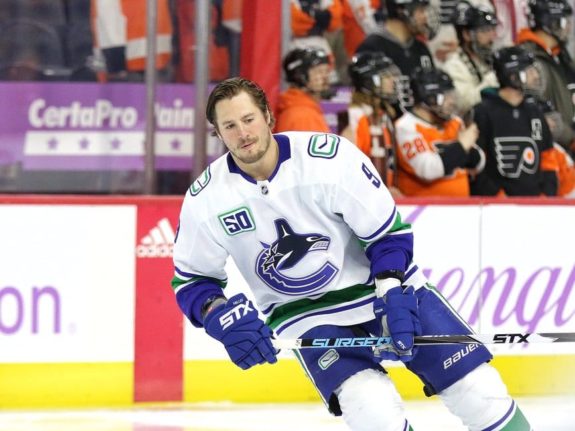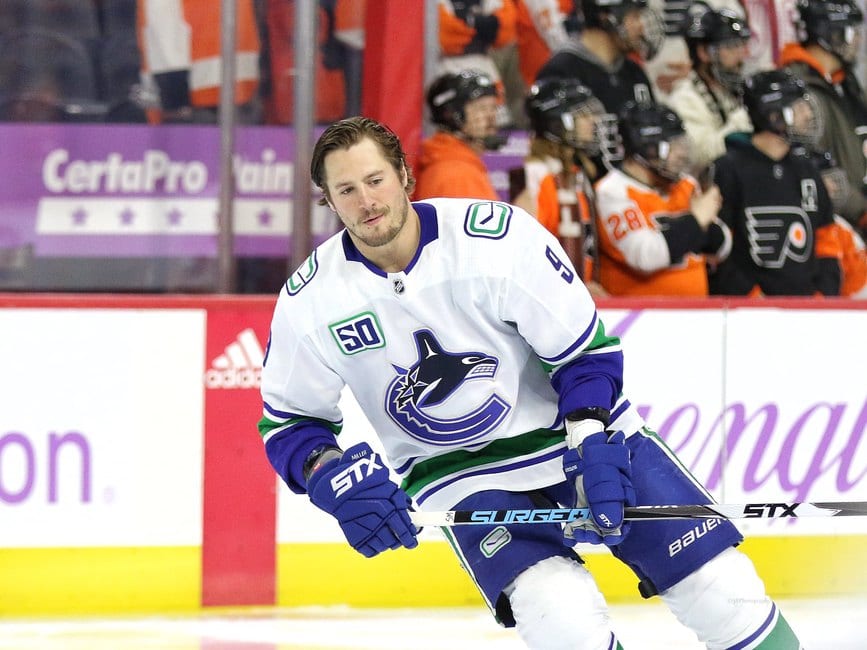 Last season, the Canucks' bread and butter were their special teams, as they ranked fourth on the power play and 16th on the penalty kill. This season, albeit after only three games, they are tied with nine other teams for dead last on the power play and 26th on the penalty kill. If they hope to turn their season around quickly, their special teams, especially their power play, have to be better, period.
Discipline
After three games, the Canucks lead the NHL with 14 minor penalties, and they have only killed 64.3 percent of them. Most of them have been of the lazy variety, hooking, holding, tripping, and the like. When that happens, it means you are chasing the game, which is never good.
Tyler Motte, who is a key penalty killer, has taken four of those. He is closing in on his career-high of 14 penalty minutes, which he logged in his rookie season with the Chicago Blackhawks. I don't mean to single him out, but with the extra ice time he's receiving, discipline has to be the name of the game, especially when he's counted upon to kill the same penalties he's taking.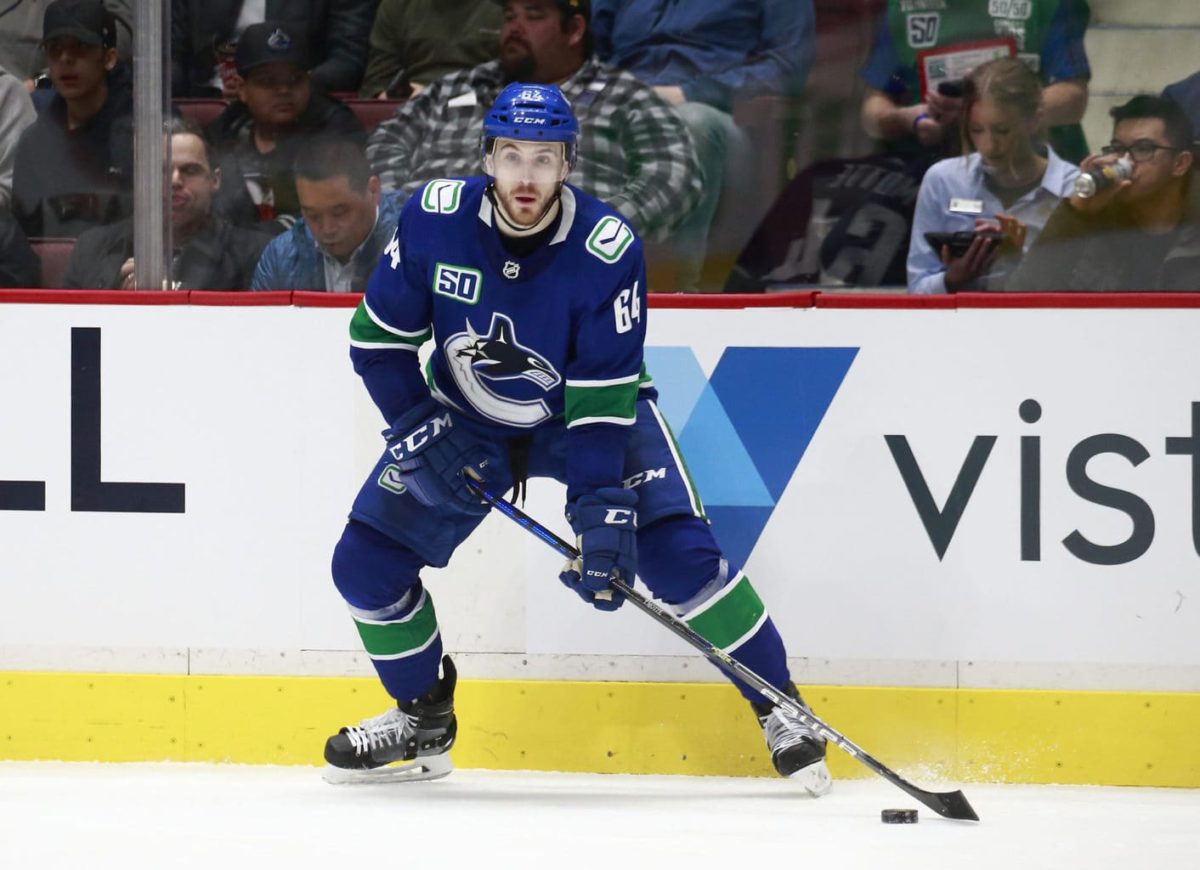 If the Canucks are going to win games consistently, they have to stay out of the box, especially if their penalty killing is not going to be a strength this season. They also seem to miss Tanev's presence on the back end in that capacity, as newcomer Travis Hamonic has not filled his shoes so far. If no one is going to step up there, they have to simply restrict the number of opportunities the other team has by keeping the penalties to a minimum.
What's Next for the Canucks?
The Canucks will have a chance to avenge their 3-0 shutout loss to the Flames on Monday when they finish up their four-game road trip in Alberta. They will then return to the friendly confines of Rogers Arena for the start of a six-game homestand where they will face the Montreal Canadiens and Ottawa Senators three times.
---
---