The Buffalo Sabres' last postseason game was Game 7 of the Eastern Conference Quarterfinal on April 26, 2011- nearly 4,500 days ago, when US President Barack Obama was in his first term in office.
The years since have been a wasteland. The team's 11-year playoff drought is the longest in NHL history and the second-longest active of the four major North American professional sports. But there is reason to hope this season. Buffalo has continued to improve and now sits closer to a playoff spot than they have since the drought began. The team just isn't seizing their opportunity.
Sabres' Four-Game Skid
The Sabres lost four consecutive games last week and fell seven points out of the Eastern Conference's second wild-card spot. Though there's plenty of time to make up for it, the postseason suddenly seems far less likely for a team that appeared to have very good chances.
Last week, the team lost back-to-back 3-2 decisions to the Edmonton Oilers and New York Islanders, respectively, both games that easily could have been won. But, once again, Buffalo's paltry two-way play was front and center, and their opponents capitalized. To be fair, the loss to the Islanders was partly due to former Sabre, Hudson Fasching's goal that was unmistakably kicked in, but the NHL ruled that it wasn't.
Still, the Sabres' issues with positioning, turnovers, and shot differential have been their Achilles heel all season, and it's hurting them at the worst time. Many of the team's forwards lack defensive awareness, namely Victor Olofsson, who has been so bad that he was a healthy scratch for the first time in his career on Monday (from "Olofsson a healthy scratch against the Leafs", The Niagara Gazette, 3/13/23). Head coach Don Granato attempted to remedy the issue by shuffling lines, but it hasn't helped, and general manager Kevyn Adams' failure to upgrade at the trade deadline didn't either.
Buffalo's goaltending has also been inconsistent at times, but it's tough to blame the netminders when they get so little help from the players in front of them. This was on full display when Eric Comrie was left out to dry last Thursday against the Dallas Stars and was torched for 10 goals on 49 shots in one of the most embarrassing losses in recent memory. Why Granato left him in that long is another question, but the Sabres' postseason aspirations took a major blow.
Sabres' Offense Can't Do It All
It's often said that the best defense is a swift offense, but Buffalo has proven this season that's not always the case.
Related: Sabres News & Rumors: Tuch, Cozens, Quinn, Peterka & Power
---
Latest News & Highlights
---
Make no mistake, the Sabres' attack has been remarkable, and they have scored the third-most goals scored in the NHL with 241. The team already has two 30-goal scorers this season, Tage Thompson and Alex Tuch, and they are poised for two more in Jeff Skinner and Dylan Cozens. Rasmus Dahlin is having a season to remember on the blue line with 63 points, and Owen Power has become a much-needed secondary contributor with 26.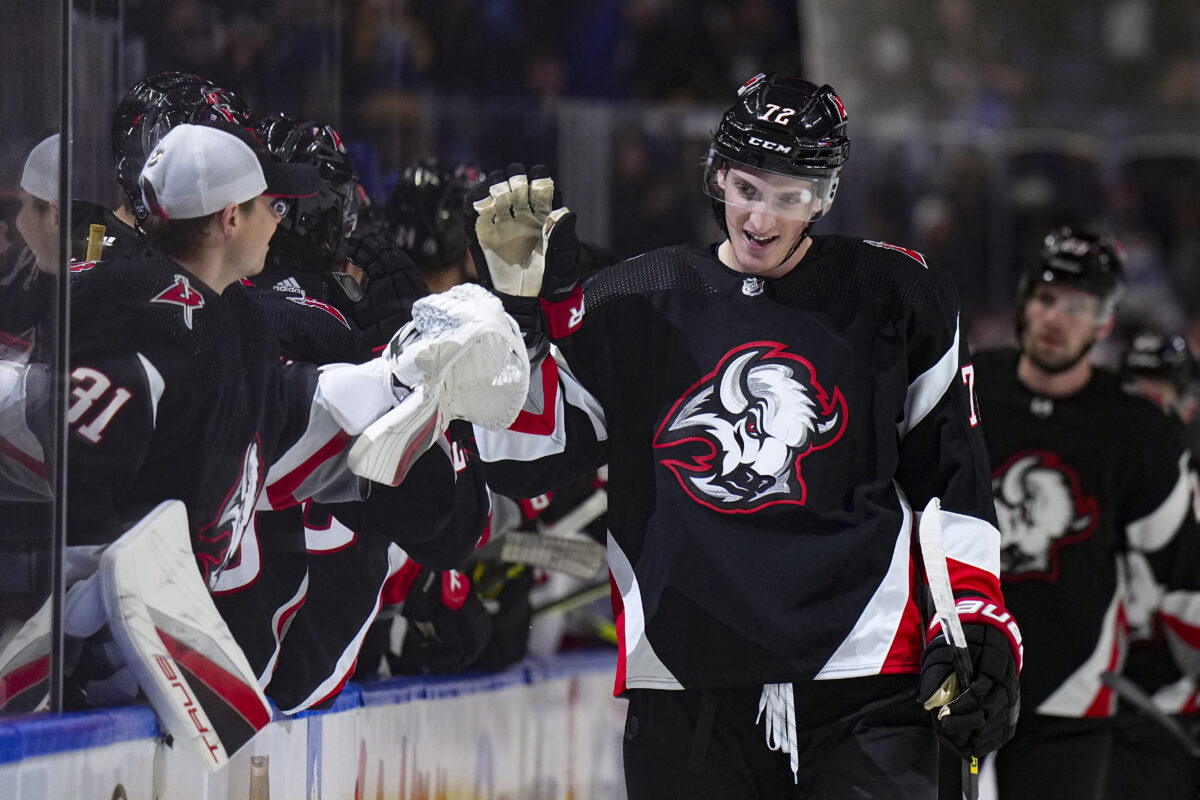 Additionally, Thompson and Dahlin are projected to be Hart and Norris Trophy candidates, respectively. But despite their excellence, the offense hasn't been able to carry the club. It's been enough to make up for the team's poor defensive play on most nights, but as was the case during the four-game skid, when their offense hasn't shown up, they haven't won.
Buffalo needs their defense and goaltending to propel them forward and if they can't fix it or manage to get themselves consistently on the same page, their postseason chances will be dashed.
Will Buffalo Make Up For Lost Time?
Buffalo's four-game losing streak was not encouraging, but fans shouldn't reach for the alarm just yet. The Sabres have 16 games remaining, with three games in hand on the Islanders, whom they trail by five points.
The team got itself back on track on Monday against the arch-rival Toronto Maple Leafs, rallying from 2-0 for a much-needed win. Tuch scored two goals in his first game since Feb. 24 (reaching the 30-goal mark for the first time in his career), and his teammates were emboldened by his return, an especially good sign as Comrie and Mattias Samuelsson were declared week-to-week before the game (from "Alex Tuch returns to Sabres practice, but Mattias Samuelsson and Eric Comrie are lost to week-to-week injuries", The Buffalo News, 3/13/23).
The Sabres have time to regroup and climb back into the playoff conversation, despite last week's losses. They're as close to the postseason as they have been, but it's up to them to end their postseason drought at 11. Five points is not an insurmountable deficit, and the team can easily overcome it if they focus on their consistency. The ball is in their court.