In Nov. 2011, legendary Buffalo Sabres play-by-play broadcaster Rick Jeanneret was inducted into the Buffalo Sabres Hall of Fame. In Nov. 2012, he was inducted into the Hockey Hall of Fame.
These days, he's going somewhere else: on shelves in hockey fans' homes everywhere.
The Promotion
Earlier this week, the Buffalo Sabres announced a special Rick Jeanneret bobblehead doll for sale with net proceeds to benefit the Sabres Foundation and Kevin Guest House. It's a terrific idea to raise money for the organizations that do so much to help families in need in the community.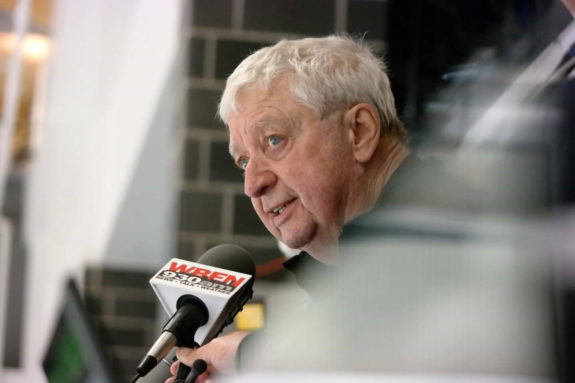 Each bobblehead plays five classic Rick Jeanneret play-by-play calls and can be purchased for $30. Autographed versions of the bobblehead were made available for $75. A special $150 package includes one talking bobblehead, two 300-level tickets to the Sabres vs. Boston Bruins game on Sunday, Feb. 25 and an exclusive meet-and-greet with the beloved announcer prior to the game.
The Bobblehead
Jeanneret has coined his fair share of instant classic calls since being in the broadcast booth in 1971. "Mostly they just pop out of me and I'm thankful over the years the wrong thing hasn't popped out," said the man who says he has the best job in hockey. "There's not too many of them that I've thought about ahead of time."
The five calls that were chosen for the bobblehead are:
Top shelf, where momma hides the cookies!
May Day! May Day! May Day! May Day!
Now do you believe? These guys are good. Scary good.
Holy mackerel, roll the highlight film!
Oh brother, we are not worthy!
Though some fans have chirped the figure looks more like Newt Gingrich than Jeanneret, it didn't stop them from throwing their hard-earned money at the franchise as fast as possible to get their own.
RJ with his bobblehead 👌

Available now at https://t.co/Q9NS4tvEyH or at the @SabresStore pic.twitter.com/S6g00gIP9Z

— Buffalo Sabres (@BuffaloSabres) January 30, 2018
Inventory was nearly sold out in a single day. As of Wednesday night, only the $150 bobblehead package was still available.
All for a Good Cause
All proceeds will benefit the Buffalo Sabres Foundation, which supports many charitable organizations in Western New York, and Kevin Guest House, which provides a comfortable place to stay for patients and their families traveling to Buffalo for treatment.
"The Buffalo Sabres Foundation has helped support many worthy causes throughout Western New York, and the money raised by this initiative will allow them to reach even more members of our community," said Kevin "Duke" Reilly, CEO and Chairman of John W. Danforth.
"We are so grateful to our long-time friends at the Buffalo Sabres and John W. Danforth for helping to raise funds and awareness of Kevin Guest House with this one-of-a-kind Rick Jeanneret bobblehead," said Lynsey Zimdahl Weaver, Executive Director of Kevin Guest House. "Keeping families close is the best medicine, and it's our mission to provide a comfortable and supportive home away from home. As we take on our first-ever expansion to double the number of guests we can serve, these funds will allow us to support more patients and caregivers traveling for critical medical care."
Backlash
While the majority of the response has been positive, of course, there's been some less-than-positive comments. Frustrations are overflowing this year as the Sabres are headed for their seventh straight season without a sniff of the playoffs. Though the team recently went on a three-game winning streak through Western Canada, it fell back to Earth Tuesday night in a lackluster game against the New Jersey Devils.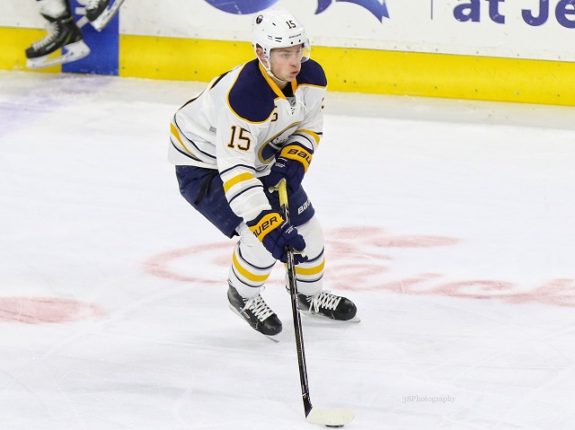 The timing of the promotion didn't sit well with some long-suffering fans who called out the team for its poor play.
Another fan joked that for an additional premium of $175, the Sabres wouldn't make you take the tickets.
Add to Your Collection
Due to the popular demand, it's possible there will be another production run of the Jeanneret bobblehead dolls.
If fans are building a bobblehead collection, they can circle Apr. 4 on their calendars. During the game against the Ottawa Senators, fans at KeyBank Center will receive a commemorative Dominik Hasek bobblehead doll as part of the team's promotional series. Hasek, a six-time All-Star, played nine seasons with the Sabres, posting a 234-170-70 record in 491 games and a 2.22 goals-against average. He went on to win two Stanley Cups with the Detroit Red Wings in 2002 and 2008.
Jeff has been covering the NHL for over a decade for various sites. He's been with The Hockey Writers as a lead Sabres writer three years, while also writing a satire column called "Off the Crossbar."