Several prospects who attended development camp this year will wear a Buffalo Sabres uniform throughout the season. However, only a select few will be in the starting lineup against Montreal on Oct. 5.
The goal of any development camp is for players to mature physically and mentally. The veterans of these development camps are taking the initial steps in the auditioning for the team this season.
Development camp is unique because many of these players are in different spots in their progress for the NHL. In the fall, some will be returning to juniors, a few will return to their college teams and several planning their professional careers. Whether that team is Rochester or Buffalo remains to be seen.
Before looking at which forwards can make Buffalo's roster in October, it is necessary to view the current state of the Sabres roster. Jack Eichel, Evander Kane, Sam Reinhart, Kyle Okposo, Benoit Pouliot, Jason Pominville, Ryan O'Reilly, Nic Deslauriers and Matt Moulson all hold spots on the roster.  Zemgus Girgensons is a restricted free agent.  However, he will most likely lock up a spot if he is offered a contract.  Johan Larsson will be returning from missing half of last season due to injury.  The Sabres also offered contracts to Seth Griffith and Jacob Josefson.
With this in mind, attention may be turned to the players at development camp. This gave several young players an opportunity to showcase their skills. Several players who are on the roster bubble are in direct competition with each other without team veterans on the ice.
Prospects On the Cusp
Justin Bailey is one of the players who was on display at the development camp. Bailey, who played 32 games with the Sabres last season, knows that the door is ajar for a prospect to gain a full-time place on the roster. Bailey told Matt Bove of Buffalo's WKBW, "Obviously, you see there are jobs open, and you know for me, I want to finish the summer and do everything in my power or at the end of the day I know I did everything I could to make this team in the fall." Bailey has the speed and power to contribute to the Sabres' lineup. 
Other players at development camp saw time with the Sabres last season. Nick Baptiste, Hudson Fasching, Alex Nylander, C.J. Smith and Sean Malone all spent time with the club last season. In a season where the playoffs once again were out of reach, Buffalo was able to allow some of their youth to hit the ice with the big club. While that was under a different coaching staff, there is still something to be learned from their work on the ice from last season.  Bailey added, "For me, last year, I tried to have the best year I could. I was fortunate enough to play a few NHL games and I thought in some of the games, I played well and showed what I can do in the future. I've been fortunate enough to have a decent amount of success in the minor leagues," according to Jordan LaBarbur of sabres.com.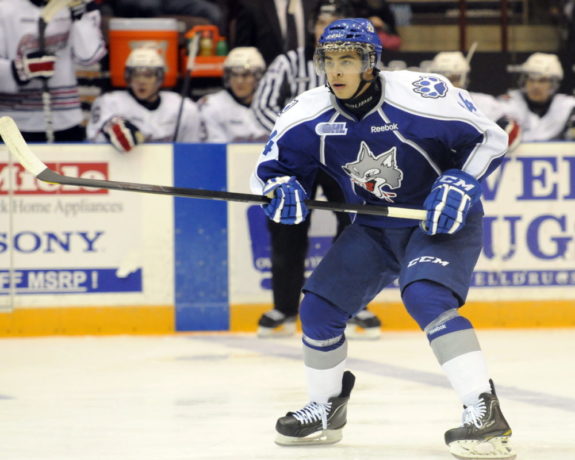 Baptiste knows that this year is big year for him. In an interview during day two of development camp, he stated, "I'm in a contract year and I've got to prove that I'm a full-time NHL player. I thought I did a lot of good things in Rochester last year, I thought I did a lot of good things when I was called up. For me, I'm shooting to be a full-time Sabre and that's my goal." Baptiste played 14 games with the Sabres, recording three goals and one assist. Similar to  Bailey, Baptiste adds the element of speed to Buffalo's roster.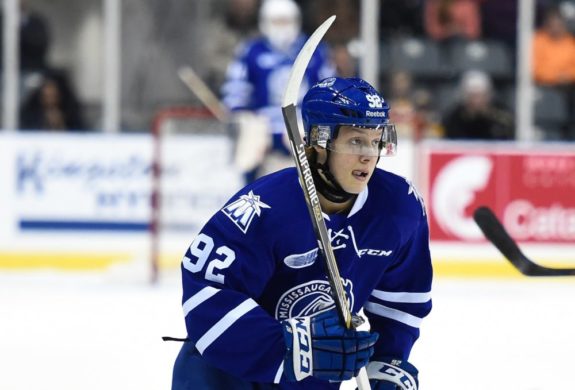 Buffalo drafted Alex Nylander with the eighth overall in the 2016 NHL draft. The Sabres gave him the task of getting physically stronger prior to camp, and he did. When Tim Murray was still General Manager of Buffalo, he commented on Nylander, "His issue is strength. It's not skill, it's not hockey sense, it's not how to play the game, it's strength. And that's the easiest thing to fix. So, if he puts in the time this summer, I expect him to come back and challenge for a skill position on this team." Nylander is highly-skilled. He came back to this season's development camp stronger, and he was one of the standouts at development camp this season. 
The Sabres acquired Hudson Fasching in March 2014. Fasching developed quickly as a prospect, and this made him attractive to Buffalo's rebuild. Revisiting the draft one year later in 2014, The Hockey News' Brian Costello stated that Fasching would be drafted 33rd. Los Angeles originally drafted Fasching in the fourth-round of the 2013 draft.  Fasching's improvement has caught on with the Buffalo brass, as his game has strengthened down-low around the net.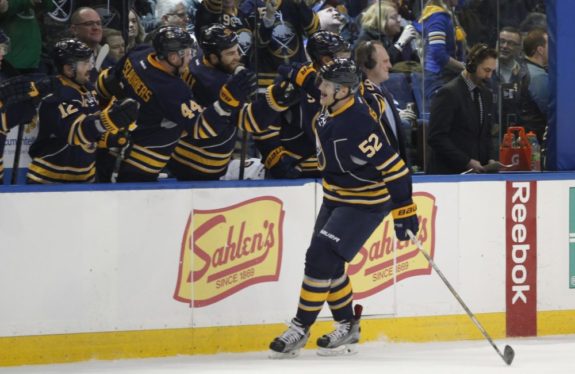 C.J. Smith and Sean Malone are both players who may factor in the Sabres plans in the long term. Both had a brief taste of the NHL level at the end of last season. Buffalo signed Smith as a college free agent in March. Malone was a sixth-round pick of the 2013 entry draft. Both players will be able to further develop their game at the AHL level with the Rochester Americans. In addition, their skill and developing leadership may help the Americans, who finished sixth in the North Division.
Decisions, and More Uncertainty
There is a great deal of uncertainty with the final forward spots on the roster. Buffalo may have one-to-three forward positions available in training camp. There are major decisions that GM Jason Botterill will make over the next few months. Training camp will reveal a great deal for these players and their competition. It will also further develop Botterill's vision for the team. Does he let his top prospects return to the AHL for seasoning? Are the Griffith and Josefson signings meant to strengthen a substandard Rochester roster?  Or, will these players round out the fourth line for the team? How might these players factor into the plans beyond next season?
The key will be placing these players in the best situation for them, and the team to succeed. They have done enough to challenge for a roster spot. Hopefully, Jason Botterill and Phil Housley give them every opportunity in training camp to build off of their strong development camp.
Sabres Upcoming Season
Botterill has talked about how these players need to earn their spots on the roster. According to John Vogl of The Buffalo News, Botterill stated, "There's going to be openings. As a group, we'll continue to look at the possibility of signing more players if the right fit is there over the next couple of days or from a trade perspective over the next couple of months." The players have the potential to lay claim to roster spots with a strong training camp.
Brian Matthews of TheHockeyWriters' highlights that patience is necessary. These players will be an essential component of the rebuild. Hopefully, these prospects will be able to do enough to push the team forward and force Botterill to make some tough choices. If they can do this, the team will be better off. If not, a team mired in mediocrity for several seasons could spin its wheels once more.