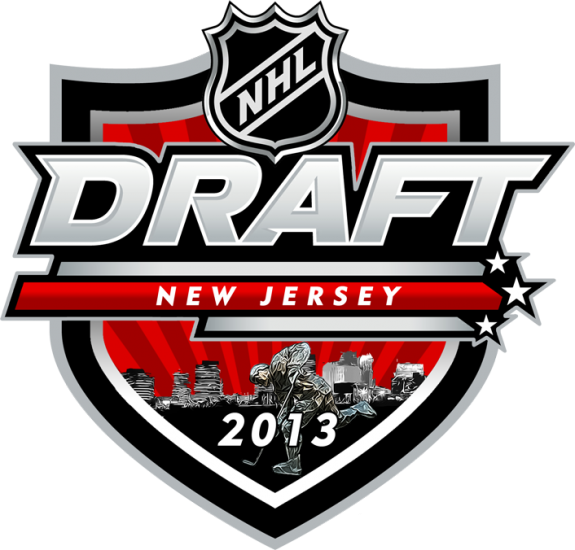 A few days ago,  Sabres General Manager Darcy Regier announced that the team has intentions to move up from the eighth overall pick in June's NHL Entry Draft.
In a draft loaded with top end talent – Seth Jones, Nathan MacKinnon, Jonathan Drouin, Aleksander Barkov to name a few – this certainly would seem like the year to make a move to jump into the top few picks of the draft.
So who's going to be willing to move out of their spot?
Some Scenarios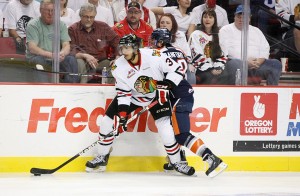 It seems fairly safe to assume that Seth Jones, the consensus top overall prospect in this year's draft, will come off the board to the Colorado Avalanche first overall.  Jones is a big, puck-moving defenseman that draws comparisons to Chris Pronger and the talent-strapped Avalanche shouldn't be one to shy away from that kind of player.
It also seems fairly safe to assume that the Florida Panthers and Tampa Bay Lightning will stay put at second and third respectively.  Hard to want to move when franchise forwards Nathan MacKinnon and Jonathan Drouin are available.
Would it even be possible to move those spots? Well, theoretically, sure. But the Sabres would have to give up an inordinate amount of value to move up. According to this draft chart, by Michael Schuckers, Associate Professor of Statistics at St. Lawrence University,  they would have to give up picks 8 and 38 just to move into the third spot.  Which would be fantastic this year considering the belief that there are three surefire franchise players to be had but Tampa Bay isn't likely to give up the third overall pick so easily.
Assuming the Sabres aren't willing to pay an arm and a leg to move into the top three (and that is likely what it will take), what are their options? Who might they be targeting?
Potential Targets
Could it be Finnish center Aleksander Barkov? The 6'2" 209lb center is considered by some to be the fourth franchise-calibre player in this draft. Called a dominating two-way forward, some believe Barkov to have the elite skills that would make him a steal at fourth overall in most years.
If not Barkov, perhaps the Sabres could trade into the top five to grab Swedish-born Elias Lindholm.  The 6'0" 190lb pivot is supposed to be the complete two-way center, evoking comparisons to fellow Swedes Henrik Zetterberg and Peter Forsberg.  Very polished but considered to not have the ceiling of Barkov, MacKinnon, Jones, or Drouin.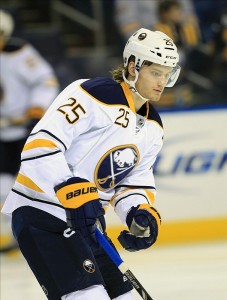 The one issue I can see with trading up for one of those two is that the Sabres find themselves suddenly stocked down the middle. Cody Hodgson has shown himself to be a budding offensive player and potential number one center for the team in the very near future.  They also have 2012 first-round picks Mikhail Grigorenko, considered a top five talent in his class, and Zegmus Girgensons waiting in the wings.  Not to mention the trade deadline deal that sent Jason Pominville to Minnesota netted top-tier center prospect Johan Larsson.
So would the Sabres, with a wealth of talent coming at the center position, be willing to pay a steep price to move up and take one of Barkov or Lindholm? Obviously, it would depend on just how highly their scouts thought of them.
No, barring a humongous deal where the Sabres move into the top three, the target could be Russian winger Valeri Nichushkin.
The question mark about Nichushkin was whether or not his decision to stay in Russian rather than come over to North American through the CHL import draft would affect his stock. So far, the decision hasn't hampered him.
Believed by some to be the best forward in the draft, Nichushkin is big (6'4" 202) and oozes offensive potential. If he can get past the "Russian factor", he could go as high as four depending on how high Nashville views him.
The Sabres are in need of a big, dynamic winger with top-end talent. Nichushkin could arguably be the talent of the draft and whoever picks him will certainly be taking a bit of a risk.  But with draft day move, the Sabres could find themselves in a spot to take a chance on his enormous potential.
Frankly, the only way the Sabres move into the top three involves a deal for Ryan Miller or Thomas Vanek and, even then, it isn't likely. Such is the case in a stacked draft.
Follow me on Twitter: @RWTFC
A long-time (and long-suffering) Buffalo sports fan. Sometimes optimistic, always weary. I write other stuff for a lot of other people.