Earlier this week, we presented five key elements that the Penguins would need to improve upon if they were to start finding success against the New York Islanders.  One of the most important components was consistent goaltending.  Specifically, we argued that Marc-Andre Fleury, although not spectacular to this point, hadn't played all that poorly in the 2013 playoffs and that, if he could simply outplay Evgeni Nabokov for the balance of the series, the Pens would move on to the second round for the first time since 2010.  Oops.  May have missed on that one.  Because, if Game 4 proved anything, it was that Fleury still hasn't shaken his propensity for giving up soft goals at inopportune times.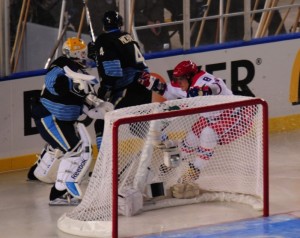 In fact, as the series has progressed, Fleury's underwhelming performance has snowballed to the point that Dan Bylsma clearly cannot trust The Flower to lead the Penguins to victory over the Islanders, let alone on a long playoff run.  Sure, the defensive effort has been less than stellar in front of him but Fleury ultimately has to be there when the Pens struggle in front of him.  He can't allow opponents to capitalize on "opportunities" from behind the Pittsburgh net.  And this is why, as Dejan Kovacevic of The Pittsburgh Tribune-Review explains, the time has come for the coaching staff to make a change.
With Bylsma announcing that Tomas Vokoun will indeed be starting in net for the Pens in Game 5, we take a look at why the change was necessary and some of the short and long-term ramifications the decision may bring about for the club.
Why it Happened and What it Means for the Pens' First Round Series
After such a promising opening game in the New York series, Fleury has steadily played worse as the first round has progressed.  While the entire team has been outplayed for long stretches over the course of the last three games, The Flower has done little to bail his squad out when they have needed him most.
It's not even just that Fleury has given up fourteen tallies in the last three games.  No, it's how and when he has surrendered goals, whether it be the carom off of the end-boards that proved to be the difference in Game 2 or the puck that trickled behind him to give the Islanders a two goal cushion late in the third period of Game 4.  Indeed, these are deflating markers that do little to inspire the confidence of teammates or coaches, alike.
As a result, Bylsma has decided it's time to give Tomas Vokoun his shot between the Pittsburgh pipes.  After all, this is precisely why GM Ray Shero brought the veteran to town – not only to both push Fleury and play in enough regular season games to keep the starter fresh for the playoffs but to act as a sort of insurance policy in case The Flower once again imploded in the postseason.
"We brought Tomas Vokoun in to play big games for us and be a goaltender we can count on to go in and play big games.  He's done that this year for us. He has been very good against the Islanders in the three games that he's played against the Islanders.  We're getting a guy who's real capable, a guy going in and being a great goalie for us." – Dan Bylsma, on Vokoun starting Game 5
Is Vokoun's playoff resume (or lack thereof) a little unnerving?  Absolutely.  At the same time, though, things can't get much worse than they are right now in the Pittsburgh net.  What's more, Tomas has won 300 games in the NHL so it's not as if he's just a young kid coming in.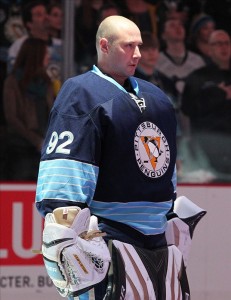 Ultimately, Vokoun now offers the Penguins' best chance to move on to the second round – he went 3-0 against the Isles this season, stopping 98 0f 101 shots and added a shutout.  And, though Pittsburgh hasn't played up to its potential yet, this group still has a chance to do something special if they can get by the Islanders.  They just need someone consistent enough in net to give them the chance.
Long-term Ramifications
What could be interesting about this decision is how it will affect the club beyond this season.  What happens, for example, if Vokoun leads the club on a long playoff run?  Does he take over as the starter next season?  Is Fleury moved or bought out in the off-season?
Even if Vokoun is not the answer this year, one can't overlook Fleury's recent playoff disasters and wonder if he can still be the long-term answer in Pittsburgh's net.  He has given up 40 goals in his last 10 playoff games and hasn't had a postseason save percentage above .900 since the Cup victory in 2009.  What's more, he hasn't recorded a playoff GAA under 2.50 since 2008.  Is that who Ray Shero really wants in the Pittsburgh net for years to come?
"It's hard to imagine that this move does not start the clock on Fleury's time in Pittsburgh." – espn.com's Scott Burnside
But, if Fleury's time is coming to an end in the Steel City, what is the long-term future of the Pens' crease?  After all, Vokoun is 36; it's not like he's still in his prime.
THW's own Mike Colligan provides some insight here on Eric Hartzell, a Hobey Baker Award finalist who signed with the Penguins last month.  Could he be the Penguins' future?  Or how about Jeff Zatkoff, who posted a 1.93 GAA and .920 save percentage for AHL affiliate Wilkes-Barre this year?  Could Vokoun act as a bridge for the Penguins until one of these prospects in ready to take the helm?
For the time being, there are obviously more questions than answers.  All we know right now is that the Penguins have (at least temporarily) lost their confidence in Marc-Andre Fleury and, as a result, the club's crease finds itself in relatively uncharted territory for both the short and long-term future.
Sean Griffin is a lead writer for the Pittsburgh Penguins at The Hockey Writers. He can be contacted at psgrif27@gmail.com.