With the sun setting on a disappointing season for the Buffalo Sabres, nobody expected them to put up much of a fight on Saturday against the playoff-bound Nashville Predators. After falling behind 3-1 in the second period, the performance looked like more of the same from a Sabres squad that has seldom mounted multi-goal comebacks this year.
After Scott Hartnell received a major penalty and a game misconduct for boarding defenseman Victor Antipin, the Buffalo offense exploded, scoring three power-play goals during the five-minute opportunity. The Sabres' 7-4 victory marked the team's highest goal total of the season, as well as a few individual milestones for their young core players.
Eichel Ties Franchise Record
Though Jack Eichel didn't score any of the team's seven goals, he was responsible for five assists on the night, tying a franchise record. The 21-year-old joined Sabre legends Gilbert Perreault, Pat LaFontaine and Dale Hawerchuk in a four-way tie for the single-game mark.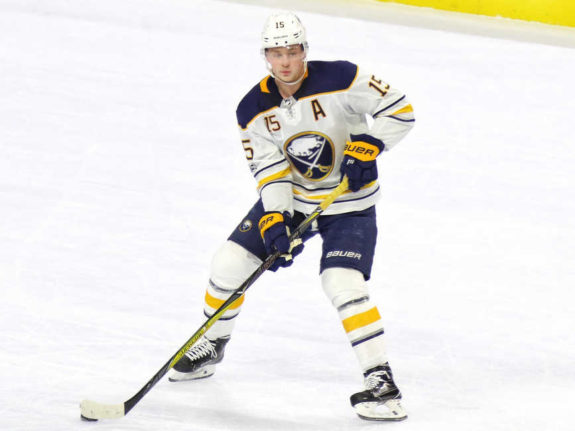 The last time a Buffalo player registered five assists was in 1993 when LaFontaine did it against the Winnipeg Jets. Both he and Perreault accomplished this feat three times during their respective careers. Eichel nearly broke the record with a sixth assist on an empty net attempt, but the shot went just wide of the net.
Typically known for having a high percentage of his helpers come in the form of primary assists, four of his five last night were secondary markers. Even more interesting is the fact that Eichel finished with a plus-minus of minus-1 on the evening since four of his assists came while Buffalo was on the power play.
Eichel's performance nearly pushed his production into the point-per-game range for the season, bringing him up to 62 points in 63 contests. Despite missing nearly a month due to a high ankle sprain, that total marks a career-high for the franchise cornerstone. He registered 57 points in 61 games last year in another injury-shortened campaign.
As if he hadn't achieved enough on the evening, his third helper of the night was the 100th of his career.
Reinhart Ties Career Bests
Eichel wasn't the only young Sabre to reach a career milestone last night. Sam Reinhart's three-goal performance marked the second hat trick of his young career. His effort also propelled him into a tie for his personal bests in goals and overall points in a single season, matching his rookie production of 23 and 47 respectively.
With 3 goals tonight, Sam Reinhart has matched career-highs in goals (23) and points (47). #Reino #Sabres pic.twitter.com/cAyobmuYdl

— Buffalo Sabres (@BuffaloSabres) April 1, 2018
Reinhart's explosion on offense continues with 34 points in his last 35 games. As the season comes to a close, the 22-year-old is set to become a restricted free agent.
General manager Jason Botterill will have a difficult decision to make as to whether his production in the second half of the season is an aberration or a sign of things to come. Obviously, the Sabres will look to keep Reinhart, but the question remains whether the organization feels that they should retain him on a bridge deal or offer him a long-term contract.
Time will tell, but as of right now, he finally has the look of a second overall draft pick following a dreadful start to the season where the team tried to force him into a center role.
Mittelstadt's NHL Performance
When Casey Mittelstadt signed his entry-level contract last week, fan interest was reignited. Games had become increasingly difficult to watch as the season wore on.
The 19-year-old took to the ice on Thursday night in his first taste of NHL action against the Detroit Red Wings. Though there were times where he looked overwhelmed, he quickly adjusted, registering his first career point with the primary assist on an Evan Rodrigues tally. After the game, Mittelstadt expressed his comfort playing against an increased level of competition.
"Once you're out there, it's a hockey game," he said. "There are things I can learn and get better at but I felt comfortable."
Last night, he continued his early point-per-game pace with another helper on Kyle Okposo's game-tying goal in the second period.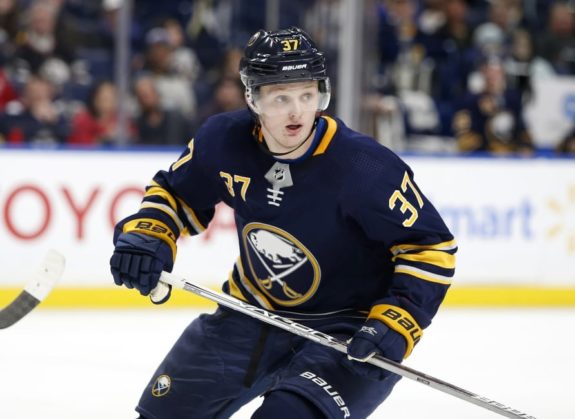 Mittelstadt's long-term success will play a key role in just how long the Sabres' rebuild will take. If he can continue to acclimate his elite skill set to the speed of the NHL game, he can be a catalyst for scoring production in the top six. Though his six-game stint this year will burn a year off of his ELC, it will serve as an excellent gauge for Botterill in order for he and head coach, Phil Housley to determine where the young center slots into the lineup in 2018-19.
Though fans still patiently await his first NHL goal, the Eden Prairie native has come extremely close in both of his first two contests. With four games left on the docket, he will have plenty of opportunities.
Related: Mittelstadt's Debut Makes Sabres Cup Contenders This Year
An Ugly Collision
Though the Sabres were able to defeat one of the best teams in the league, it came at a price. In the second period, Nashville's Hartnell took a run at Sabres rookie defenseman Antipin behind the Sabres' net. Antipin would be carted off on a stretcher, and Hartnell was ejected from the game.
After having his head slammed into the glass, he fell face-first onto the ice. As of this morning, he was diagnosed with a concussion, facial lacerations, a broken nose, and dental injuries. Per the Sabres' official Twitter, Antipin will be out indefinitely and given the laundry list of resulting injuries, fans have likely seen his last game of the season.
A look at the injury to Antipin. Hit from behind and just drops to the ice. Scary moment. #Sabres pic.twitter.com/jgZJ2ZIUFa

— Bradley Gelber (@BradleyGelber) April 1, 2018
While the league certainly won't reprimand Hartnell based on Antipin's injuries, the Department of Player Safety will take a long look at the play when determining whether or not to hand the veteran winger a suspension. Based on the fact that he led with his elbow, clearly targeting the head and neck area, the league would be remiss if it did not dole out some form of discipline.