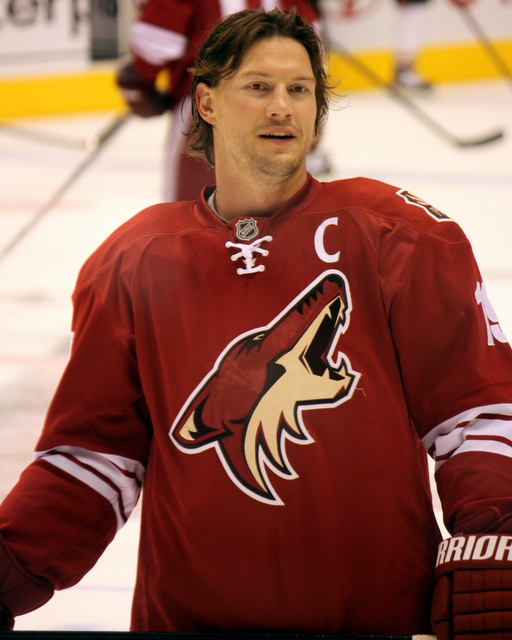 When reports surfaced earlier this summer about a contract the Buffalo Sabres offered unrestricted free agent Shane Doan it – like seemingly everything else in Sabreland – divided fans. The offer, rumored to be a 4-year deal worth around $30 million (as per Bucky Gleason of the Buffalo News), is a staggering one and a contract that Sabres fans should be thankful Doan hasn't signed. It also should make fans question if the "hockey heaven" quote from team executive Ted Black is already being used sarcastically.
Doan is an awesome player. He'd be a great fit on the Sabres, a gritty veteran who'd provide the tenacity and leadership the teams lacked since Chris Drury's departure for New York. The problem for the Sabres is that Doan would be a great fit for pretty much every other team in the league, too. To beat out the Pittsburgh's and Philadelphia's of the world Sabres GM Darcy Regier has apparently decided to offer Doan a massive deal that'd almost guarantee the one-time Winnipeg Jet would retire in the blue and gold.
The problem is two-fold. From a purely topical standpoint, the contract is frickin' bonkers. Doan will turn 36 in October and has scored more than 30 goals just once in his almost twenty year NHL career. Lindy Ruff would rather have him on the bench to mentor young players like Tyler Ennis and Cody Hodgson than to put pucks in the net, but any player with a salary averaging over $7 million per season has to have more than a mentor-role on a team. Don't forget Doan has played a punishing game for his whole career and while he hasn't played less than 70 games since 97/98, that rough style will almost certainly catch up to him over the next four seasons.
If reports of the offer are true it looks like Regier could be looking at Doan as the band-aid Craig Rivet and Mike Grier volume 2 never turned out to be. Like the Leino signing, it also reeks of desperation from a GM who's come under fire for his team's performance in recent years.
In an ideal world, Doan would sign as a Sabre for about half the salary and half the term of the contract (which has also been confirmed by John Buccigross and Greg Wyshynski), but Regier would still have to put on his salesman suit and outpitch at least half the league. Which brings us to the second concern. With a contract like the one the Sabres have offered Doan, why hasn't he signed it?
It's hard to guess that any other team has offered Doan a better deal. He's been rumored to be in the heaviest talks with the Penguins, Flyers, and Vancouver Canucks, three teams that are certainly a step closer to the Stanley Cup than the Sabres are. In most situations, backing a truckload of money up to a player's door is enough to get them to sign with you (see: Leino, Ville) but apparently not this dude. For all his experience Doan only has 55 games of playoff experience and the deepest he went into the postseason was just last year, where he played like a man possessed. All signs point to the winger wanting to stay in Phoenix and the delay in his signing at least in part due to the ownership uncertainty there.
Flyers GM Paul Holmgren even said as much last month and, considering the cap situation of his main suitors combined with the size of the Sabres' offer, Doan has clearly put a shot at raising the Cup over his salary concerns. That's not good news for Sabres fans who'd hope their team is on the same level as the Penguins and the other big boys in the NHL.
Maybe it's the lack of playoff success (or appearances), the Lucic incident, or the caliber of talent on other teams but for whatever reason, Doan doesn't want to play for the Sabres…even for $30 million. In a world where players discuss everything with one another and where one of the most respected voices in the league, something isn't sync'ing up with "hockey heaven."