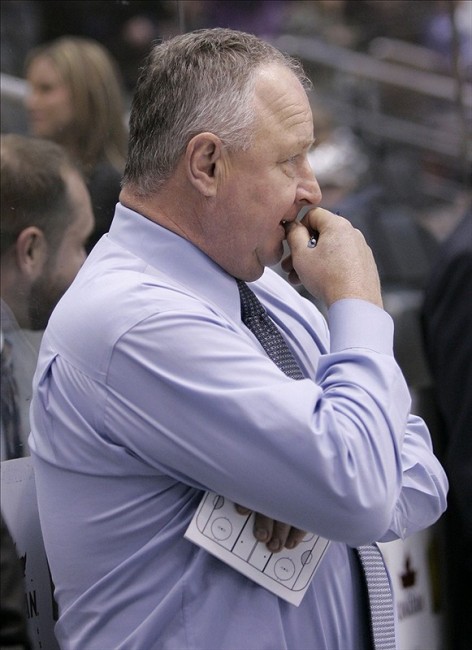 With his team sinking in the standings and rumors of unrest amongst his troops, Toronto Maple Leafs president and general manager Brian Burke made a tough decision when he fired close friend Ron Wilson in favor of hiring Randy Carlyle as the Maple Leafs head coach on March 3rd, 2012.
For the most part it was a popular decision, but there were also rumblings that the crusty bench boss was cut from the same cloth as Wilson (a tough disciplinarian) instead of the players coach some fans felt the Buds needed.
In Wilson, Burke employed a coach who preferred an offense-first approach. Unlike many NHL bench bosses, Wilson had no problem throwing his stars under the bus, which caused more than a few problems. Wilson was also tough on the media, which in a town that covers hockey to the point of overkill often left him wide open to criticism from the media and fans.
"This was not an easy decision for me to make," general manager Brian Burke said in a statement. "I want to thank Ron for all of his hard work and dedication to our organization over the past four seasons."
Burke has a history with Carlyle as the two were together for the Anaheim Ducks Stanley Cup victory in 2007. With that in mind, Burke knew what he was getting in Carlyle—a coach that demands that his players play with a physical edge, are defensively responsible and takes their fitness seriously.
Not known as a players coach in the past, Carlyle is said to have chilled out since his days with the Ducks, but don't confuse his new found compassion for weakness, he can be as hard-nosed as the next coach and, much like Wilson, has no issue calling his players out if he deems them to be under performing.
Trouble is, when you consider the cast of characters Burke has assembled in Toronto there is a real lack of physical players. David Steckel (170 hits) and Mike Brown (120 hits) provided the Maple Leafs with the most truculence up front last season, with scrapper Jay Rosehill (53 hits in 31 games played) pitching in a reduced role.
Carlyle led the Maple Leafs to a 6-9-3 during the final 16 games of the 2011-12 season. While Carlyle has to accept his fair share of the blame for the losses Burke was quick to point out at his seasons end press conference that Carlyle had a poor mix of players with which to be successful last season, an issue he promised to fix.
"I like to dictate how the game is played, we're not big enough to play it Randy's way and that's not optional. Said Burke at an April press conference. "We can't play the way Randy wants to play with this group, that's not possible."
In an effort to bring in a measure of truculence, Burke signed free agent forward Jay McClement. Known as a rugged defensive forward, McClement will help the Maple Leafs penalty kill which ranked a dismal 28th overall last season and finish every check.
As much as McClement will help, Burke did little else to upgrade his teams physical prowess, unless of course you count signing defenseman Korbinian Holzer (a physical stay-at-home defenseman) to a one-way contract.
Burke also cut loose forward Colby Armstrong who, despite an injury riddled stint as a Maple Leaf, was a good soldier and heavy hitter when healthy. Hard working forward Joey Crabb also left town—his jam and intensity will be missed, at least on some level.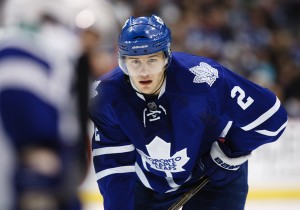 The loss of defenseman Luke Schenn to the Philadelphia Flyers in the James van Riemsdyk trade all but negates the addition of Holzer, as Schenn led the Blue and White with 270 hits and placed third in blocked shots with 115 last season.
While Holzer is a solid player, there is little hope that he will match Schenn's numbers, which is cause for concern for Carlyle and Burke. While unlikely to materialize, Carlyle will have to ask tough-luck veteran defenseman Mike Komisarek to ramp up his physical game, but with Komisarek's quickness and fitness in question there are doubts he can do it.
With Captain Dion Phaneuf being asked to stay out of the penalty box and the shift by most NHL teams to cut back on unnecessary fighting, Phaneuf has taken a more relaxed approach to his game. The Maple Leafs need Phaneuf on the ice. The best way for him to maximize his minutes is to play a physical yet cautious style which, given the reputation Phaneuf came with from his time in Calgary when he was one of the NHL's most feared defensemen, has chagrined the Leafs Nation since his arrival in 2009.
Still, with Schenn gone, that means the bulk of the physical play will have to come from Phaneuf (who had 214 hits and 127 blocked shots last season) and Carl "Uzi" Gunnarsson (who registered 114 hits and a team-leading 152 blocked shots last season).
Up front Brown and Steckel will remain Toronto's most intimidating forwards with McClement pitching in as well. One forward that is likely to see more ice-time is Matt Frattin who had 81 hits in 56 games last season.
Frattin was a key-cog in the Toronto Marlies success in the Calder Cup Playoffs last season before his AHL playoff run ended when he injured his knee which required surgery this summer. According to the Toronto Sun's Terry Koshan, Frattin is said to be recovering slowly, but should be ready for the start of the 2012-13 season, CBA agreement pending!
Another player that could raise his physical game is Tyler Bozak. Slotted in between Phil Kessel and Joffrey Lupul on Toronto's first line for most of the 2011-12 season, Bozak will likely see a reduced role this season bouncing back and fourth from the second to fourth line. Should Bozak (who stands 6'1″ and weighs in at 195 pounds) establish himself as a physical presence his ice-time should increase accordingly.
Bozak registered 117 hits last season, while establishing himself as a decent defensive forward and a reliable face off man with a 52.7 percent success rate.
While Kessel and Lupul are integral parts to any success the Maple Leafs may have next season, it will be the physical players that combine as the biggest difference makers in terms of keeping opposing teams off the scoreboard, which is where the Maple Leafs, who finished the 2011-12 season with a 3.16 goals against average (29th overall), need the most improvement.
Carlyle will play a major role in getting his troops to adapt a defense-first style of play. While not the most exciting style of play to watch night-in, night-out, a change from the run and gun approach is badly needed, especially when you consider the Maple Leafs shortcomings down the middle and between the pipes.
Carlyle's experience, ability to teach and high expectations in terms of physical fitness and commitment to winning one-on-one battles, should be the right fix for a team that lacked confidence and played so poorly in their own zone last season.
Is Carlyle the right guy to turn around the Maple Leafs' fortunes? I guess that all depends on what you think "turn around" means. Carlyle should be able to keep his team in more games, but with few experts predicting the Blue and White to make the playoffs he may be hard-pressed to get the results so many fans are hoping for.
The Maple Leafs went 35-37-10 last season, accumulating 80 points. In order to make the playoffs last season Eastern Conference teams needed a minimum of 92 points. With so many Eastern Conference teams making significant improvements to their rosters this summer it may take as many as 94-96 points for Eastern Conference teams to make the playoffs next season—a tough mark for many teams to hit, never mind the Maple Leafs.
Can Carlyle bring about a 14-16 point improvement from last season? Not with the troops he has, but if Burke can finagle a trade or two there is hope that the Maple Leafs will be part of the conversation when playoff season comes around.
Carlyle has the experience, he has a Stanley Cup on his resume, he has the respect of the players and he has the backing of his general manager. Its a perfect storm for success—now if he only had the right mix of players…
Until next time,
Peace!